MAKING THE MOST OF YOUR
2-PERSON BARREL SAUNA EXPERIENCE
With its roots firmly set within Scandinavian and Finnish sauna traditions, the 2 person barrel sauna boasts a complete aesthetic departure from regular saunas. Don't be fooled! Their appearance is more than just an aesthetic design choice.
A 2 person barrel sauna has significant advantages over a traditional sauna. From better, more efficient heating to higher durability. Keep reading to find out what benefits a 2 person barrel sauna can offer, how to properly maintain your sauna, and even a few recommendations.
Small Barrel Sauna, Big Health Advantages
A small barrel sauna can offer significant advantages for your well-being. Despite its compact size, a small barrel sauna aids relaxation and releases stress. Your cardiovascular health is also positively affected. 
Whether you want to unwind after a long day, improve circulation, or enhance your overall well-being, a small barrel sauna can be a valuable addition to your wellness routine. Let's explore how this compact oasis of warmth can benefit your health and vitality.
Understanding the Potential Health Benefits of Sauna Use 
Saunas have been used for centuries to promote health and well-being. Regular sauna sessions can offer numerous benefits for the body and mind.
It's shown that sauna use can help improve cardiovascular health by increasing blood circulation and lowering blood pressure. Additionally, saunas have been found to promote relaxation and reduce stress, leading to improved mental health and overall well-being.
Tips for Achieving Relaxation and Stress Relief 
To fully experience the relaxation and stress-relieving benefits of a 2 person barrel sauna, consider incorporating the following techniques into your session:
Deep breathing exercises

Mindfulness

Meditation



These practices can help calm the mind and enhance the overall sauna experience. This is because mindfulness-based interventions can significantly reduce stress and anxiety levels.
Promoting Detoxification and Improving Circulation
Saunas can aid in detoxification by inducing sweating, which helps eliminate toxins from the body. Sweating can also promote healthy skin by unclogging pores and improving circulation. 
Studies have found that sauna use can increase blood flow and enhance oxygen delivery to the muscles, resulting in improved muscle recovery and reduced muscle soreness.
2 Person Barrel Sauna Options
Regarding 2 person barrel saunas, various options suit different preferences and requirements. Whether you're looking for a cozy backyard retreat or a compact indoor sauna, a 2 person barrel sauna can accommodate your needs. In this section, we will explore a couple of excellent barrel sauna options.
Almost Heaven Salem 2 Person Standard Barrel Sauna
Introducing the Almost Heaven Salem 2 Person Standard Barrel Sauna. This compact and efficient sauna is designed for those seeking a sauna experience without compromising space. This 6'x4' traditional sauna is perfect for backyard or home gym installations. 
Almost Heaven Salem 2 Person Standard Barrel Sauna
Introducing the Almost Heaven Salem 2 Person Standard Barrel Sauna. This compact and efficient sauna is designed for those seeking a sauna experience without compromising space. This 6'x4' traditional sauna is perfect for backyard or home gym installations. 
The Salem sauna features a durable construction using one-three/eighth" thick ball and socket lumber, earning it a lifetime warranty from Almost Heaven. It comes with a Harvia 4,500W electric heater, quickly reaching a toasty 180ºF in just an hour. With the option to upgrade to a 6000W heater, you can tailor the sauna to your preferences. 
Inside, you can enjoy the ambiance of LED lights while sitting on opposite-facing benches, perfect for conversations. Take advantage of this Summer Splash Sale, with a sale price of $4,491.00 (regular price $7,624.00).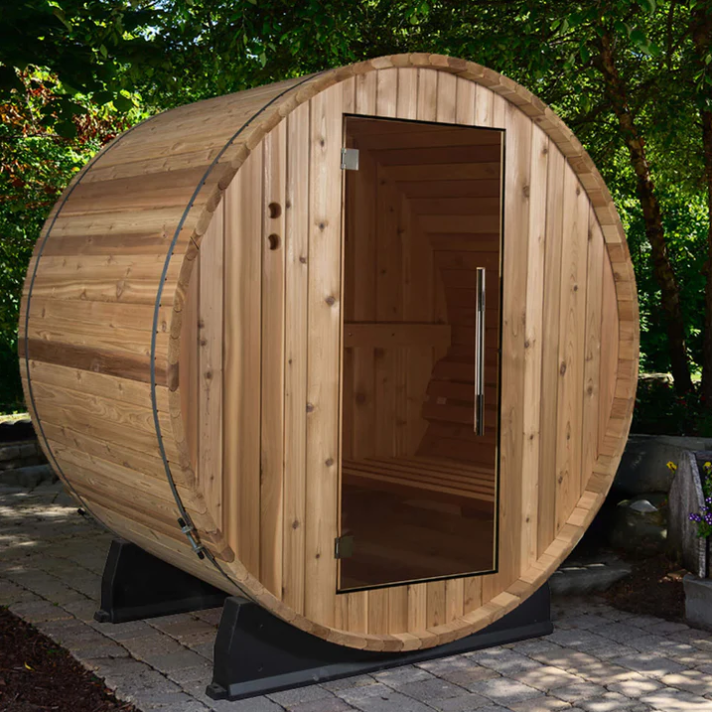 Almost Heaven Audra 2 Person Canopy Barrel Sauna
The Almost Heaven Audra 2 Person Canopy Barrel Sauna is a compact and versatile sauna that combines comfort and convenience. This sauna is perfect for relaxing and unwinding with a friend or loved one. 
With a ball-and-socket lumber construction that is one-three/eight" thick, stainless steel bands, hinges, fasteners, and tempered glass features, the Audra sauna offers durability and quality craftsmanship.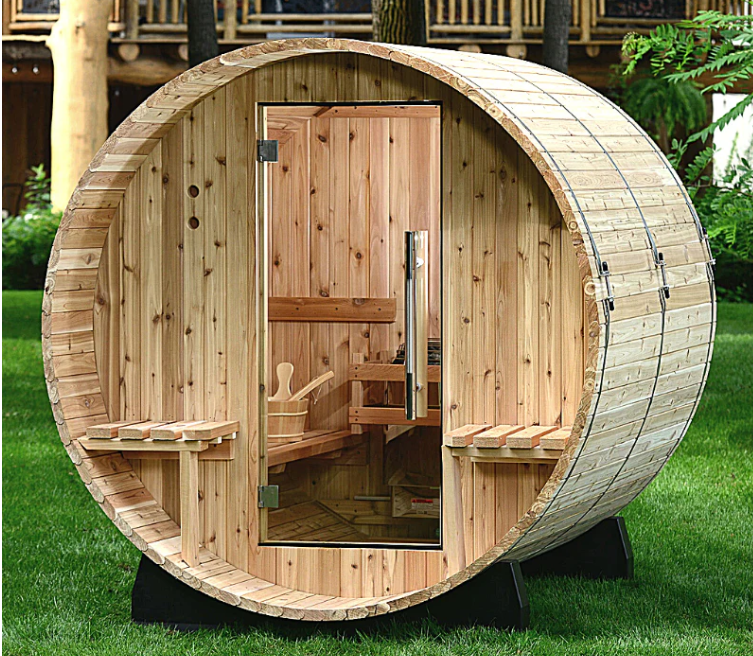 It features two opposite-facing benches inside for sitting or reclining and two exterior benches for added seating. The sauna is designed for both indoor and outdoor use, allowing you to create a spa-like retreat anywhere you desire. 
The Audra 2 Person even comes equipped with the following:
LED light

Sauna stones

Best-in-class electric heater



With 72"W x 72"D x 77"H dimensions, it comfortably accommodates up to four people. The Audra sauna is available in your choice of 
White Fir

Rustic Cedar

Clear Cedar



With its sale price of $5,197.00 (regular price $9,239.00), you can enjoy the ultimate sauna experience at a reduced cost.
Perfect Location for Your 2 Person Outdoor Barrel Sauna
Choosing the ideal location for your two-person outdoor barrel sauna is crucial to ensure an enjoyable experience. Several factors come into play when determining the perfect spot for your sauna, including weather conditions, climate, accessibility, and privacy.
Weather and Climate of Your Area
If you live in a region with harsh winters or frequent rain, selecting a location that protects the sauna from the elements is important. Placing the sauna under a sturdy awning or near a natural windbreak, such as trees or a fence, can shield it from strong winds or heavy precipitation. 
Positioning the sauna to take advantage of natural sunlight can provide warmth and help dry out moisture.
Accessibility Is Crucial
Ensure that the location of your sauna is easily accessible from your home, allowing for a convenient and seamless transition between sauna sessions and relaxation areas. Additionally, consider the path leading to the sauna. A well-paved and well-lit pathway ensures safety, especially during nighttime use.
Privacy Is Necessary for an Intimate Sauna Experience
Choose a location that offers seclusion from neighbors or public view. You can achieve this by selecting a spot in your backyard that is shielded by 
Trees

Hedges

A privacy fence



Privacy enhances the overall ambiance and encourages relaxation and a sense of retreat.
Enhancing Your 2 Person Barrel Sauna
You can enhance the atmosphere and create a truly relaxing and rejuvenating environment to maximize your 2 person barrel sauna experience. You can improve the atmosphere in various ways and create a truly relaxing and rejuvenating environment. From incorporating aromatherapy to setting the right mood, here are some tips to elevate your sauna sessions.
Sauna Herbal Rinses
In addition to the traditional sauna enhancements mentioned earlier, another delightful way to enhance your sauna experience is by incorporating sauna herbal rinses. Sauna herbal rinses involve infusing water with herbs and pouring the fragrant mixture over hot sauna stones. The steam carries the herbal scents, creating a captivating and refreshing atmosphere within the sauna. 
Aromatherapy
Introduce essential oils to your sauna experience by adding a few drops to a water bowl or using a diffuser. Lavender, eucalyptus, and peppermint are popular choices known for their soothing and refreshing properties. The aromatic scents can promote relaxation, clear the sinuses, and enhance the overall sensory experience.
Lighting
Consider using soft, dim lighting or candlelight to create a calming ambiance in your sauna. Avoid bright, harsh lights that may disrupt relaxation. LED candles can provide a flickering glow without the risk of an open flame.
Maintaining and Cleaning Your Small Barrel Sauna
Proper maintenance and regular cleaning are essential to ensure your small barrel sauna's longevity and optimal performance. By following these tips, you can keep your sauna in pristine condition and create a hygienic and enjoyable environment for your sauna sessions:
Regular Cleaning Routine
Develop a routine for cleaning your sauna. After each use, wipe down the interior surfaces, including the benches and walls, with a clean, damp cloth to remove sweat or residue. This will help prevent the buildup of bacteria or unpleasant odors.
Deep Cleaning
Schedule periodic deep cleaning sessions to sanitize your small barrel sauna thoroughly. Use a mild sauna cleaner or a mixture of vinegar and water to clean interior surfaces. Avoid harsh chemicals or abrasive cleaners, which can damage the wood or leave residues behind. Follow the manufacturer's instructions for cleaning and maintenance specific to your sauna model.
Ventilation Maintenance
Check and clean the sauna's ventilation system regularly. Remove any dust or debris accumulated in the vents or air inlets. Proper ventilation ensures fresh air circulation and helps maintain a comfortable and safe sauna environment.
Inspect and Maintain the Wood
Regularly inspect the wood surfaces of your small barrel sauna for any signs of wear, cracks, or damage. Treat the wood with sauna-approved wood treatment products to protect it from moisture and extend its lifespan. Follow the manufacturer's recommendations for wood maintenance.
Sauna Heater and Electrical Components
If your small barrel sauna has an electric heater, ensure it works properly. Check the electrical connections, cords, and controls regularly. If you notice any issues or malfunctions, consult a qualified electrician or sauna technician for assistance.
Sauna Accessories
Clean and maintain sauna accessories such as sauna stones, ladles, and buckets. Remove any mineral deposits from the sauna stones by boiling them in water or replacing them periodically. Clean the ladles and buckets with warm, soapy water and rinse thoroughly.
Implementing these maintenance and cleaning tips lets you enjoy a clean, hygienic, and well-maintained small barrel sauna. Regular care ensures your sauna's longevity and contributes to a more enjoyable and relaxing sauna experience.
Choosing the Best 2 Person Barrel Sauna
Getting a 2 person barrel sauna can be a massive upgrade to your life. Even for those that already have a home sauna, the benefits and design advantages that a 2 person barrel sauna offers are too numerous to ignore. 
Want to enjoy healthy living and revitalize your skin today? Contact us! One simple call is all it takes to begin your home sauna adventure.
SIGN UP. SAVE BIG.
Subscribe to be the first to know about our special monthly sauna sales, sent right to your inbox.