WHAT ARE THE KEY ADVANTAGES OF GETTING AN INDOOR SAUNA?

The time has come for you to pick the indoor sauna that is best for your needs. Now, you have concerns about the benefits that will make your purchase worthwhile. You want to make sure that the indoor version works just as well as the outdoor version. 

Truthfully, many sauna goers do not know the difference between an outdoor and indoor sauna. They also are unsure of exactly how it works and how they can benefit from its use. To help you get a clearer picture of what makes a sauna inside the house better than an outdoor one, here are the key advantages of getting a sauna inside your house. 
WHAT IS THE DIFFERENCE BETWEEN OUTDOOR AND INDOOR SAUNAS?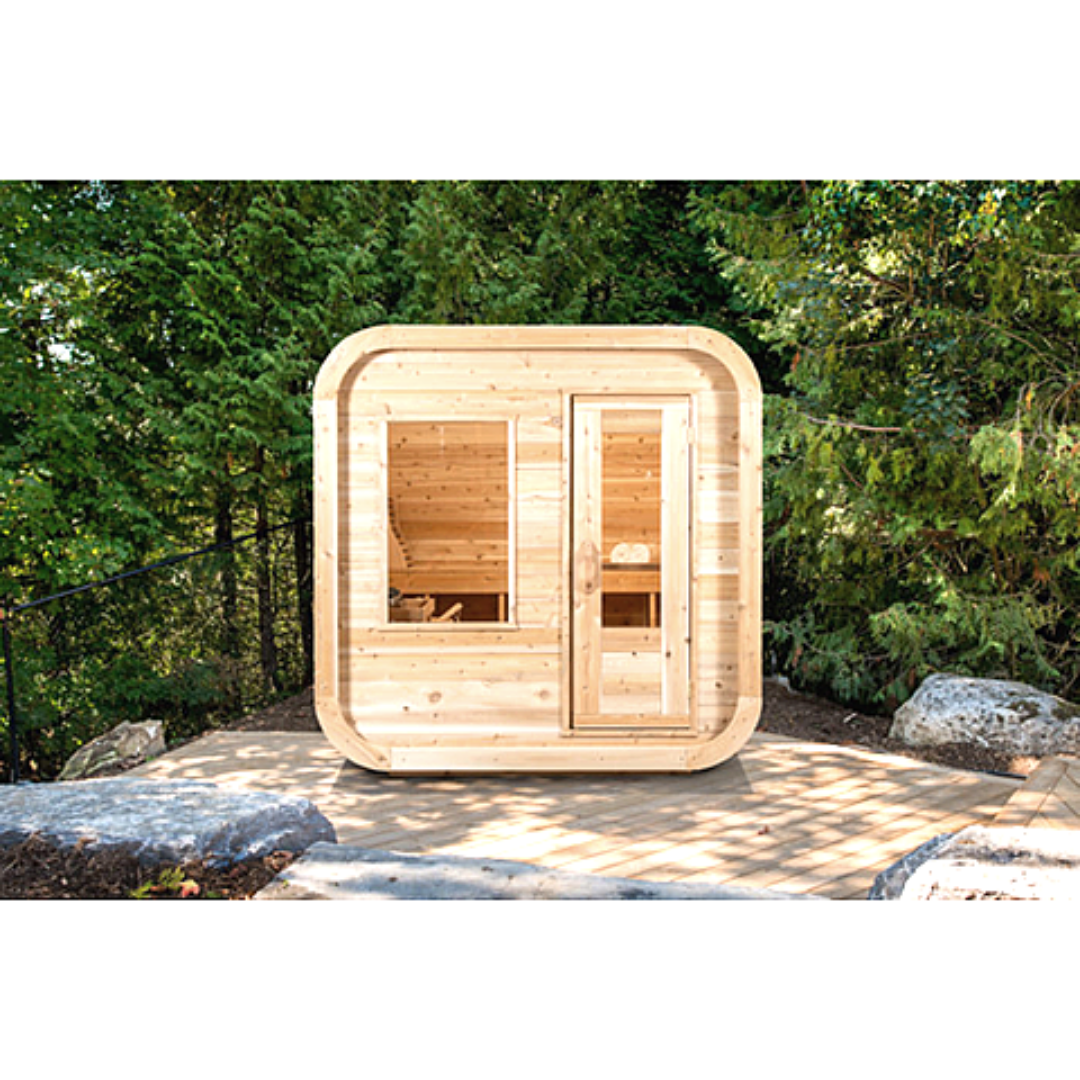 SAUNA SHAPES

While outdoor and inside saunas function the same way, there are several different sauna shapes available. Here is more information about the various shapes of saunas and how they work:

Standard (Cubical) Sauna
The most common sauna design  
Usually placed indoors, but appropriate for outdoor use as well
Can easily fit in small, compact areas
Can be used as traditional or infrared
Allows you to choose between a wood-burning or electric sauna heater
HOW DO INDOOR SAUNAS WORK?
The way that your sauna functions depend on the type of sauna that you choose. 
While some saunas use wet heat and humidity, others benefit the body with dry heat. Some sauna styles even combine both. Here is a closer look at the different types of indoor sauna you can choose from:
WHAT ARE THE DIFFERENT TYPES OF INDOOR SAUNA?
There are 3 main types of saunas: traditional, infrared, and hybrid. Take a look at how each sauna type works: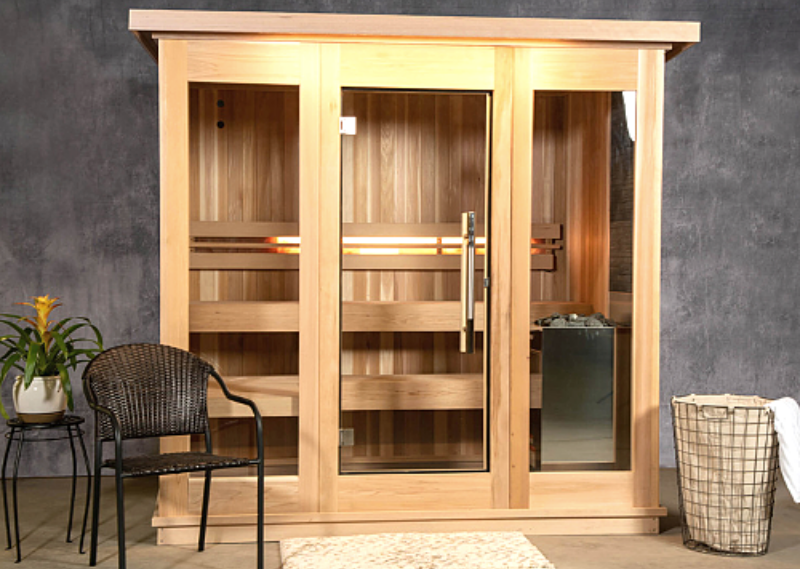 THE TRADITIONAL SAUNA
This type of sauna mimics the steam therapy tactics of the past. 
Sauna stones get hot when placed on a sauna stove. 
Steam is created when water is drizzled over the hot stones. 
Humidity levels rise and as temperature increases, you begin to sweat. 
The temperature is usually between 150 and 195 degrees Fahrenheit.
A few health benefits include better breathing and lung capacity, soothed muscles and joints, and a better night's sleep. 
Example: The Almost Heaven Bridgeport 6-Person Indoor Sauna
THE INFRARED SAUNA
This sauna type works by using infrared waves to produce heat. 
These infrared rays warm your body directly rather than the entire room. 
Because there is no steam, humidity levels are significantly lower. 
If you suffer from heat sensitivity, these types of sessions are easier to tolerate.
The temperature is usually between 120 and 140 degrees Fahrenheit.
A few health benefits include detoxification, lower blood pressure, and skincare perks. 
Example: The Almost Heaven Radiant 2-3 Person Indoor Sauna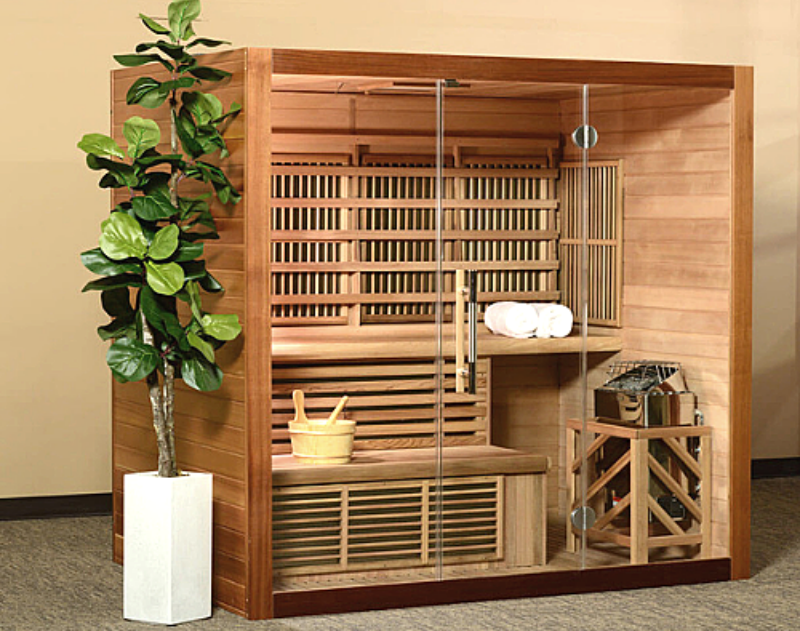 THE HYBRID SAUNA
Its name comes from the fact that it functions as two sauna types in one. 
You can alternate between the traditional setting and the infrared setting to reap both sets of benefits. 
You will not be able to use both settings at once. 
The temperature varies depending on which setting you use. 
WHAT ARE THE ADVANTAGES OF AN INDOOR SAUNA?
There are several reasons why putting a sauna in the house instead of the outside is a great idea. As you develop a regular relaxation routine, you will also notice small improvements in your health. Here are a few benefits of indoor sauna use:
You increase your home value by simply investing in your health.
You will not have to leave the comfort of your home as you relax. On the contrary, you have to step outside with an outdoor sauna when you decide to enjoy steam therapy.
You have the opportunity to use vacant home space. (Ex.: basement, garage, attic)
You save yard space when you install your sauna inside. This is perfect for homes that have little or no yard space. 
6 HEALTH BENEFITS OF INDOOR SAUNA USE 
Having a sauna session routine is one of the only methods that can heal your whole body with every use. Here are 6 ways that relaxing in your sauna in the comfort of your home can improve your health:
1. LOWER BLOOD PRESSURE
One of the health benefits you will enjoy while using your sauna is better heart health. When you are exposed to high heat, your heart rate is faster. When your heart rate speeds up, you regulate your blood flow. 
Sauna use works so well that it is compared to light exercise. Here's how your heart health will improve with sauna sessions:
Decrease in high blood pressure
Decrease in cardiovascular disease
Lower levels of artery stiffness 
Lipid profiles go through positive changes 
2. BETTER LUNG FUNCTION
The steam from your sauna helps airflow through your lungs better. You will notice that you have the ability to breathe deeper as well. Sauna use is great for easing symptoms of the following: 
Bronchitis,
Asthma, 
COPD, 
complications from the common cold, 
or any other health issues that might restrict proper breathing.
Here is how your sauna will improve your lungs and respiratory system:
Fights and prevents pneumonia
Lungs drain better
Less inflammation
Fights and prevents the common cold, flu, and other viruses
Fights and prevents upper respiratory tract infections 
3. BETTER IMMUNE SYSTEM
Another one of the sauna benefits you will enjoy is a stronger immune system. Bacteria, viruses, and other diseases cannot grow in high heat. This is why your sauna is great for fighting illnesses. 
Here are sauna use affects your immune system:
When your sauna gets hotter, your body temperature rises too. 
Your body is fooled into thinking that it has a fever. This makes your immune system go into defense mode against the "illness."
White blood cells increase. 
The supercharged cells fight off bacteria and infection.
Your antibodies might increase up to 2,000 percent. This makes your sauna great for shortening the length of common cold symptoms.  
4. DETOXING
Your body takes in toxins daily from cosmetics, foods, and other methods. They collect in both your fat cells and bloodstream. Your kidneys then have to deal with the result. 
From cancer and autism to Alzheimer's disease, these toxic chemicals are bad for the body. Detoxification is when you get rid of these chemicals. Here is more information on the process:
Your body gets rid of substances like mercury, lead, and cadmium better in sweat. 
Sauna use forces the following out of your body:
Organic chemicals
Solvents
Pharmaceuticals
Heavy Metals
PCBs
5. BETTER SKIN APPEARANCE
Another one of the health benefits of sauna use is the effect on your skin. If you want to look younger, your sauna works wonders for skin rejuvenation.  
The steam promotes a clear, even glow. Your skin will improve in the following ways:
Less acne
Less dead skin
Lower sebum levels
More collagen 
Pore rejuvenation 
Improved circulation
Help get rid of:
Boils
Pimples
Inflammation
Blackheads & Whiteheads
6. A GOOD NIGHT'S SLEEP
As you relax regularly, you will notice that you sleep better. Here's why: 
Thermoregulation helps control the temperature of your body. It also cools your body down before you go to sleep.
The body makes melatonin. This hormone helps you fall asleep.
The body becomes relaxed and hot during your session. When you finish, your body cools down on its own. As a result, you sleep better. 
THE NORDIC CYCLE 
Some sauna fans like going back and forth between the hot sauna and a cooler area, such as the pool or a nearby cold shower. This process is called the "Nordic Cycle." Hundreds of years ago, the Nordic culture became known for its use of this routine. 
First, you have to participate in a 20-minute session, or longer. Immediately after, you submerge your body in cold water. Do this repeatedly until you are satisfied, within reason of course. 
When your sauna is in the house, you can install it near a shower to use the Nordic Cycle to your advantage. Here are a few of the health benefits that you will experience with this process:
Your blood vessels will quickly constrict.
Your blood pressure increases. This helps with blood flow.
Your body starts to produce norepinephrine. This hormone also helps with blood flow. 
Your body makes less lactic acid buildup.
ARE INDOOR SAUNAS AS EFFECTIVE AS OF THE OUTDOOR SAUNA?
Both the indoor home sauna and saunas placed outside are equal in terms of effectiveness.
Both versions provide the same health benefits. 
They are both comfortable and provide customization options.
 Both options are durable and will last for decades if properly maintained. 
A sauna inside the home is simply the more convenient option. 
HOW OFTEN DO YOU NEED TO USE YOUR INDOOR SAUNA?
If you want to work on giving your immune system a boost, speeding up your metabolism, and achieve various other health goals, start a relaxation routine where you use your sauna once a week. Here are a few other facts that will help you with guidelines for your sauna sessions:
There is no real limit in place for how many times you can use our sauna a week.
Sauna use is not "one size fits all." You should experiment with the number of weekly sessions that are fitting for your body.
Sauna beginners start with 10 to 15 minutes sessions.
As your body adjusts to your sauna,  20 to 30-minute sessions are best for health benefits. 
Eventually, you will be able to relax 3 or 4 times weekly.
Try your best not to miss sessions when you begin regular use. You will not see results if you skip sauna days.
Use your sauna 1-3 times a week for 20 minutes. You can enjoy the therapeutic benefits without putting yourself at risk of dizziness or dehydration.
You can also relax for 3 brief sessions in one day, once a week. As long as you take a break between each session and drink plenty of fluids, your body will experience the same benefits of a weekly routine.
If you want, you can use your sauna twice a week for two brief sessions on both days.
If daily sauna use is your goal, stick to only participating in one session a day. 
8 SAFETY TIPS FOR SAUNA USE
Remember to use the Nordic Cycle if you decide to participate in multiple sessions daily.
Take a cold shower after your session to help your body cool off.
Showering also flushes sweat and toxins off your skin that come through your pores as you relax. 
Use sports drinks to help you replace electrolytes. Drink plenty of water or even vitamin water.
Do not drink alcohol before using the sauna.  
If you work out before your session, be careful not to put too much stress on your body.
As you clean your sauna, be sure that it is switched to the off position.
Do not stain or paint the wood inside your sauna. When heated, the chemicals will release harmful toxins.
WHAT IS THE PRICE DIFFERENCE BETWEEN AN OUTDOOR SAUNA AND AN INDOOR SAUNA?
Sauna installation cost and maintenance cost are about the same for both types of saunas. The larger the sauna and the more add-ons included, the higher the cost. The style of the sauna makes a difference in pricing as well. 
For a small, 1-person sauna inside the house, expect to spend about $1.200 for a kit. The cost for installation in the home will vary between $2,000 to $8,000. 
A basic sauna kit for outdoors starts at about $1,600. Prices can go up to $8,000. If you decide to build a sauna outside on your own, you will spend anywhere from $3,000 to $6,000. By using a pre-existing building, like an unused shed, you can save even more money.
SAUNA ADD-ONS AND ACCESSORIES
SIGN UP. SAVE BIG.
Subscribe to be the first to know about our special monthly sauna sales, sent right to your inbox.
By choosing the best sauna accessories, you will enhance the health benefits you experience as you relax. You will also make your sessions easier to enjoy. Some add-ons make your sauna look better. Here is more information on a few sauna add-ons and accessories that you are sure to love:
1. AROMATHERAPY ESSENTIAL OILS
For hundreds of years, Egyptian, Greek, and Chinese cultures have used aromatherapy to soothe and heal. Now, it is commonly used for relaxation. This process works by taking essential oils from certain, special plants.
First, healthcare workers started using lavender essential oils. This gave burn victims some relief. Here are some ways your body will benefit from using aromatherapy essential oils:
Pain reduction
Sleep improvement
Depression prevention
Stress management 
Muscle relaxation
Here are a few of the essential oils and how they will improve your sessions:
Lavender
Has mood-boosting, relaxing properties
Helps you get a good night's sleep
Lowers stress 
Reduces anxiety 
Soothes aching muscles 
Gives off a sweet, gently floral scent 
Eucalyptus
Works as a natural stimulant
Perfect for helping you start your day off refreshed
Gives little bursts of energy
Helps with respiratory issues
Provides a refreshing, minty scent 
Pine
Works like eucalyptus oil 
Helps with awareness and focus
Fights inflammation 
Fights bacteria 
Boosts your mood
Gives off an outdoor woodsy scent 
2. ALMOST HEAVEN HIMALAYAN SALT WALL PANEL
Many relaxation therapy centers often use Pink Himalayan salt for meditation purposes. From yoga sessions and meal prep to home decoration, Himalayan salt works great because it is pure. With 84 different minerals, Himalayan salt will help your mind and body. Here are a few of those minerals:
Iron
Potassium
Magnesium
Calcium
Strontium - builds bone density and new bones
Molybdenum - pushes toxic sulfites out through your enzymes & prevents them from building up
For the ultimate relaxation experience, add the Almost Heaven Himalayan Salt Wall Panel to your sauna. Here are some benefits of the relief you will enjoy:
Great for your respiratory system
Boosts your mood
Strengthens your immune system 
Helps you get a good night's sleep
Gives relief to tired, pained muscles
3. ALMOST HEAVEN INDOOR SAUNA FLOOR KIT
You can put your sauna on tile, concrete, laminate, or vinyl. Afterward, you will notice that the floor of your sauna does not match the rest of its beautiful build. There is a chance that you will want a more congruent look.
To give your sauna a professional, gorgeous look overall, add an Almost Heaven Indoor Sauna Floor Kit. With a smooth red cedar finish, your sauna floor will match the walls and roof of your investment. Expect durable, custom-fit sections that are free-standing. This add-on is easily placed in your sauna.  For a congruent finish, you need this floor kit. 
4. ALMOST HEAVEN LED LIGHT BAR
Some sauna users fail to realize that the mood you create and surround yourself with has an impact on how effective your session is. One of the easiest ways to change the ambiance in your sauna is to customize the lighting. If you want a warm glow beneath your sauna benches or more brightness on the walls, use the Almost Heaven LED Light Bar. Here are a few benefits that come with using this convenient light bar:
You can decide on either 30" or 52" in length. 
The light bar comes mounted for your convenience. Use the cedar, removable deflector frame to help you place the light how you want it. 
The on/off dimmer switch is easy to access and use. It is mounted on a 24" cord for simple operation.  
Use this light in any typical 110v outlet. 
Enjoy the comfort of a waterproof, 12v power supply. 
Use the light bar outside of the sauna if you wish. 
This long-lasting LED bar provides light for up to 10,000 hours worth of sessions. 
SUMMARY
The indoor sauna is convenient and has several health benefits. With your steam therapy investment, you will increase your home value just for relaxing in the comfort of your own home. As you relish in relaxation, you will not have to worry about using valuable yard space. Saunas placed inside can conveniently fit into small areas as well. This allows you to enjoy better breathing and a new, youthful appearance without taking up too much home space. Best of all, you can fully customize the appearance and accessories included in your sauna to make each moment of tranquility truly satisfying. Be sure to remember these advantages as you choose the indoor sauna that is perfect for your home.