CAN YOU LOSE WEIGHT USING THE BEST OUTDOOR SAUNA?
More than ever before, saunas are now being implemented to assist with healthy lifestyle changes. Not only has repeated use of the sauna been proven to even help patients who suffer from chronic heart failure, but studies have also shown that sauna use also assists with stress levels and metabolism, in turn leading to weight loss. 
If you are curious about how weight loss occurs while engaging in sauna use, or wondering how you can achieve your weight loss goals by way of sauna sessions, here is more information on how you can lose weight using the best outdoor sauna.
CAN YOU ACTUALLY LOSE WEIGHT WITH AN OUTDOOR SAUNA?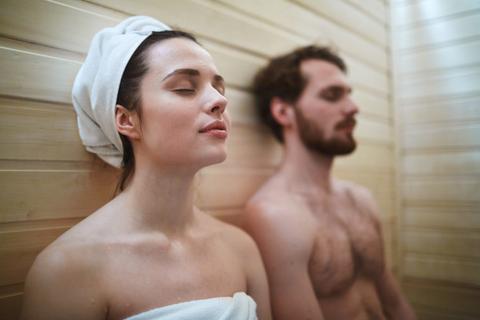 Of course, using your sauna will not produce dramatic results overnight, but you will gradually begin to notice healthy changes within your body. There are several positive effects of long-term sauna use that eventually contribute to weight loss. For example:
LOWERED STRESS LEVELS
High-stress levels are scientifically linked to weight gain. Not only does tension cause you to eat than you normally would, but you are also forced to deal with higher cortisol levels. This makes losing weight even more difficult. 
By using your outdoor sauna regularly, you will lower your stress levels in the following ways:
Causes you to meditate 

Releases tension 

Encourages full, uninterrupted relaxation

Causes endorphins (hormones that contribute to happiness) to be released 
IMPROVED WORKOUT & SHORTER RECOVERY TIME
Your workout regime will benefit from the regular use of your sauna by way of:
Improved respiratory function

Increased breathing capacity

Blood vessels dilated by vasodilators increase blood flow
These effects will allow you to work out harder for longer periods of time, undoubtedly leading to eventual weight loss. 
Also, quite naturally, your workout may leave you with overworked, tense muscles. Research proves that using a sauna will ease your discomfort, allowing you to return to your workout routine sooner. With a refreshed body, you will be more likely to achieve maximum effectiveness. 
HOW DOES WEIGHT LOSS HAPPEN WHEN USING AN OUTDOOR SAUNA?
These 3 steps show how weight loss occurs over time due to sauna use:
 When your body is exposed to dramatic changes in temperature, whether hot or cold, it works harder internally to regulate your core temperature. 

As a result, your heart rate increases up to 30%, which causes a boost in your metabolism.

 higher metabolic rate is directly linked to burning calories. Because saunas operate at about 150 degrees Fahrenheit, your metabolic rate can increase by up to 20% during, and even hours after, use. 
Science has proven that using your sauna will cause your body to experience the same effects brought on by exercise due to your increased heart rate and elevated core temperature. 
2 WAYS TO LOSE WEIGHT USING A SAUNA 
WATER WEIGHT REDUCTION
Because using your sauna causes you to sweat profusely, as a result, you will quickly lose water weight. While this is simply a short term fix, there are several scenarios where water weight reduction can be of good use:
Outfit fitting for an upcoming event 

Work-related reasons (modeling, for example)

Weigh-in for sports (athletes)

Insurance purposes
One single sauna session can shed up to 5 pounds of water weight off your body, but keep in mind much of the weight will return when your hydration levels return to normal.
DETOXING
Daily, your body is exposed to toxins and heavy metals, such as mercury, lead, copper, zinc, and nickel. Because our normal day to day routines are not strenuous enough to encourage sweat production, we must use other methods to detox. 
By using your sauna on a regular basis, you will benefit from detoxification with:
Assistance with burning body fat effectively

Cleared lymphatic system

Increased energy levels

Accelerated weight loss
BEST TYPE OF SAUNA FOR LOSING WEIGHT
While outdoor saunas, which consist of a barrel and other various designs, as well as traditional saunas, are equally effective for producing fat-burning results, infrared Saunas have been scientifically proven to be the best for weight loss.
A study conducted by Binghamton University located in New York confirmed that 30 minutes of infrared sauna use 3 times a week caused an average loss of 4% of body fat in participants within a 4 month period. These impressive results occurred even without changes in diet or implementing exercise. 
SAFETY TIPS FOR LOSING WEIGHT WITH SAUNA USE
SIGN UP. SAVE BIG.
Subscribe to be the first to know about our special monthly sauna sales, sent right to your inbox.
While you will discover that using your sauna is an amazing way to contribute to weight loss, you must be sure that you do without putting yourself at risk. Keep yourself safe before and after your sauna session by adhering to the following: 
PROPER HYDRATION
Be sure to properly hydrate yourself due to experienced water weight reduction. Before heading to your sauna session, be sure to drink a full glass of water. Afterward, you may opt for an electrolyte-rich sports drink, such as Gatorade. Failure to do so may put you at risk of dehydration and hyponatremia.
AVOID USE BEFORE A WORKOUT
Although using your sauna after working out has incredibly therapeutic benefits, using your sauna before your workout can be detrimental. You will expose yourself to the dangers of dehydration and may even possibly injure yourself while working out. 
GRADUALLY INCREASE SAUNA USE
If you are new to using a sauna, be sure to gradually increase the length of time for your sessions. You should never feel lightheaded while using your sauna. If you are prone to heat sensitivity, begin with a light, 5-minute session to adjust. Ease into a couple of 15 to 20-minute sessions weekly, then work your way up to daily sessions. The most important aspect is your level of comfort.
SUMMARY
By developing a healthy, steady routine for the use of your sauna, you can experience the wonderful benefit of weight loss. Here are a few points to take away:
Saunas contribute to weight loss by lowering stress levels and healing your body, resulting in a more effective workout routine.

Dramatic changes in temperature increase your heart rate and boost metabolism, resulting in weight loss.

Water weight reduction and detoxing are two ways you can lose weight with your sauna.

While outdoor saunas are appropriate for weight loss, infrared saunas are the most effective.

Be sure to stay hydrated, avoid sauna use before working out, and gradually increase the length of your sauna sessions to ensure a healthy routine. 
For more information on how to lose weight with your sauna, or any other sauna related topics, visit My Sauna World