YOUR GUIDE TO BUYING A BARREL SAUNA IN A POST COVID-19 MARKET
With social distancing regulations and sanitation concerns still at all-time high due to COVID-19, the decision to purchase your own outdoor sauna is a timely and wise one. Quite naturally, you may be wondering if sauna use is an effective tool for battling the virus or if social distancing can be properly achieved as you make your way to total relaxation. You may also have concerns regarding proper sanitation techniques for your sauna. Here is your guide to buying a 2-person barrel sauna in a post-COVID-19 market. 
HOW SAUNA USE TIES INTO COVID-19 MANAGEMENT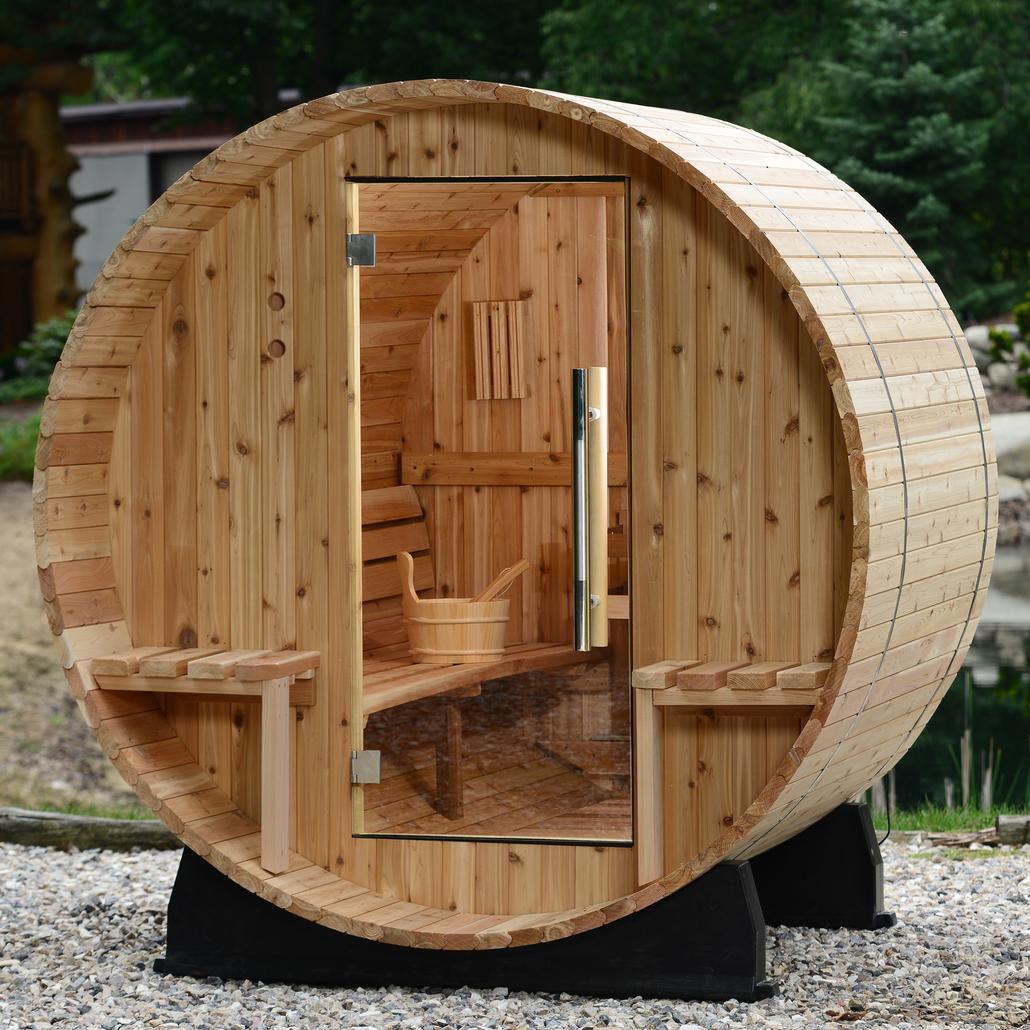 While the COVID-19 vaccine has been recently released for public use, there are few resources available for prevention and assistance with lessening the severity of the effects. Sauna use has not been proven to be a cure, but research does show that using a sauna can help you prevent contraction, as well as ease the uncomfortable symptoms, of the virus.
HEAT USE FOR HEALTH BENEFITS
Throughout history, heat and humidity have been used to prevent and treat respiratory issues. The following benefits have been proven to occur due to regular sauna use:
Boosts cardiovascular system

Improved respiratory function

Mood enhancement

Improved quality of life

Reduced risk of premature mortality 

Reduced risk of vascular diseases (i.e.: stroke, high blood pressure)

Headache prevention

Prevention of neurocognitive diseases

Reduced risk of pneumonia 

Lower amount of viral infections contracted

Common cold management and symptom relief

Better sleep

Detoxing
STRENGTHENS IMMUNE SYSTEM
Although everyone is at risk of possible contraction of the virus, by strengthening your immune system, you are proactively protecting your body and health. While there are many methods for boosting your immune system, sauna use is an amazing tool for helping your body fight off infections. Here's how it works:
When subjected to the high heat of a sauna, your body is fooled into thinking that you have a viral infection. (Similarly to having a fever)

Your body begins to create the antibodies needed to fight off infection.

Blood cells are created as well. Your body actively combats the "fever."
INCREASED BLOOD FLOW
Sauna use also increases blood flow. If you are using other precautions to boost your immune system, such as healthy eating or the use of supplements, increased blood flow assists with the transportation of your body's nutrients. Toxins are also flushed out quicker. 
LOWERED STRESS LEVELS
Stress is scientifically linked to the worsening of a number of diseases and disorders, including heart disease, obesity, Alzheimer's disease, asthma, depression, and even issues with the gastrointestinal tract. The same goes for your immune system.
Because the immune system does not properly fight antigens when our stress levels are raised, we are more prone to infection. Using your sauna regularly as a therapeutic escape greatly reduces stress, in turn supporting the health and full function of your immune system. 
REASONS WHY A 2-PERSON BARREL SAUNA IS IDEAL FOR SOCIAL DISTANCING
Not only does having your own sauna prevent you from having to commute to your local spa, but you can also practice safety from the comfort of your own home. Here are a few reasons why choosing to use your own sauna is perfect for social distancing. 
SECLUDED PLACEMENT
While a barrel sauna is appropriate for indoor use as well, having one outside your home is ideal for social distancing for the following reasons:
If you happen to contract the virus, you can reap the many benefits associated with sauna use without putting others at risk. 

You can relax in a sauna without having to put yourself at risk by using a public spa. 
By using your own sauna, you will be proactive in protecting yourself from the virus. 
SMALL SIZE
Because of the small size of a 2-person sauna, you can use your sauna safely without violating social distancing regulations. While the sauna can fit up to 4 people, try to stick to no more than 2 persons at a time. Bonus points if you only use the sauna with family members within your household. 
MEANS FOR INTERACTION
Under normal circumstances, sauna use provides a way for people to come together. This does not necessarily have to change. (Contrary to popular belief, the myth that COVID-19 can travel through sweat is false.)  
As long as you keep your group relatively small, you can still nurture relationships with loved ones safely. Not to mention, your sauna is an added bonus for everyone's health and well-being.  
HOW TO PROPERLY SANITIZE YOUR BARREL SAUNA
SIGN UP. SAVE BIG.
Subscribe to be the first to know about our special monthly sauna sales, sent right to your inbox.
Usually, simply wiping your sauna down with a soft cloth and a warm water/baking soda mixture is sufficient for cleaning your sauna. You may opt to use another option for disinfecting.
CHEMICAL-FREE PRODUCTS
Using a chemical-free product for sanitation is an available option. As an added bonus, you will not have to worry about inhaling abrasive chemicals while cleaning
PRESSURE WASHING
Putting a pressure washer to use is also an option for deep disinfecting. Even though this route is not mandatory after every use, cleaning with the low-pressure setting while using a wide pattern nozzle is effective. 
SPECIAL CLEANERS
You may also use cleaning products that are specifically designed for saunas. Opt for cleaners that use hydrogen peroxide as the active ingredient since it naturally decomposes, turning into harmless water and oxygen, while evaporating.
Remember to start your sauna cleaning at the top and work your way down. With wood wall paneling, no matter your sauna wood type, the same amount of maintenance is required. 
SUMMARY
Your own personal sauna can be a healthy and effective way to combat the woes of COVID-19. Here are a few key points to remember:
Although not a cure, saunas are highly effective for COVID-19 prevention and management due to various health benefits, including immune system support and increased blood flow.
A 2-person barrel sauna is perfect for social distancing due to its secluded placement and small design.
You can properly disinfect your sauna with chemical-free products, pressure washing, or using special sauna cleaners.
For more updates and information regarding the barrel sauna, as well as any other sauna type, visit My Sauna World for assistance.