HOW COMFORTABLE IS AN OUTSIDE SAUNA?
Whether you consider yourself to be a connoisseur of 'R&R,' or you simply enjoy unwinding after a long day's work, you are well aware of the undeniable benefits of using a sauna.  
Medical studies have proven that regular use of a sauna does the following:
Improves circulation 
Assists with muscle and arthritis pain  
Lowers your risk of cardiovascular disease 
Fights asthma and certain lung diseases (when paired with added bonuses such as Himalayan salt)
You may be intrigued by the allure of having a sauna conveniently placed outside your home, which are often barrel saunas, but you simply have questions.
You may wonder what exactly a barrel sauna is.
Perhaps you question if a sauna that is outdoors is as comfortable as an indoor one. 
Maybe you question if you will actually benefit from using a  sauna.
To help you reach your conclusion, here is a deeper look at the comfortability of an outside sauna and a few suggestions of our most comfortable outdoor sauna models. 
WHAT IS A BARREL SAUNA?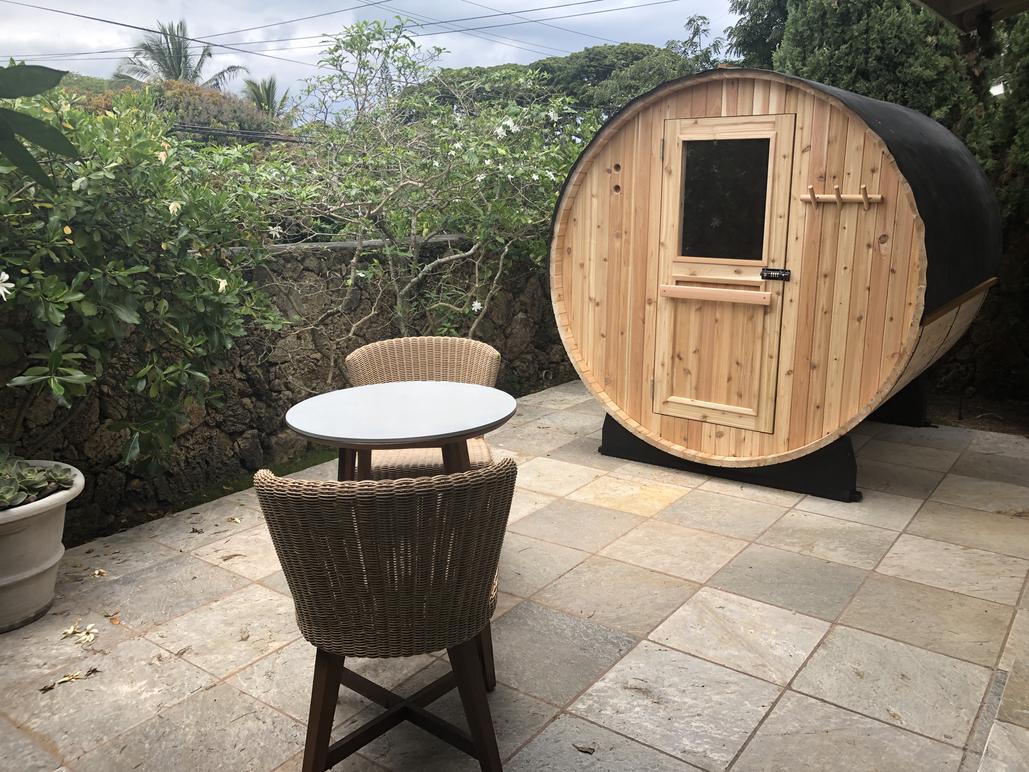 Contrary to the typical indoor sauna design, the barrel sauna showcases a circular design that sheds water naturally. 
Although indoor use of a barrel sauna is possible in some cases, due to its structural design and durability, they function more appropriately when used as an outdoor sauna. 
ARE BARREL SAUNAS COMFORTABLE? 
Barrel saunas, which are just as comfortable as indoor saunas, were indeed created with a relaxing experience in mind.
Here are 4 reasons why barrel saunas are comfortable:
Expertly constructed with insect, water, and snow resistance
Resistant to temperature change - the outside elements will have absolutely no effect on your outside sauna session
Shape of the barrel sauna allows a variety of comfortable sitting positions as well, optimizing back support
Craftsmanship - features smooth, high-grade softwood and glass made with thick tempering 
Whether sitting upright, neck straightened with your back comfortably fitted along the curve of the sauna wall, or whether you choose to use the bench to recline, taking full advantage of an included red cedar back support, each scenario ensures that you feel no strain. 
Not to mention, you are temporarily removed from the hustle and bustle surrounding you within your home. You will only hear the sound of, or feel, utter relaxation and pure bliss. 
BENEFITS OF USING AN OUTSIDE SAUNA
THEY SAVE SPACE.  
While some homes have space for extras such as a guest room or home office, all rooms in most homes are preoccupied. By building a sauna outside your home, you will not have to make room for one or worry about using valuable inside space. 
THEY MAKE ASSEMBLY QUICK AND EASY. 
With pre-assembled walls and straightforward instructions, along with video footage for assistance, putting an outdoor sauna together can be completed without breaking a sweat.  
THEY ARE VISUALLY APPEALING. 
While typical yard extras, such as the old faithful storage shed, can become quite the eyesore overtime, an outdoor sauna delivers a homely, aesthetically pleasing charm right to your doorstep. Also, a well-constructed outdoor sauna will increase your property value. 
THEY PROVIDE A GETAWAY WITHOUT LEAVING THE HOME.
Of course, indoor saunas possess relaxing qualities as well, but you may not be able to fully enjoy them due to your housemates. 
Demanding children, needy pets, and an inquisitive spouse might prevent you from indulging in your much-needed "me time." With an outdoor sauna, you can enjoy quality alone time without leaving your residence. 
THEY CAN BE MULTIPURPOSE. 
If you happen to have a pool, your outdoor sauna can function as a pool house of sorts as well. As an added bonus, you can even use your pool briefly between sauna sessions, making wintertime as equally enjoyable as the summer.
4 MOST COMFORTABLE OUTSIDE SAUNAS 
SIGN UP. SAVE BIG.
Subscribe to be the first to know about our special monthly sauna sales, sent right to your inbox.
With unprecedented efficiency, featuring faster heating times, low maintenance, and effortless assembly, our selection of accommodating outdoor saunas is simply unmatched. In no particular order, here are 4 of our most comfortable saunas created for outdoor use. 
ALMOST HEAVEN PINNACLE 4-PERSON STANDARD BARREL SAUNA
Showcasing physically alluring properties, available in an array of gorgeous finishes such as White Fur, Rustic Cedar, or Clear Cedar, the Almost Heaven Pinnacle Barrel Sauna pairs practicality with a classy appearance. 
Its design, featuring polymer support cradles to keep the sauna lifted, accompanied by entrancing LED lights, ensures that you will enjoy more than enough space to comfortably focus on your relaxation without contact with the ground below. 
ALMOST HEAVEN AUDRA 4-PERSON CANOPY BARREL SAUNA
Equipped with a stainless-steel Harvia heater that provides a fully heated space as quickly as within an hour, the Almost Heaven Audra Canopy Barrel Sauna is an excellent selection for a high-quality, comfortable sauna. 
Parallel benches allow 4 people to enjoy this sauna's therapeutic benefits simultaneously. You may even enhance your experience by adding Almost Heaven's Backlit Therapeutic Salt Wall, complete with a Himalayan pink salt panel and cascading a soft, subtle pink glow with LED lighting. 
DUNDALK LEISURE CRAFT CLEAR CEDAR POD SAUNA

Complete with a sturdy cedar door, calming, natural lighting provided by a full, bronze-tempered, glass window, and a triple-layer roof for extra insulation and protective purposes, the Dundalk Leisure Craft Clear Cedar POD Sauna serves as a luxurious addition to any home. 
You even have the option of choosing between a wood-burning sauna heater or an electric sauna heater. For the feel of a traditional home sauna, also featuring the ability to be refueled inside, the wood-burning sauna heater is the ideal selection. 
ALMOST HEAVEN WATOGA 4-PERSON STANDARD BARREL SAUNA

The Almost Heaven Watoga 4-Person Standard Barrel Sauna is yet another comfortable selection that features a smaller, yet equally practical, design in terms of craftsmanship.
Even previous users of this amazing sauna can attest to its functionality. One user praised the sauna for "much better quality and integrity than expected," as well as "no mystery fits," resulting in the perfect, seamless fitting. 
SUMMARY
If you are questioning if an outside sauna is comfortable, in short, the answer is "yes." Here is a quick recap of points to take away:
They are often barrel saunas. 
Barrel saunas are specifically constructed with a circular design that separates you from the outside elements of nature as you relax. 
Saunas designed for use outdoors are in fact comfortable. Weather and temperature resistance, as well as the shape of the sauna, are contributing factors.
Easy assembly, visual appeal, and an on-property escape are all benefits of using a sauna outside your home. They also save space and serve more than one purpose. 
After purchasing your sauna and placing it in the great outdoors, you can rest assured that comfort will not be an issue in the future. If you have more questions about your sauna and outdoor use regulations, or any other sauna related products, be sure to check with My Sauna World for assistance and updates.