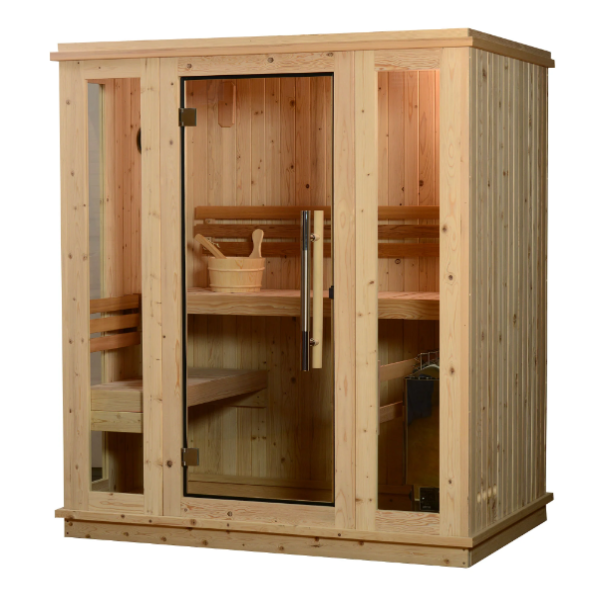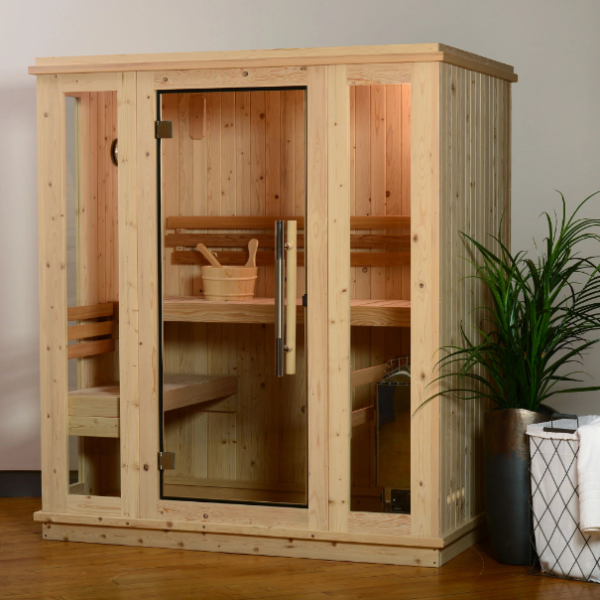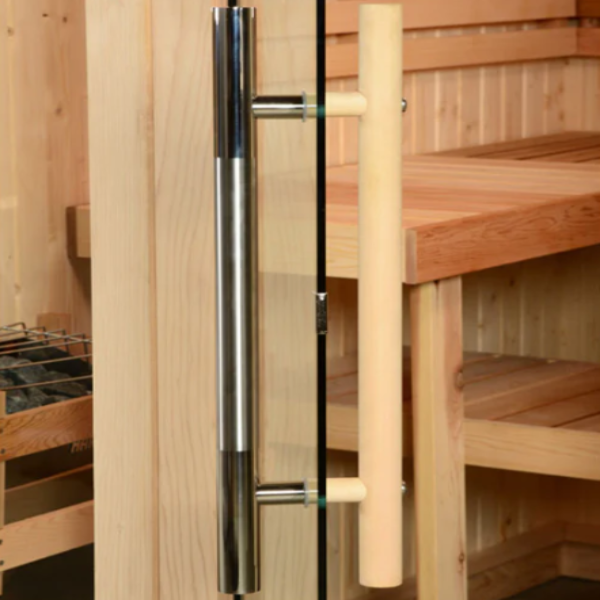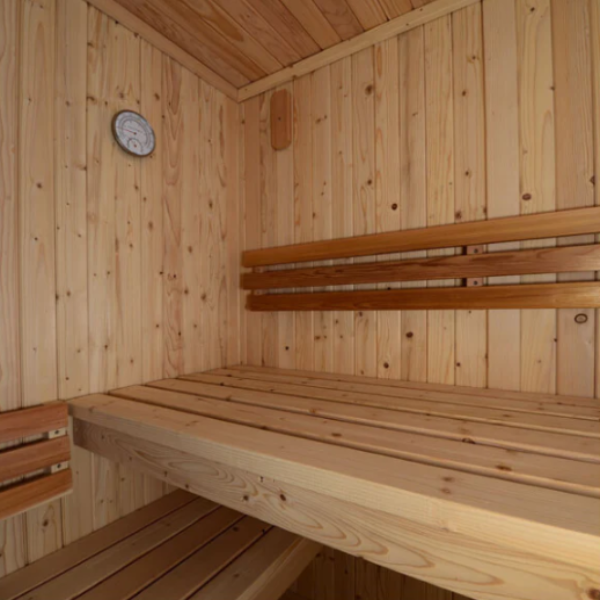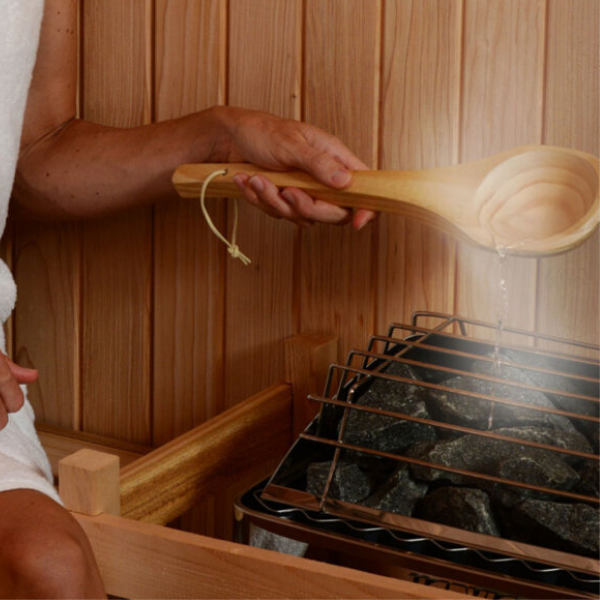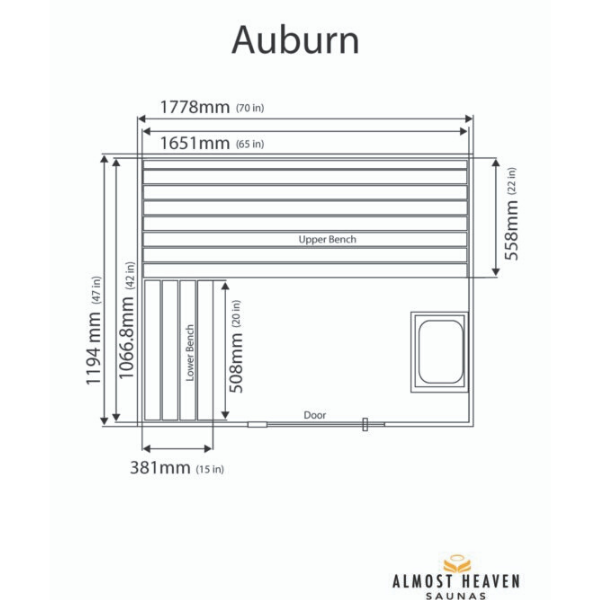 Almost Heaven Auburn 2-3 Person Indoor Sauna
"Highly recommend Sauna World for purchasing a Sauna! We can say enough about Sauna World there customer support is great! Our Pinnacle Sauna from Almost Heaven is epic."- Abby Lapan
Almost Heaven Auburn 2-3 Person Indoor Sauna


ENHANCE YOUR WELLBEING WITH EASE
Introducing the Almost Heaven Auburn 2–3 Person Indoor Sauna — a gift of relaxation and wellness. This sauna is designed for indoor use and provides an intimate setting for 2 to 3 people, making it a perfect addition to any home.
If you'd rather exercise, clean, or go about your day first, delay the start time up to eight hours. 
LUXURIOUS FEATURES:
Premium Craftsmanship:

 Made from the finest quality wood, including white fir and rustic cedar, the Auburn sauna is the epitome of elegance and durability. Its smooth finish enhances its aesthetics and promotes longevity.

Efficient Heating:

 Equipped with state-of-the-art heating elements like the 6.0kW Harvia KIP electric heater, it guarantees even and consistent temperature distribution.

Compact Design:

 Specifically designed for indoor spaces, the Auburn model makes efficient use of space while providing ample room for relaxation.

Ease of Assembly:

 Two people can quickly set up the sauna, allowing you to indulge in its benefits without hassle.

Safety is paramount

: The sauna comes with built-in safety features, including tempered glass windows, and all heating elements are encased, preventing accidental burns.

Ergonomic Interiors:

 The benches and interiors are crafted to provide the utmost comfort. The sauna accommodates your preferences whether you want to sit or lie down.
Health Benefits: Regular sauna sessions can aid in improving blood circulation, reducing muscle tension, promoting skin health, and more.
| | |
| --- | --- |
| Capacity | Holds two to three people |
| Heater Size | 4.5kW, 240V, 30-amp requirement, hard-wire connect |
| Lighting Electrical | 110V, 15-amp service, plug-in connect |
| Exterior Dimensions | 70″W x 47″D x 78″H |
| Interior Dimensions | 65″W x 42″D x 77″H |
| Upper Bench Size | 65″L x 22″ W x 36″H |
| Lower Bench L Extension Size | 20″L x 15″W x 22″H |
| Door Size | 64″H x 24″W |
| Window Size | 64″H x 9″W |
| Shipping Size | 74″L x 40″W x 40″H |
| Assembled Weight | 515 |
| Shipping Weight | 700 lbs. |
Order Almost Heaven Auburn 2-3 Person Indoor Sauna today from MySaunaWorld.com. Shop now and indulge yourself!
Almost Heaven Sauna - Auburn Model
I recently installed our newly purchased Auburn sauna unit. After using it each of the last two evenings, these are my thoughts:
1) Fine quality and craftsmanship;
2) While the Installation Instructions are very good, some familiarity with basic carpentry and an ability to think "out of the box" is helpful. I assembled the unit by myself including the electrical. It took me two, 4 to 5 hour days to fully complete and test.
3) With the upgraded 6K heater unit, the sauna heats up to 170 degrees F in about 25 - 30 minutes. This is due to the relatively small size of the unit and the size of the heater. This is a plus for us.
4) The finished product is beautiful and would compliment almost any space in which it is installed.
5) The Auburn is advertised as a "2 to 3" person unit. It would be very difficult to fit three (3) individuals in the Auburn comfortably. I suspected this might be the case, but we bought the unit for two (2) people to use regularly. Fitting three would require one individual to be too close to the heater for safety.
6) If the extra $1,200 or so is not an issue for you, I would purchase the WiFi temperature control unit. The analog (dial type) control on the heater works just fine, but is inconveniently located at the bottom of the heater and is not as finely tuned as a digital controller would be. If using the sauna at night, even with the LED lighting on, it is almost impossible to see the dials for adjustment. Placing the control dials on the upper front of the unit would be most helpful.
7) Customer support from both My Sauna World and Almost Heaven has been excellent.
Overall, definitely a good purchase and we are very pleased with the product. If money had not been an issue, I would have gone with the digital WiFi controller.
Ken L
Hi Ken! We sincerely appreciate this very detailed review and the photos of your sauna that you shared here. We also appreciate your feedback and input about the Harvia KIP heater and the interior space of the Auburn. This will truly help and guide our future customers as they consider this indoor sauna.
We sincerely thank you for doing business with us. Working with you has also been a great experience for us. Please feel free to reach out to us anytime if you have any concerns or questions in the future, we'd be happy to assist you.
Your sauna looks amazing! Enjoy your sauna sessions!
I love this sauna. Sauna made in USA! This Sauna has thick walls and thick benches made from real white fir. it is very beatiful inside and outside. I am very pleased with this almost heaven sauna!
Thanks for the review and the photo Felix. Absolutely beautiful! We're very happy you're loving your new sauna. It was a pleasure working with you. Please feel free to reach out anytime if there's anything we can do for you in the future.
Wish I had bought it sooner.
Very happy with the sauna. The assembly was very easy, the instructions were clear. I assembled most of it myself, my son helped with a few of the heavier pieces and moving it after finished. The materials and quality are great. The sauna feels great! Wish I bought it years ago...
Thank you so much for the review Adrian! Glad to know everything went well with your sauna. Hope you and your son enjoyed the assembly process.
Enjoy your sauna for many years! Please feel free to visit us again if there is anything we could be of help in the near future.
Good value
Good value for the money! Pretty straightforward and easy to put together, although the installation manual and the materials didn't match and we were missing some nails.
We're about a month or two in and it's really performing well. The upgraded heater was great decision. Gets up to about 175+ in 30 minutes and handles well, dry or wet. Really enjoy the backlit back rest.
BTW - It's not clear how to install the heater guard and we might have extra wood pieces.
Thank you so much for the review, we truly appreciate it! Glad to know your sauna assembly went well. Such a powerful heater!
About the heater guard, we'll send you a copy of the installation manual we got from our supplier. Please feel free to email us anytime for any sauna questions or concerns. Enjoy your sauna!
Almost Heaven Auburn 2-3 Person Indoor Sauna
Thanks for the review Jian! We appreciate your business!