OUR NEW YEAR'S SAUNA SALE
MAKE 2023 THE YEAR YOU FEEL YOUR BEST!
SAVE $435 - $1350 ON A HOME SAUNA!
No code necessary! Your free gifts and extra savings will be instantly applied at checkout!
THIS SALE LASTS UNTIL THE END OF JANUARY
00

Days

00

Hours

00

Minutes

00

Seconds
"
Absolutely beautiful Sauna by Almost Heaven. Was extremely easy to build and heater works great. Delivery was sooner than expected. What made it even better was dealing with my sauna world. If you are shopping for a sauna this is the place to buy from. Prices were better than other places that were researched.
"
-
Jonathan, Rainelle 4-Person Indoor Sauna
What's So Special
About This New Year's Sale?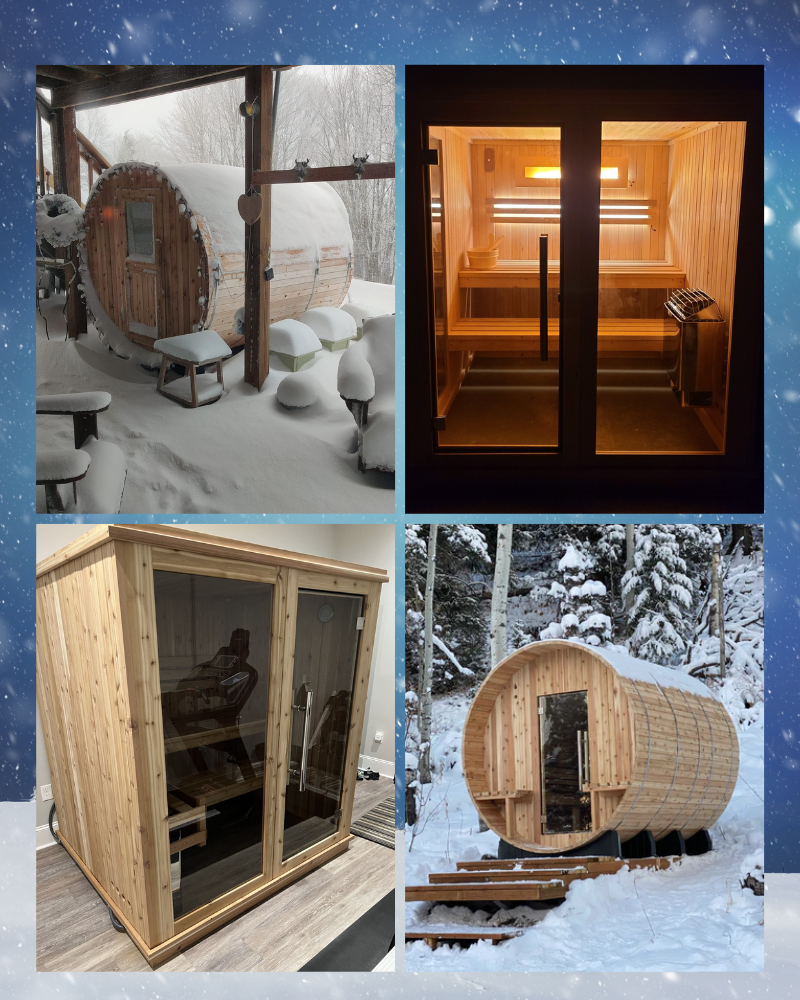 BIG
SAUNA SAVINGS
ADDITIONAL 6% Off Almost Heaven Saunas, Accessories & Upgrades
Take your pick of any Almost Heaven sauna and get 6% off the already-discounted price as well as accessories and upgrades you have your eye on. Plus enjoy an extra KW Boost for your KIP Heater + a Cedar Accessories Set for FREE (more details below).
What Size Saunas Are Available?
Ranging in size from petite 2-person barrel saunas to charming and spacious 6-person outdoor models. plus a large selection of indoor models – there's an Almost Heaven sauna to fit every home and style! 
"The My Sauna World team is wonderful to work with; everyone from Adora supporting the order to Adam (Co-Founder) who shared product information. We love our Sauna. We were nervous about putting it together, but the instructions and videos make it very easy. Thanks to the team for making our sauna a stress- free purchase!
"
-
Angel,  Almost Heaven Lewisburg 8-Person
FREE
BUCKET, LADLE & THERMOMETER PACKAGE
Bring on the Steam
The bucket and matching ladle  provide an easy way to transport water and pour it over your heater rocks to make steam, so you can easily transform your "dry" sauna to a "wet" sauna. Handcrafted in the USA and made from solid Western Red Cedar that stays cool to the touch.
Enjoy Better Sauna Sessions
The heat-proof thermometer/hygrometer combo ensures you get the temperature and the humidity right where you want it every single time.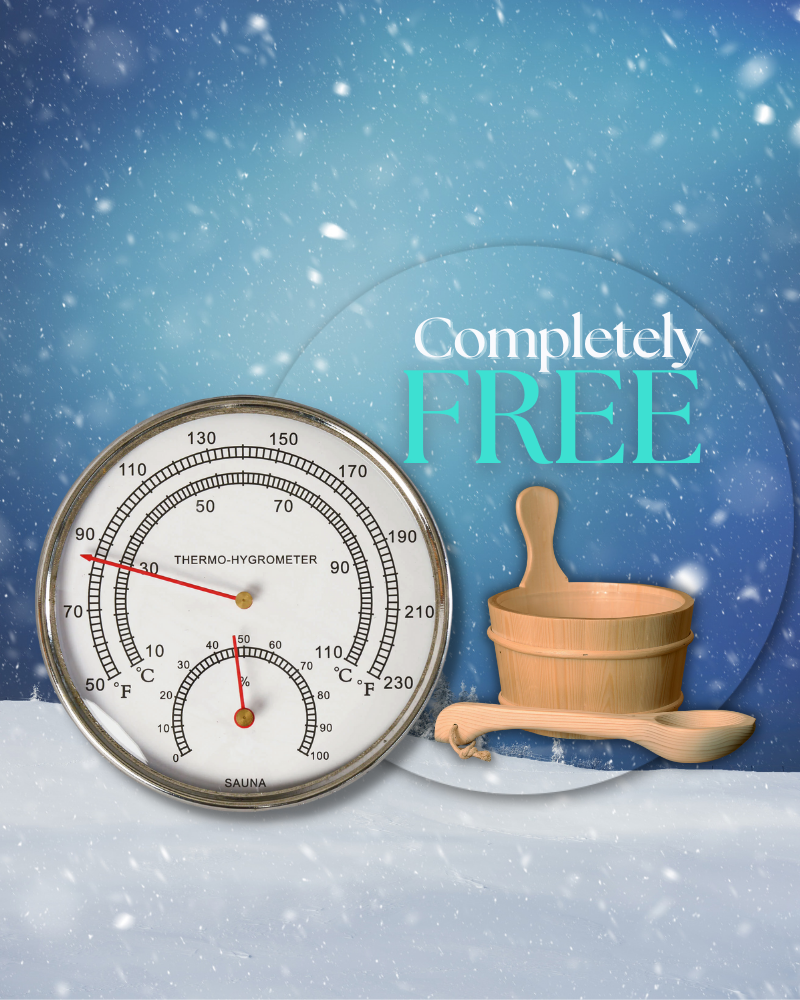 "
The product is amazing and the customer service is outstanding! I've ordered a few different products and have been really happy. I will definitely be ordering from them in the future.
"
-
Andrea P., Bucket, Ladle & Thermometer Package
FREE
KW HEATER BOOST
Dependable Efficiency by Harvia
Durable and beautiful in design, all Harvia electric heaters come with a large stone capacity for optimal heat dispersion and efficient power.
More Power with a KW Boost
This sale includes a FREE KW Boost no matter what size sauna you choose. If the default is 4.5KW Heater, we will upgrade you to a 6.0KW, and if it's a 6.0KW, we will upgrade you to an 8.0KW for faster and more efficient heating!
JUST 3 STEPS TO A "NEW YOU" THIS YEAR:
STEP 1:
Find an Almost Heaven Sauna you love, add any accessories or upgrades you want.


STEP 2: 
A free KW Boost, Heater Guard, Accessory Kit, & 6% OFF will be instantly applied at checkout!
STEP 3:
Feel the best you ever have with a home sauna you can enjoy whenever you want.



All you have to do is select your favorite Almost Heaven sauna and all the perks will be instantly added at checkout:

FREE Bucket, Ladle, Thermometer Set

FREE heater upgrade + cedar safety guard

Additional 6% Off Sale Prices (including accessories & upgrades!)

To learn more about what's included, keep reading the FAQs below. 




Which Almost Heaven Saunas, Accessories & Upgrades are eligible for the 6% off sale?

This sale applies to ANY Almost Heaven traditional sauna – even the ones that are ALREADY MARKED DOWN thousands of dollars! 

Total savings from $229 - $958 on the sauna alone.

In addition, customize your Almost Heaven sauna even more by adding accessories and upgrades – ALL which are eligible for an additional 7.5% off their sale prices!

Savings on upgrades and accessories from $7.50 - $150!

ACCESSORY PACKAGES

SINGLE ACCESSORIES

UPGRADES

Onyx Upgrade (paint it black!)




Why Get an Almost Heaven Sauna?

One of the most popular American-made Saunas to date, Almost Heaven Saunas are constructed of high-grade, sustainably sourced materials for durability and top-quality. 




Each one has been designed to be easy to assemble, taking just 2 people around 4 hours to complete it (with NO power tools necessary!). 

With a variety of sizes, styles and wood types to fit your personal tastes, you're sure to find an Almost Heaven model that you completely love. Click here to learn more.




What are the benefits of the Bucket, Ladle, & Thermometer Set?

This special accessories package consists of a bucket, ladle, and thermometer/hygrometer combination tool.




The all-cedar bucket and ladle allows you to comfortably make steam without burning your hands. Just fill the large cedar bucket with water, and use the matching ladle to safely pour the perfect amount of water over the heater rocks to make steam.  




The thermometer/hygrometer combo allows you to easily track your temperature and humidity levels. Place the thermometer near or above the sauna heater to measure the heater output, or further away to ensure heat is evenly distributed. The built-in hygrometer is great to keep track of humidity levels during wet saunas. 




Normally $99 (on sale for $79) and NOW FREE with this sale.




What are the benefits of a Harvia heater upgrade and heater guard?

For this sale, you will get a free upgrade to the "base" heater that comes with your sauna. That means if your smaller-sized sauna comes with a 4.5KW Harvia KIP heater, you will be freely upgraded to a 6.0KW "The Wall" heater; or, if your sauna comes with a 6.0 KW heater, you will be freely upgraded to 8.0KW! No matter which size sauna you choose, you'll be able to achieve your ideal maximum temperature more quickly and efficiently.  




You'll also get a free cedar heater guard as a special gift. Harvia heaters are designed with outer casings that stay cool to the touch even while the heater is in action, but the cedar heater guard will ensure extra safety for all. Made of sturdy cedar wood, the heater guard will match your sauna and look great while guaranteeing superior safety. 




Savings of $139 on the free heater upgrade and heater guard! 




What are the benefits and specs of the "The Wall" Heater by Harvia?

"The Wall" electric heater is efficient, modern and beautiful in design. It offers the same easy-to-use operations and powerful output of larger heaters, but instead features a convenient, compact and sleek shape. Available in classic stainless steel and all-black stainless, The Wall can be easily installed on either the right or left side of your sauna, and includes backlighting to illuminate its controls.




In addition to getting this upgrade completely free, you'll also get an additional KW boost for free (4.5kW → 6.0 kW; 6.0kW → 8.0kW) to welcome in the chilly season!




Total value $1200, upgrade savings $530 - $600!

The sale ENDS 11:59 pm EST January 31, 2022

How long will it take for my sauna to arrive?

Current lead time for smaller, 1-4 person-sized Almost Heaven Saunas is approximately 2-3 weeks; for larger models, expect a 2-6 week lead time. During your wait, our team will keep you in the loop every step of the way, from order confirmation all the way to receipt of your sauna at your address.
Save up to
$1350
on the Almost Heaven Sauna of Your Dreams
All savings and perks instantly applied at checkout!
00

Days

00

Hours

00

Minutes

00

Seconds
Just enter the code
SAUNA22
at checkout!


See What All Our Customers Have to Say: