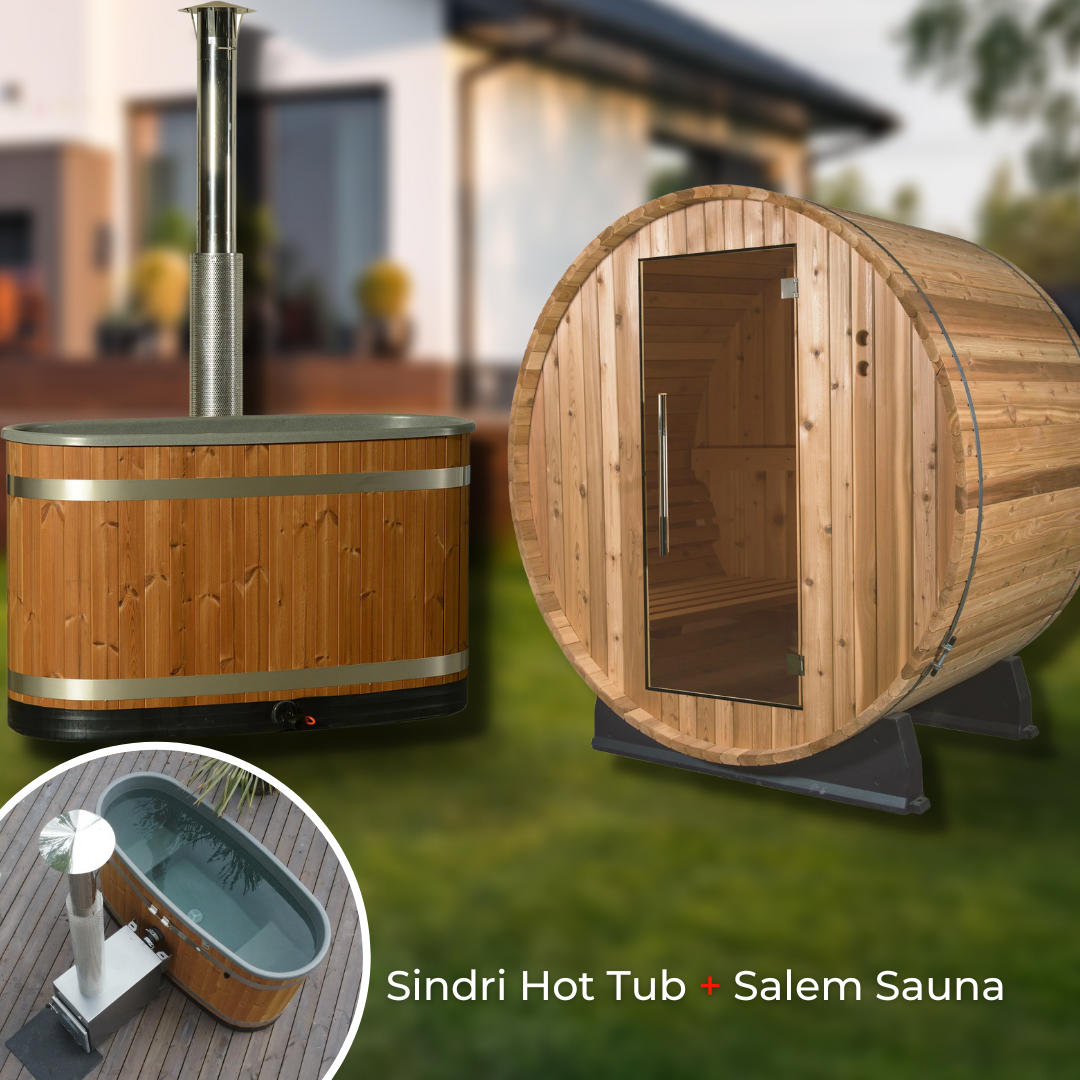 Almost Heaven Salem 2 Person Barrel Sauna in Rustic Cedar & Almost Heaven Sindri 2 Person Wood Fired Hot Tub
"Highly recommend Sauna World for purchasing a Sauna! We can say enough about Sauna World there customer support is great! Our Pinnacle Sauna from Almost Heaven is epic."- Abby Lapan
12% Discount applied upon checkout
Unlock the benefits of this exceptional combo package today! Experience pure bliss and relaxation with our Wood Fired Soak Tub.
Experience ultimate relaxation and wellness with our exclusive combo package. Designed to enhance your post-sauna cool-down, this package offers a range of exceptional features:
Premium Craftsmanship: Our tub is expertly crafted from durable red cedar, ensuring it can withstand the elements while adding a touch of elegance to your space.

Rapid Heating Capability: With a remarkable heating speed, this tub can go from 45 degrees Fahrenheit to a soothing 105 degrees in just four hours. Prepare to indulge in luxurious warmth without the long wait.

Customizable Experience: Opt for a cold plunge experience by choosing the option without a heater, ideal for incorporating the invigorating Nordic Cycle into your routine. For those in colder climates, the tub's quick drainage feature allows for easy emptying after each use.

Eco-Friendly and Efficient: Say goodbye to high electricity bills and complicated systems. Our Wood Fired Soak Tub operates without electricity or gas, eliminating the need for pumps, wiring, or filtration systems. Simply fill the tub with water and the fire box with wood, and within a couple of hours, you'll be ready to enjoy a rejuvenating soak. The innovative design circulates heated water into the tub while pulling cooler water back into the heater, creating a self-sustaining cycle.

Complete Package: This combo package comes with everything you need for a seamless experience. It includes a hot tub cover to maintain water temperature and protect your tub, as well as a step for easy access. Enjoy the convenience of free flatbed shipping and rest assured knowing both the hot tub and heater are included.
View the manual.