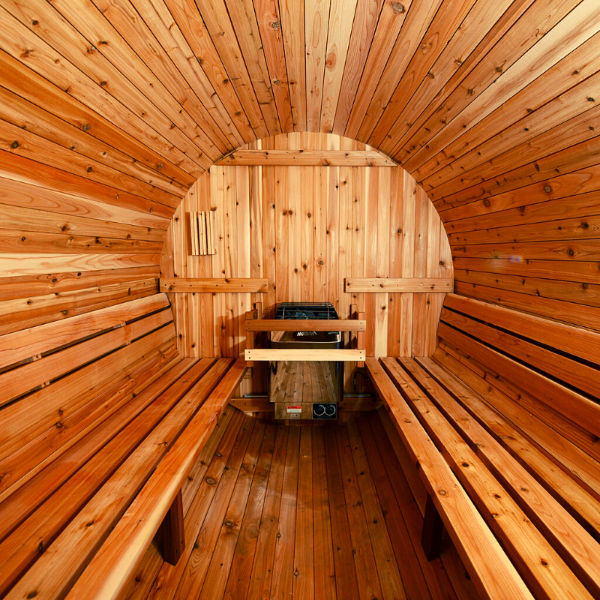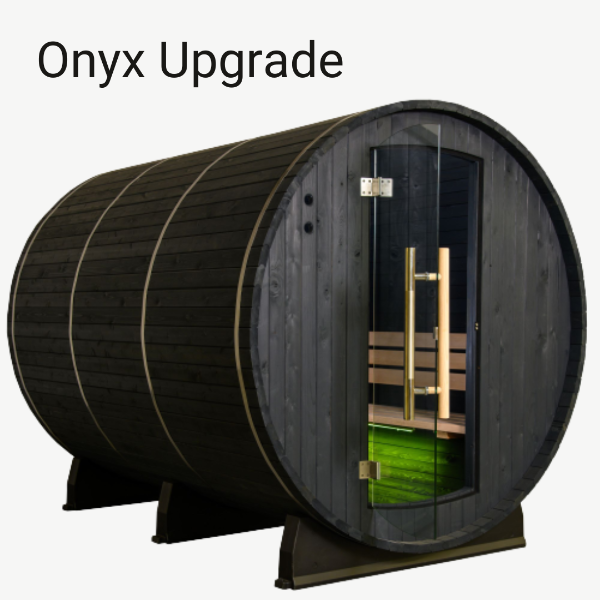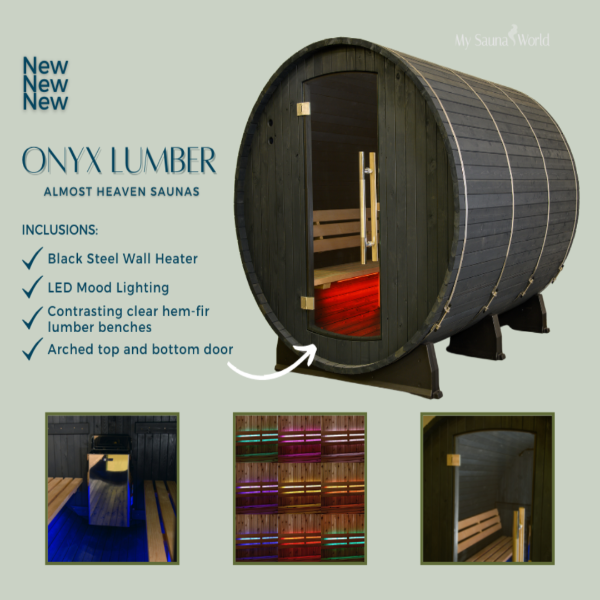 Almost Heaven Pinnacle 4-Person Standard Barrel Sauna
"Highly recommend Sauna World for purchasing a Sauna! We can say enough about Sauna World there customer support is great! Our Pinnacle Sauna from Almost Heaven is epic."- Abby Lapan
Almost Heaven Pinnacle 4-Person Standard Barrel  Sauna
Have you ever dreamed of diving into a cozy barrel of warmth while the world outside fades away? Welcome to the epitome of relaxation: the ALMOST HEAVEN PINNACLE 4-PERSON STANDARD BARREL SAUNA!
PREMIUM MATERIAL AND CRAFTSMANSHIP
Constructed using premium-grade white fir, rustic cedar, or thermally modified hemlock, this sauna imparts an inviting aroma and boasts natural insulation properties. The tight-knit grains of the wood give the sauna its distinct appearance while promising longevity and resistance to external elements.
INNOVATIVE BARREL DESIGN
The unique barrel structure gives an even distribution of heat, circulating smoothly throughout the sauna. This design choice also aids in the rapid heating of the space, allowing users to delve into their sauna experience in less than an hour.
FEATURES:
Premium Construction:

 Crafted from high-quality white fir, rustic cedar, or thermally modified hemlock, known for their natural insulating properties and aromatic scent.

Optimal Heat Distribution:

 The unique barrel design ensures even circulation, providing an efficient and consistent sauna experience.

Spacious Interiors:

 Comfortably accommodates up to four individuals, perfect for shared relaxation sessions.

Easy Assembly:

 Designed for user-friendly assembly with precision-cut wood pieces and clear instructions that can easily be assembled with two people without hiring a contractor.

Built-in Benches:

 Dual-tiered, ergonomic benches provide ample seating space for various positions.

Stainless Steel Hardware:

 Rust-resistant hardware ensures durability and longevity, even in humid conditions.

Safety Glass Door:

 A transparent, tempered glass door allows for natural light while retaining heat and ensuring safety.

Adjustable Ventilation:

 Built-in adjustable vents offer control over airflow and humidity levels.

Efficient Heater:

 A high-quality electric heater is designed for quick heating and long-lasting performance.

Eco-friendly:

 Made from sustainably sourced wood, emphasizing environmental responsibility.
Experience the pinnacle of sauna technology and design with features tailored for utmost comfort and sophistication.
Specifications
| | |
| --- | --- |
| Lumbers: | White Fir, Rustic Cedar, Clear Cedar |
| Capacity: | 4-person |
| Assembled Size: | 72″W x 72″L x 77″H |
| Interior Room Size: | 71″W x 64″L x 71″H |
| Shipping Weight: | 715 lbs |
| Shipping Size: | 40″W x 73″L x 78″H |
| Heater Size: | 6.0kw, 220v, 30 Amp requirement, hard-wire connect |
Order Almost Heaven Pinnacle 4-Person Standard Barrel  Sauna today from MySaunaWorld.com. Get 10% OFF upon checkout. No code necessary! Shop now and indulge yourself!
Immerse yourself in ultimate relaxation and experience the pinnacle of wellness.
With spacious seating for four, it's perfect for sharing rejuvenating moments with loved ones.
Feel the detoxifying warmth as it penetrates your body, easing muscles, and promoting circulation.
Most Popular Barrel Sauna
Almost Heaven's Pinnacle 4 Person Sauna is one of the best options when it comes to outdoor saunas, which is why it's one of our most popular models! Slightly larger than the Watoga, the Pinnacle is spacious enough for 4 people to enjoy, and is available in your choice of White Fir, Rustic Cedar (knots visible), or Clear Cedar (smooth, no knots). Like all Almost Heaven Saunas, this model features stainless steel hardware, thick tempered glass door, and high-grade softwood with smooth edges, adding sophistication and elegance.
Pinnacle Specs & Upgrades
Assembled using a 1-3/8″ thick ball and socket lumber, a thickness that earns it a Lifetime Warranty from Almost Heaven (the heater has a five-year warranty). You can upgrade the Pinnacle from the standard 6kW heater to 8kW, with or without digital control. There's also an option to upgrade to the HUUM Drop style. The 6.0kw electric heater will require a 220v, 30 Amp hard-wire connect; please consult a certified electrician, if needed. Exterior dimensions: 72″W x 72″L x 77″H and interior: 71″W x 64″L x 71″H. Personalize your sauna with optional upgrades: color-changing chromotherapy mood light, Himalayan salt panel, all-wood sauna door, floor kit, and more.
Highly recommend Sauna World for purchasing a Sauna
We can say enough about Sauna World there customer support is great! Our Pinnacle Sauna from Almost Heaven is epic.
Hi Abby! Thank you so much for this, we sincerely appreciate your kind words! Working with you has also been a great experience for us. Please know you can always reach out to us if there's anything we can do for you in the future. Enjoy your sauna for many years!
PS: Your sauna looks amazing! We love the set up! We sincerely appreciate you sharing these photos with us. Thank you so much Abby!
I received my Almost Heaven Pinnacle 4 person sauna with 8KW KIP heater yesterday. The delivery company (PITT Ohio) was prompt, courteous, and professional. The Sauna was simple to unbox and straight forward to assemble. Living in Michigan, I was a little worried the sauna might not get warm enough. This 8KW heater is a rockstar. I have to turn it down to around 50-60% to maintain a temp of nearly 170…which is about as much as my wife and I can handle for 20-30 minutes. We love the smell of the cedar and the size is perfect. While the Sauna can fit 4…we are not sure we want to share.
My Sauna World provided great customer service during the ordering process, follow up of delivery status, and in answering questions during installation.
We love our new sauna! Thank you.
Hi Justin! Thank you so much for taking the time to write a review for us and for sharing a photo of your lovely sauna. We appreciate it and we are just so happy to know that everything went smoothly, from the delivery to the assembly and installation. Can't agree with you more on the Harvia 8.0KW KIP heater, it is simply the best!
We truly enjoyed working with you. Enjoy your sauna for many years! And if there is anything we can do for you in the future, please know that we are always here to assist you. Thank you for your business!
Absolutely beautiful Sauna by almost heaven. Was extremely easy to build and heater works great. Delivery was sooner than expected. What made it even better was dealing with my sauna world. I have never seen a company so responsive and helpful with some missing parts or other issues. The quick call backs from a customer service representative and just very nice people to deal with. If you are shopping for a sauna this is the place to buy from. Prices were better than other places that were researched.
Hi Jonathan! Thank you so much for this great review. It's a pleasure to do business with you. Your sauna looks great! We're glad that everything just went smoothly. It's so nice to know that you can now enjoy your sauna. Come back anytime if there's anything we can do for you in the future! We'd love to be working with you again.
Love the sauna, was easy to assemble my wife and I in our 70's completed assemble in about 8 hours. The instructions were easy to follow and simple. The total experience working with My Sauna World was great and I would recommend them to anyone.
Ronald, the sauna looks great out there! Hope it brings you both many years of enjoyment.
Love my new barrel sauna. Everyone has been easy to work with, installation was straight forward, craftsmanship was excellent.
Thank you so much for the review Jerry! It was a pleasure working with you. Enjoy your barrel sauna!