HOW HEALTHY IS AN OUTDOOR ELECTRIC SAUNA FOR YOUR SKIN? 

Saunas are not only used for relaxation, but also for the ability to improve overall health and the appearance of skin. If you struggle with poor circulation, troublesome acne, or collagen production issues, adding sauna use to your self-care routine can assist with your problems. For an even deeper treatment, you can prepare blemishes and inflamed areas beforehand to achieve the best results after your session.  Here is some insight on how healthy an outdoor electric sauna is for your skin. 
WHY YOU SHOULD USE YOUR SAUNA FOR SKINCARE
SAUNA USE INCREASES COLLAGEN PRODUCTION.
Collagen, which is produced more than any other protein in your body, has 4 types. Type IV is responsible for the layers of your skin. As we get older, our bodies produce less collagen, causing our skin to wrinkle. Here's how the sauna helps:
Regular sauna use causes your body to sweat, which is great for stimulating collagen production. 
Dead skin cell removal also takes place. This is ideal for collagen production by allowing your skin to breathe freely. 
SAUNA USE REDUCES ACNE & REJUVENATES PORES.
Your body is naturally moisturized by sebum, a wax-like substance responsible for keeping you nourished and youthful. When dirt, bacteria, excess sebum, or dead skin clogs your pores, acne becomes an issue. 
By sweating while using your sauna, you are actively working to remove:
Blackheads
Whiteheads
Inflammation
Boils
Pimples
Just as a visit to the gym exercises your muscles, a sauna session is a workout for your pores. The heat from the sauna tells your body it needs to cool down, causing you to perspire. When you sweat, your pores are dilated, which is why sauna use is perfect for opening your pores. 
SAUNA USE IMPROVES CIRCULATION.
When you use your sauna your circulation is improved. Here's how it works:
Using your sauna causes your blood vessels to dilate, increasing blood flow. 
         Sweating during your sauna session brings nutrients and oxygen to the surface.
     2. Sweating during your sauna session brings nutrients and oxygen to the surface.
     3. Your skin cells are actively rejuvenated.
     4. Your body retains moisture naturally, causing you to have a more youthful appearance. 
With each session, you will ensure that your body takes full advantage of its natural oils without having to spend extra money on face creams or other ineffective methods. 
SAUNA USE & DETOXING
When you sweat regularly by way of sauna, you are removing the following from your body:
Pesticides
Heavy metals, such as lead & copper
Flame retardants 
Herbicides
PCBs
Other harmful chemicals
By removing toxins, you work to restore and rejuvenate your skin. This also results in less breakouts later on. 
WHAT IS THE HEALTHIEST TYPE OF SAUNA FOR SKIN CARE?
Ultimately, all saunas work wonders for healthy skin care practices. Here's the difference in how:
THE ELECTRIC SAUNA AND SKINCARE:
Stimulates deep sweating
Works to detox skin
Removes bacteria from sweat ducts
Cleanses epidermal layer
Improves capillary circulation
THE INFRARED SAUNA AND SKINCARE
Deep penetration into the skin
Accelerates the activity of cells
Rids the skin of dirt, oil, and other deposits 
Improves skin elasticity 
Similar to low-level light therapy used for psoriasis or eczema
HOW TO PREPARE YOUR SKIN FOR YOUR OUTDOOR SAUNA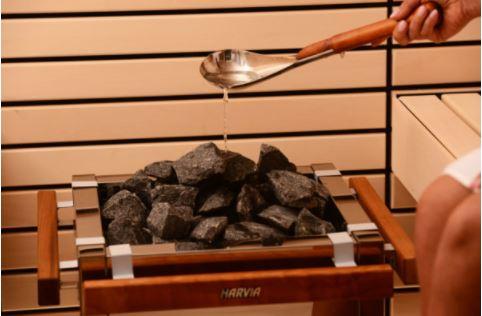 Maximize your self-care routine by incorporating the following steps before your sauna session:
GIVE EXTRA CARE TO PROBLEM AREAS
If there is a certain area on your face that is constantly inflamed or plagued by breakouts, pay more attention when preparing those stubborn spots. 
Be sure to use a facial cleanser that was made specifically for the condition of your skin. If you are naturally oily and opt to use a cleanser designated for dry skin, the cleanser will try to replace oils that are already being produced. Be sure that the product is gentle so that the heat in the sauna will not cause any further inflammation. 
Drinking water helps to flush any excess toxins from your body. Also, you will ensure that your body is properly hydrated, which is highly important due to excessive sweating. You can even drink water while in your sauna session to maximize results.
By using gentle facial scrubs, your cells can benefit from a deep cleaning. This activates your pores, which assists with effective cleaning and helps protect from clogging in the future. This removes old makeup and oils that may be the culprits behind skin issues.  
BE SURE TO SWEAT DURING YOUR SESSION
When you sweat actively during sauna use, you work to rid yourself of acne. Breakouts due to chemicals and hormones are reduced, which results in a clearer, healthier appearance. 
TAKE A COLD SHOWER AFTERWARDS
As soon as your sauna session is completed, take a cold shower immediately afterward. This works to finish the process by removing sweat and toxins released during the session. This also shrinks your pores back to their normal size, which assists with acne as well. Cold shower also works to soothe itchy, irritated skin.  
USE HYPOALLERGENIC LOTION
The hypoallergenic lotion will moisturize your skin without clogging your pores. Using a lotion that is all-natural and void of any excess perfumes,  dyes, toxins, or chemicals, will help to lock in moisture and keep your skin safe from harsh everyday elements. 
SIGN UP. SAVE BIG.
Subscribe to be the first to know about our special monthly sauna sales, sent right to your inbox.
SUMMARY
Using your electric outdoor sauna is an amazing method for working your way towards flawless, vibrant skin. Regular sauna use directly benefits your skin by increasing collagen production, reducing acne, rejuvenating pores, improving circulation, and detoxing. Contrary to popular belief, all sauna types are ideal for healthy skincare.
The electric sauna detoxes and removes bacteria stimulates deep sweating cleanses the epidermal layer and improves capillary circulation. The infrared sauna penetrates skin deeply, behaves like low-level light therapy, and increases cell activity. Prepare for the sauna by taking the necessary precautions, such as drinking plenty of water, preparing problem areas, properly exfoliating, taking a cold shower, and using hypoallergenic lotion once your session is complete.
For more information on saunas, and the numerous health benefits of sauna use, continue to trust the experts here at My Sauna World.