SAUNA MAINTENANCE: EXTENDING THE LIFE OF YOUR OUTDOOR HOME SAUNA
If you own an outdoor home sauna or are considering getting yourself one (which is most often a barrel sauna design), it is vital you become familiar with sauna maintenance to ensure you can enjoy using it for years to come. 
A common thing customers mention to the My Sauna World team is that they feel overwhelmed by the many aspects of caring for their sauna. A lot of their questions center around things like:
Where will I place it? 

How do I begin building it?

Do I care for the wood inside and outside of my sauna differently?

What do I do with the accessories?
So today, we're going to answer those questions and give you some important, yet simple, sauna maintenance tips to ensure your outdoor home sauna lasts as long as possible! Here is an in-depth guide on how to keep your outdoor home sauna in tip-top shape for a lifetime.
HOW LONG DOES A BARREL SAUNA LAST?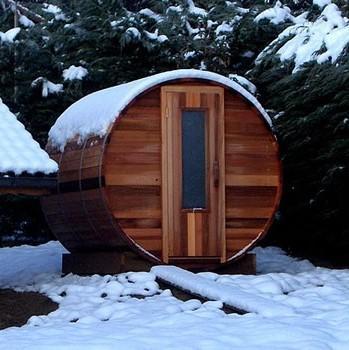 Deciding to add an outdoor home sauna or a barrel sauna to your life isn't a small decision! Because of this, it is completely natural to wonder exactly how long a barrel sauna will last you. There are always the harsh elements of weather to consider, as well as the natural wear and tear of anything man-made that will occur over time. 
THE GOOD NEWS IS, OUTDOOR HOME SAUNAS ARE SPECIFICALLY BUILT TO LAST FOR DECADES!
OUTDOOR HOME SAUNAS ARE CRAFTED USING DURABLE WOOD
The vast majority of barrel saunas are crafted using irrefutably durable wood, such as Western Red Cedar, Canadian Hemlock, and thermally treated Pine. Click here to learn more about different sauna wood types!
Although some suggest treatment of the exterior wood of your sauna is, it will maintain its durability even left untreated. 
OUTDOOR HOME SAUNAS  OFFER LUMBER WARRANTY
Saunas designated for outdoor use also come with a variety of lumber warranty options as well. For example:
WHERE TO PLACE YOUR OUTDOOR HOME SAUNA TO EXTEND ITS LIFESPAN
First, the essentials. When determining where to place your sauna in your yard, keep in mind the foundation must be flat, or slightly tapered, and firm. Here are a few examples of acceptable areas for placement:
Deck

Paved Stones

Concrete

Pressed Gravel
Regardless of where you place a barrel sauna, even if directly on the ground, molded cradle supports will keep the bottom of the sauna safe from moisture damage.
Molded cradle supports keep the sauna safe from moisture damage when placed on the ground directly. 
HOW TO BUILD AN OUTDOOR HOME SAUNA
Selecting and building an outdoor home sauna is a lot less complicated than it sounds. Below we'll walk you through why that is.
BARREL SAUNAS COME WITH EVERYTHING YOU NEED
The saunas we offer all come with everything you need for easy assembly. In addition to the easy-to-put-together sauna "pieces" your sauna will come equipped with a sauna heater, sauna heater stones, lights, and benches. Almost everything you need to go from zero to sauna! 
There are some things to keep in mind regarding "hooking up" your sauna heater. First, you have 2 options available:
Wood-Burning Sauna Heater - Requires wood to burn, and you'll also want to get a vent and firewall. 

Electric Sauna Heater - Requires appropriate wiring which we recommend a certified electrician to do.
As for the pre-assembled parts, they come with clear directions and holes that are pre-drilled for your convenience. The pre-assembled parts consist of the following:
Ceiling Panels

Panel

End Sections

Benches

Door
What's even better is that building an outdoor home sauna can be completed within a few hours with the assistance of one or two other people! Of course, the project can be completed alone if necessary, but having help makes the build a lot easier and faster.
If you still feel skeptical about taking on the project of building your own sauna, rest assured that basic, easy-to-follow instructions will be there to help you along the way. Not to mention, there are also very helpful how-to videos available for step-by-step guidance.
YOU CAN CUSTOMIZE YOUR OUTDOOR BARREL SAUNA TO YOUR PREFERENCE
Your sauna should be a reflection of your personal style. And even with the convenience and ease of a pre-assembled outdoor home sauna, you can still customize your sauna to ensure your ideal space and preferred aesthetics. What do we mean by that?
For example:
Consider adding a front porch to your sauna. This adds convenience (aka a place to cool off or place your belongings) and also adds a touch of charm!

You could install a window on the back wall of your outdoor home sauna for a glimpse of whatever flora and fauna lie outside your window.
You can even choose a different sauna door to change the look of your sauna entryway. Some examples include: all-wood doors, wood door with window, all-glass door, and a fading glass door. 
Here are a few other sauna accessories you might want to include for your perfect sauna experience:
Wooden Magazine Rack and backrests

Traditional Bucket and Ladle

Relaxing Himalayan Salt Wall

Natural Essential Oils

Thermometer or Hydrometer

Overhang Cove
But when it comes to the longevity of your barrel sauna's life, then our top recommended accessory would be one of the many roof kits available. One of our favorites is the barrel sauna rain jacket deluxe because the added top layer will ensure your sauna is protected from particularly harsh weather (like heavy rains and snow) and, of course, the UV rays from the sun. 
OUTDOOR HOME SAUNA MAINTENANCE TIPS
USING YOUR BARREL SAUNA WITH ITS LIFESPAN IN MIND
Sauna users often neglect these crucial steps, but if you implement them into your routine, you will contribute to the longevity of your investment.
BEFORE USING YOUR SAUNA:
Clean Your Feet: Cleaning your feet before using your sauna eliminates dirt and sweat build-up, reducing the chance of growing mold.

Shower: You may even "up the ante" by requiring your guests to shower before entering your sauna, which in turn will assist with cutting back on sweat, dirt, and grime visibly left behind on your wood floors and benches. 
DURING/AFTER USING YOUR SAUNA
Use Towels: By using absorbent towels while inside your sauna, you will collect any sweat that may cause stains.  Start a routine of using fresh towels on the floors and benches of your sauna and always have them readily available for guests. Remember to remove used towels after use. You don't want to leave "wet" towels inside the sauna! 
Wipe the Wood: Use a soft towel to wipe benches to rid the sauna of any extra moisture left behind. This will help it last longer. 
Open the Door: After using the sauna with a lot of steam, you may want to leave the door open for a few hours to assist with it fully drying out.
CLEANING YOUR OUTDOOR HOME SAUNA
If you use your sauna regularly, cleaning once a month is recommended to extend its life. Vacuuming and sweeping out loose dirt and grit is always an option, but there are a few other things you can do as well. Here are a few tips for keeping your outdoor home sauna pristine and tidy.
KEEP YOUR BARREL SAUNA "OFF"  
This is pretty straightforward, but you never want to have your sauna "on" while you're cleaning it. The heat causes excess risk to you and will not help the cleaning process. So keep your sauna off while cleaning, and ideally, keep the door open. If you use cleaning chemicals, then do not use your sauna again until it is completely aired-out and dry. 
USE CHEMICAL-FREE PRODUCTS
Our favorite way to clean our own saunas is with a simple mixture of household ingredients, like warm water and baking soda. One tablespoon of baking soda per gallon of water should do the trick! This not only gets out stains, but can help to keep your sauna smelling great with a clean, fresh scent. If you opt for a cleaner, use a mild, preferably chemical-free product with warm water. This will help you clean and won't put your health at risk! 
USE SANDPAPER FOR TOUGHER STAINS INSIDE
For occasions where a little water and elbow grease are not effective, you have the option of using fine-grit sandpaper to sand out stubborn stains or scuff marks.
PRESSURE WASH THE INSIDE
When absolutely necessary, you may also pressure wash the inside of your sauna as well. This isn't recommended, but if you do so, be sure to use low pressure with a wide-pattern nozzle.
HOW TO MAINTAIN THE INTERIOR WOOD OF YOUR HOME SAUNA
AVOID USING HARD WATER
If your sauna is a traditional sauna, you'll want to avoid using hard water when you clean your sauna as well as for pouring over rocks to make steam. Hard water contains magnesium and calcium salts. Lime build-up is caused by the salts when steam has cooled, which is difficult to clean. If this does occur, sandpaper or sanding discs can help rid your outdoor home sauna of lime buildup.
AVOID USING A SEALANT
While your first instinct to maintain your sauna's wood might be to use some kind of a sealant to reduce moisture, you never want to use chemical sealants or protectants inside! Because your sauna uses high heat to operate, protectants and sealants will often off-gas chemicals which can be harmful to your health. 
WHAT IF I HAVE MOLD?
To remedy any mold that appears in your sauna, a mold cleaner paired with a good scrub-and-rinse should take care of it. Bleach heavily diluted with water works great (roughly a quarter cup of bleach to a gallon of water).  Afterward, turn your sauna on to dry it out.
Of course, the best way to maintain the sauna, particularly the inside of it, is to use the sauna frequently. This keeps it dry which is the biggest enemy of mold!
HOW TO MAINTAIN THE EXTERIOR WOOD OF YOUR OUTDOOR HOME SAUNA
Undoubtedly, your barrel sauna will come equipped to handle tough weather conditions. Whether you choose a rustic, clear Red Cedar, or opt for a classic appearance showcasing White Fir, durability will not be in question. Here are a few ways to maintain the exterior wood of your outdoor home sauna.
Use a Pressure Washer: If your sauna is dirty, you may use a pressure washer on the low setting for the exterior.

Staining: If you decide to stain the exterior, use one that has a UV inhibitor for sunlight resistance.
HOW TO CARE FOR YOUR SAUNA HEATER, DOOR, VENT & MORE
HEATER CARE
Fortunately, your sauna heater will not require much extra care.  If you want to clean it, soft cloth to wipe down your sauna heater in the same fashion as your interior wood is practical. 
Your sauna stones should last for years. Here are a couple of things to keep in mind:
Only Use Designated Sauna Stones - Remember to only use sauna stones that were created specifically for your sauna heater. 

Replace Split Sauna Stones - Your sauna stones may split open or crack due to exposure to various temperature changes. Replace them immediately.
SAUNA DOOR & VENT CARE
Be sure to be mindful of your sauna's doors and vents. They should always function optimally, with the door and vents being able to easily open and close. Minimal repairs such as screw replacement may be necessary. If you notice loose hinge screws, try using longer screws instead.
If you encounter issues with closing your sauna door, follow the following steps:
Closely examine where there might be "higher" spots on the door.

Use a pencil to mark them.

Sand down any excess material.
If your sauna door keeps popping open, the ketch may need adjusting. For an easy, simple solution, you may also add a small piece of cardboard between the hinge and the jam. 
Sauna vents, which are made of wood, serve the purpose of regulating heat, fresh air, and humidity. For issues with your sauna vent, you can sand the edges or loosen its screws. You can also reduce drag by sanding the slider corners.
REPLACING ACCESSORIES
Whether you need something as simple as a replacement for a broken double robe hook, thermometer, or something more intricate such as a backlit Himalayan Salt Wall Panel, you should always replace accessories immediately if they start to malfunction.
SIGN UP. SAVE BIG.
Subscribe to be the first to know about our special monthly sauna sales, sent right to your inbox.
ONGOING MAINTENANCE
One of the best aspects of owning a sauna right outside your home is the fact that they require very little ongoing maintenance. Here are a few extra tips to help you keep your sauna working like new:
Bands may need to be tightened within the first few months of ownership.

You may have to add more filler staves over time.

Be mindful of humidity. Moisture absorption should make your wood expand into its bands.
DO NOT STAIN, PAINT, OR TREAT THE INTERIOR
While treating or staining the outside of your sauna is perfectly fine, you should never stain, paint, or treat the interior.
Doing this may have two unintended but dangerous consequences:  
You may be exposed to toxic fumes when the sauna is used again.

You might crack or warp your wood due to inability to release humidity. 
SUMMARY OF OUTDOOR SAUNA MAINTENANCE TIPS
By properly caring for your sauna with regular cleaning and maintenance, you will be able to enjoy decades of relaxation with your prized possession. 
Here are a few points to take away: 
Your sauna will last for decades due to its durable wood and lumber warranty. 
Place your sauna on a flat, firm foundation when building, such as a deck or pressed gravel. 

Each sauna includes easy-to-follow instructions and pre-assembled parts so you can be sure you're setting it up correctly.

Some simple sauna maintenance before using your sauna can extend its life, such as cleaning your feet or taking a shower to help prevent mold. 

Use towels while inside your sauna and wipe the benches afterward. Avoid hard water when making steam.

If you want to treat the exterior wood, use a wood-penetrating oil or wood stain that contains UV inhibitors.
And if you want to see what kinds of outdoor home saunas are out there, click here to see our selection. With our large variety of sizes, shapes and customization,  you will surely find the sauna of your dreams (and one that will last you a lifetime!).