MOST POPULAR SAUNA WOOD TYPES EXPLAINED
Historically, Finnish saunas were made of logs, with rocks heated by a central fire — for centuries, it seems wood truly has always been the preferred material!
And for good reason... a lot of sauna woods are good at insulating while only absorbing a little heat, so they're not uncomfortable to the touch. Plus, most sauna woods contain antiseptic and antibacterial properties, which means they stay more hygienic than other materials. And we can't neglect to mention, the natural beauty, cottage aesthetic and aromatic properties of all the different sauna wood types!
If you're shopping around for a sauna you might be wondering which sauna wood type is best — there are several, after all. Let's dive a little deeper and reveal the benefits and features of the most popular sauna wood types on the market.
6 MOST POPULAR SAUNA WOOD TYPES EXPLAINED
1. CEDAR (WESTERN RED CEDAR & EASTERN WHITE CEDAR)
Cedar is one of the most popular and traditional sauna wood types, especially for outdoor saunas. Cedar is durable enough to withstand most harsh outdoor conditions. It's also known for its resistance to decay, making it a very worthwhile investment. Moreover, cedar is known to withstand the severe temperatures of a sauna without swelling or shrinking. It is great for insulation without becoming hot to the touch.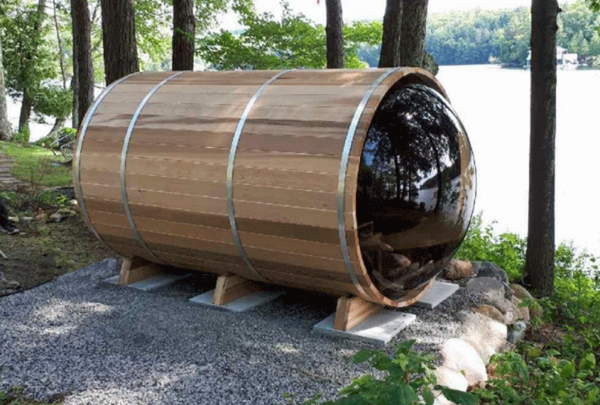 There are many different types of cedar with Western Red Cedar being the most popular choice for saunas, and Eastern White Cedar following close behind.
Western Red Cedar (Thuja plicata), as you can imagine, is native to the west coast of North America, its habitat stretching from southern Alaska through Canada to northwestern California, all the way inland to western Montana. It is a beautiful reddish color with very few knots. Because of its reputation for quality, the vast majority of outdoor saunas we offer are crafted using Western Red Cedar.
Eastern White Cedar (Thuja occidentalis) is found in eastern Canada and the eastern and central forests of the United States. This species is shorter than Western Red Cedar, but replenishes itself every ~35 years, allowing for sustainable harvesting. The color is pale brown or tan to nearly white. Overtime, when exposed to the elements, unfinished white cedar turns an elegant silver-gray color that looks quite stunning. We don't have a lot of saunas in "white cedar," but the ones we do have are gorgeous!
SAUNA WOOD TYPE OVERVIEW: CEDAR
Deep reddish coloring (Western Red Cedar)

Light, creamy coloring (Eastern White Cedar)

Intense signature cedar aroma 

Very resistant to moisture and is non-toxic and resin-free

One of the most robust and durable wood types for outdoor saunas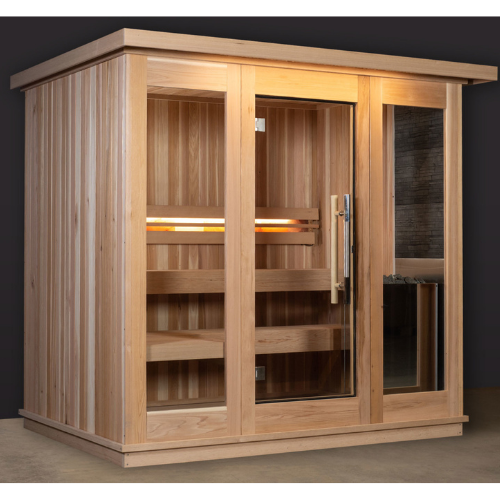 2. HEMLOCK
(CANADIAN HEMLOCK AND WESTERN HEMLOCK)
Like Cedar, there are a few different kinds of Hemlock, including Canadian, Western, and Hem-Fir.
Canadian Hemlock (Tsuga canadensis), also known as Eastern hemlock, is one of the most popular and elegant choices for indoor saunas and infrared saunas. Native to eastern North America, it has a uniform texture (very few knots) and a lovely light white color which makes it very aesthetically appealing.
Hemlock is also quite cost-effective, while offering plenty of benefits, such as being extremely moisture-resistant, durable, and low in resin. It has little to no scent, making it great for those who have sensitive noses or allergies.
You may also run across Western Hemlock in sauna construction. Western Hemlock (Tsuga heterophylla) is native to the west coast of North America. Like Western Red Cedar, you can find them in forests from Alaska all the way to the north of San Francisco, California. In fact, the two make a great sauna pairing and can be quite attractive. We have two indoor saunas that are constructed using clear red cedar for the exterior, and western hemlock benches.
Hemlock Fir, also known as Hem-Fir is another sauna wood type you may come across. Hem-Fir is a species combination of Western Hemlock and firs such as "Noble, California Red, Grand, Pacific Silver and White fir." Like Western Hemlock, it is a light straw color with a refined appearance, and is most often used for sauna benches, doorways and other detail work.
SAUNA WOOD TYPE OVERVIEW: HEMLOCK
Uniform texture and elegant light white color

Little to no scent

One of the more affordable sauna woods

Primarily used for indoor saunas and infrared saunas
3.  NORDIC SPRUCE
Nordic Spruce (Picea abies), also known as Norway spruce or European spruce, is native to Northern, Central and Eastern Europe. It's high density and firmly ingrown structure makes it an excellent wood choice for a sauna —  which is why it is one of the more popular sauna woods used in Finland and other European traditional saunas. 
Nordic spruce has a beautifully light coloring and is known for staying mostly white throughout its lifespan. It also has a subtle, yet therapeutic aroma. It contains terpenes hydrocarbons which are natural insect repellent.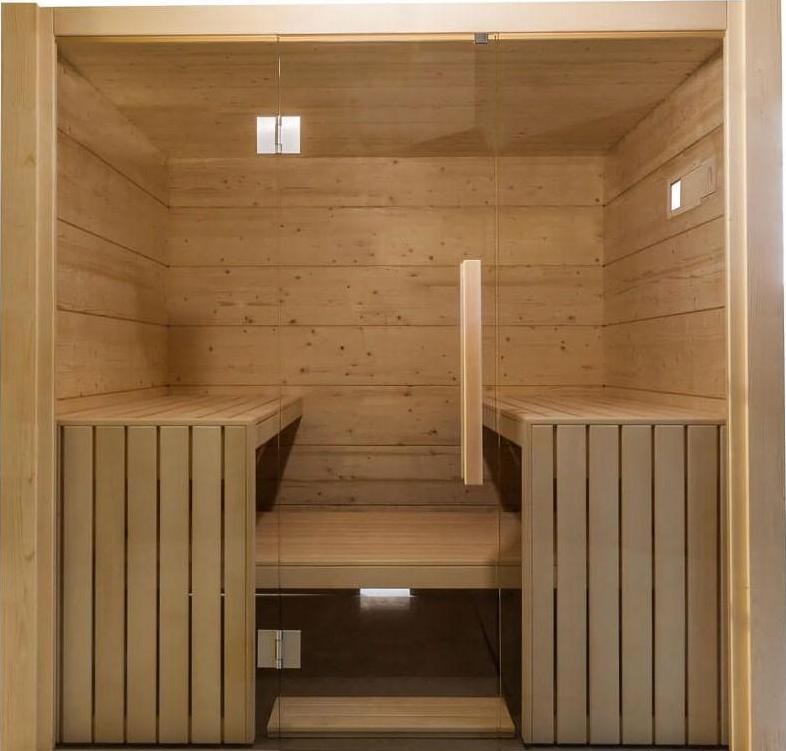 Since it is a conifer lumber it will have a very, very small amount of pitch (sap) in the lumber that will vary from board to board. Sap seepage is unlikely but also perfectly normal during high heat cycles. It's also harmless. Once it cools you can simply scrape it from the wood with a razor blade and clean any residue with rubbing alcohol. 
If the Spruce has been thermally treated beforehand, any potential sap seepage is prevented completely. Thermal treatment (as with Thermory Saunas) uses a precise combination of heat and steam to transform wood into a more durable and stable wood with a stronger structure and higher resistance to rot. The best part is that this is a natural, chemical-free and eco-friendly process that just brings out the absolute best that any wood, including Spruce, has to offer. 
To learn more about thermally treated wood, please see our blog post, "Thermally Treated Wood and Your Barrel Sauna."
SAUNA WOOD TYPE OVERVIEW: SPRUCE
Creamy white, with a hint of yellow or red

Scent is subtle, forest scent

More knots in the wood 

One of the more affordable sauna woods

May seep small amounts of sap (unless thermally treated)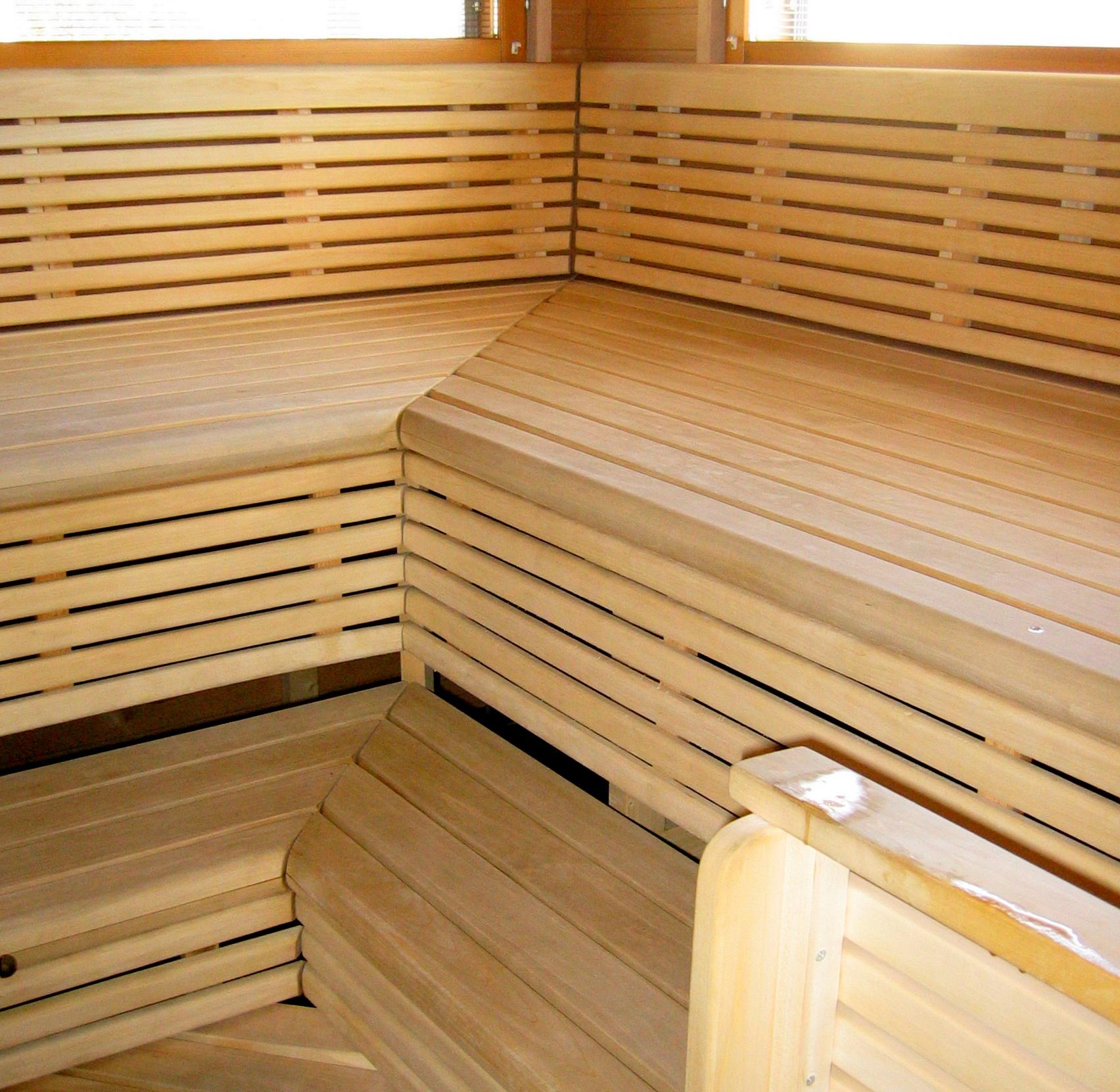 4. COMMON ASPEN
Aspen, or Common Aspen (Populus tremula), belongs to the willow family and is bright in color. Its natural habitat is the cooler regions of Europe and Asia, including Iceland, the British Isles, Scandinavia and northern Russia all the way to northern Japan.
Because Aspen is naturally non-toxic, non-allergenic, resin-free and moisture-resistant, it is "friendly" to all. This makes it a very popular sauna wood choice for indoor and infrared saunas as well as public saunas, hotels, and also health club saunas. Further, Aspen can withstand microorganism attacks by bacteria and fungi, making it one of the cleanest sauna wood types around.
SAUNA WOOD TYPE OVERVIEW: ASPEN
Luxuriously light tone

No scent — non-toxic and non-allergenic

Resin-free and moisture resistant

Popular for infrared saunas and detox programs
5. DOUGLAS FIR
Douglas fir, or Doug fir (Pseudotsuga menziesii), despite its name, is not a true fir, nor a true spruce, hemlock, or true pine, but it is in the pine family. Native to western North America, it's found in the coast ranges and inland in the Rocky Mountains, and yields more timber than any other species in North America.
Since the 1920s, Douglas fir has been known as the go-to Christmas tree, and is also often used in yards and parks due to its ornamental appearance. As milled lumber (and if kiln-dried as it often is for sauna construction), Doug fir is highly valued for its strength, durability and appearance. It is popular for use in furniture, stairs, homes and of course, indoor and outdoor saunas. Kiln-dried Douglas fir timber also prevents pitch pockets from seeping resin (sap).
Doug Fir has a beautiful uniform appearance with straight grain and a light brown color that can have hints of creamy yellow or red. It has little to no scent.
SAUNA WOOD TYPE OVERVIEW: DOUG FIR
Light brown color, with a hint of yellow or red

Little to no scent

Straight grain, no knots

Resistant to rot and resin seepage (especially when kiln dried)
6. PINE
In general, pine is one of the cheapest options for sauna construction and is often used in framing due to its low cost. Most pine types are a darker-colored wood that looks similar to spruce, except they tend to have more knots.
Knots aren't typically a problem, but with some pine species, they tend to be large, loose knots. This combined with high resin content can result in dripping sap and resin emission, which can be unpleasant. It can also bend and warp more than other sauna woods, and therefore isn't as durable. This is why we haven't carried saunas made of pine for many years now.
However, like Spruce, if Pine has been thermally treated, it becomes another wood type altogether – stronger and more durable.
SAUNA WOOD TYPE OVERVIEW: PINE
Dark wood colors

Pleasant pine scent

Some species have large, loose knots  

Most affordable/inexpensive

More likely to bend or warp over time (if not thermally treated)

Most likely to seep resin (if not thermally treated)
SIGN UP. SAVE BIG.
Subscribe to be the first to know about our special monthly sauna sales, sent right to your inbox.
THE SAUNA WOOD TYPE YOU CHOOSE MAKES A DIFFERENCE!
The right kind of sauna wood will have an impact on the aroma, durability and overall aesthetic of your sauna, so be sure you choose wisely. If you need help making a decision, we're always here to help you navigate sauna wood types and find the best one for you. Just use the chat function on the page or click here to contact us with your questions.