Which is the Best Sauna Heater - Electric, Wood or Propane?
When it comes to choosing a sauna heater for your traditional sauna, you have plenty of options. The most popular types are electric sauna heaters, wood burning sauna heaters, and gas sauna stoves. 
All three sauna heater types are efficient and powerful heat sources, safe to use, and can be used with water to make steam. All heat up the sauna in a similar process - by warming the sauna rocks, which then move heat throughout the space. 
Where each of these sauna heaters are different is their power source, installation requirements, and whether or not we recommend them for indoor or outdoor use. This article will give you an in-depth overview of each sauna heater so you can choose which one is the best fit for you. 
Electric Sauna Heater Overview & Requirements
An electric sauna heater is the way to go if speed and convenience is a priority. With a flip of a switch, your electric sauna heater will kick into action and be ready for you to use within an hour. A bonus with electric sauna heaters is that they can be upgraded and modified to include WiFi controls. We have an article all about automating your sauna if you want to learn more.
Requirements: Most electric sauna heaters will require hardwire installation. You will need a licensed electrician to connect to an electrical source. Depending on the size of the sauna heater, the  majority of electric sauna heaters require 220 volts and about  30-40 amps of power. No chimney is required.
Electric sauna heaters are best for:
Indoor & Outdoor Saunas

Smaller-sized saunas 

Wifi Sauna Controls 

Convenience
Top Electric Sauna Heater Recommendations
If you've decided an electric sauna heater is for you, below are our top three recommendations from two different sauna heater manufacturers, Harvia and HUUM. 
Harvia grew from a small sauna heater workshop in Finland into an award-winning global sauna company in the span of 70 years. Known for their impeccable quality and nod to sauna traditions, Harvia brings innovative approaches to sauna heaters, both electric and wood burning models. 
HUUM heaters are made in Estonia, and bring traditional Finnish design into the modern era, utilizing brushed stainless steel elements for beauty and durability.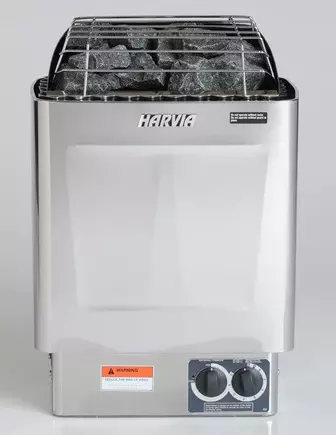 Harvia KIP is the classic electric sauna heater and comes standard in almost all Almost Heaven Sauna models. It comes in classic chrome with a large stone capacity that provides optimal heat release. The outer casing is designed to stay cool to the touch for more safety even while the heater is in action.  The Harvia KIP can be upgraded to include Xenio Digital Control for convenient Wifi access.
"The Wall" electric heater by Harvia is a sleek wall-mounted heater available in 6KW and 8KW. You have the option to choose between classic stainless steel and all-black stainless.The heater can be easily installed on either the right or left side of your sauna, and includes backlighting to illuminate its controls and highlight its modern aesthetic. It, too, can be upgraded to include Wifi controls.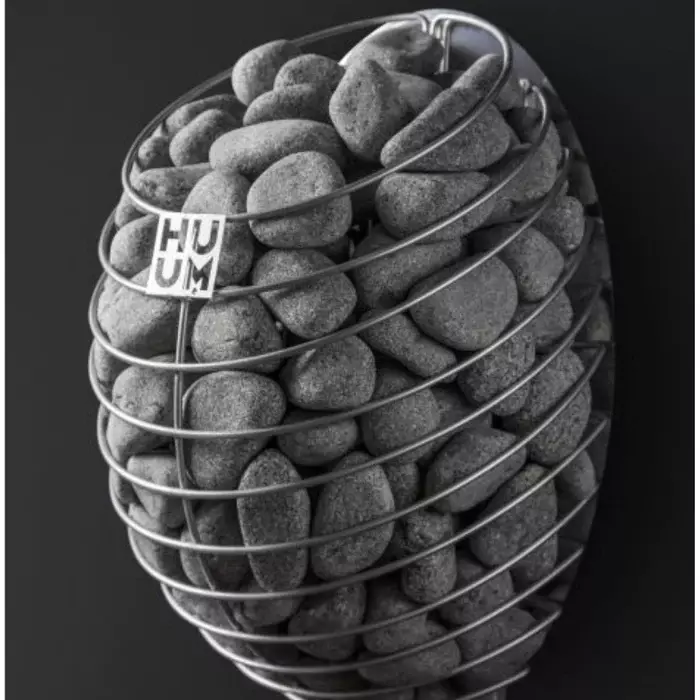 HUUM sauna heaters boast minimal elegance in their design. By using very little metal, the majority of the heat comes from the heated stones. This, along with large stone capacity, maximizes the amount of steam they produce. 
DROP electric sauna heater is an elegant wall-mounted stove in the shape of a water droplet. HUUM heaters have also developed a mobile app, so if you select Wi-fi for your heater control option, you can begin heating your sauna from the comfort of anywhere.
Wood Sauna Heater Overview & Requirements
With the wood logs crackling and the flames dancing, wood burning sauna heaters are perfect if you're looking for the closest traditional sauna experience. In addition to creating that beautiful ambience, they are especially effective in heating up bigger sauna spaces. This is why wood sauna heaters are recommended for large-size saunas such as 6-person saunas (84") or larger. 
Requirements: Wood-burning sauna heaters require an additional chimney kit (like this one by Harvia or this one by HUUM), and are only appropriate for outdoor use.
Wood sauna heaters are best for:
Outdoor Saunas

Larger-sized saunas (6 x 6 or 84")

Traditional Ambience of a Crackling Fire
Top Wood Burning Sauna Heater Recommendations
If you've decided on a wood burning sauna heater, below is a summary of our top recommendations, again from sauna heater manufacturers, Harvia and HUUM. See our entire wood burning sauna heater collection.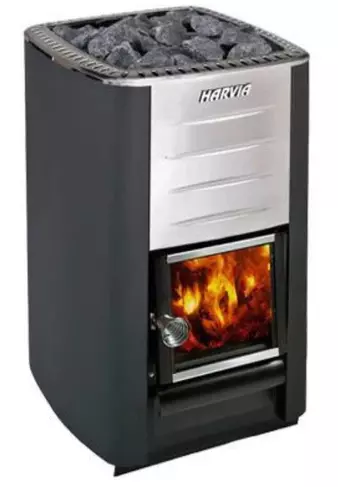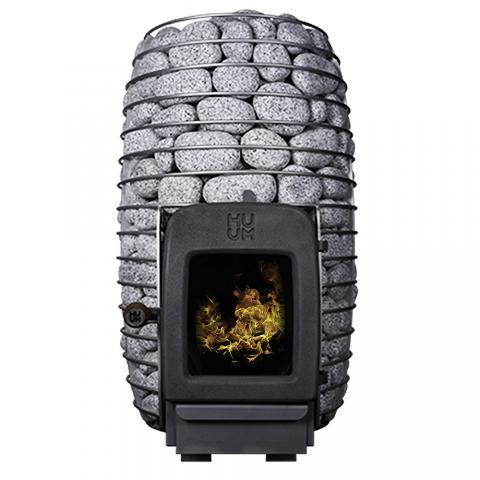 HIVE Heat & Wood Models features a rounded, minimalist design, created almost entirely of brushed stainless steel for exceptional durability. The Hive Heat comes in a few sizes as well as the option for a firebox extension, indicated by "LS." 
The firebox extension allows you to load the sauna stove from the outside. This bypasses the need for a chimney connection, which will need to be accounted for otherwise.
SIGN UP. SAVE BIG.
Subscribe to be the first to know about our special monthly sauna sales, sent right to your inbox.
Propane Sauna Heater Overview & Requirements
A natural gas or propane sauna heater is an excellent choice if you are looking for a steady heat source that doesn't require wood or an electrical hookup. Propane and gas sauna heaters provide a thorough heat. Fed by a gas line or propane tank, a metal plate heats the sauna space up to 175 - 190 Fahrenheit.
Requirements: Propane sauna heaters require a natural gas line or propane tank. They are only appropriate for outdoor use.
Propane sauna heaters are best for:
Outdoor Saunas

Larger-sized saunas (6 x 6 or 84")
Which Sauna Heater is Best For You?
As you can see from this detailed sauna heater guide, the best sauna stove for you depends on your personal tastes, sauna size, and where you will be placing your sauna – indoors or outdoors? 
Still not able to decide which one is best for you? Reach out to our team – we'd be happy to help with any questions you have and can help pair you with the best sauna heater for your space. 
Here are some additional resources to learn more about indoor and outdoor saunas, sauna heaters, and more.