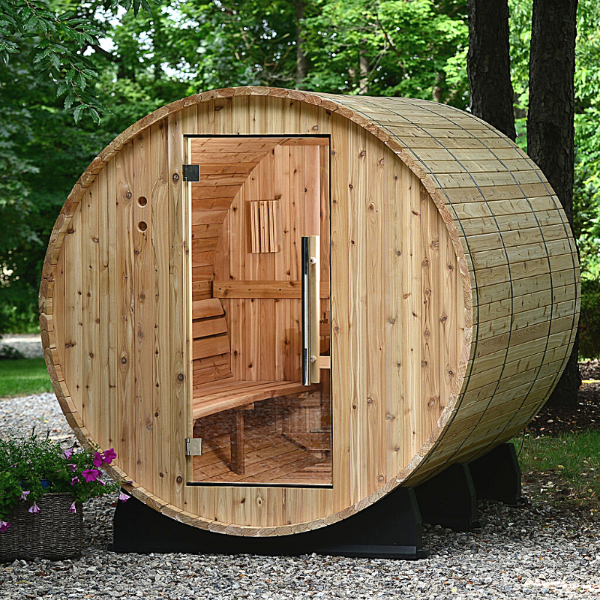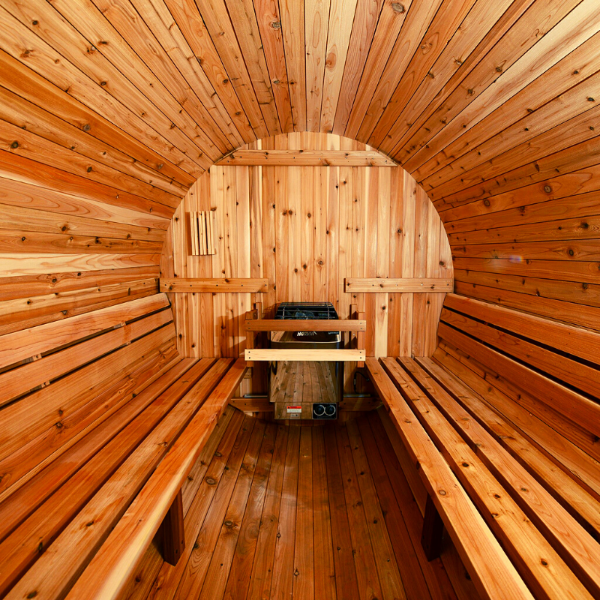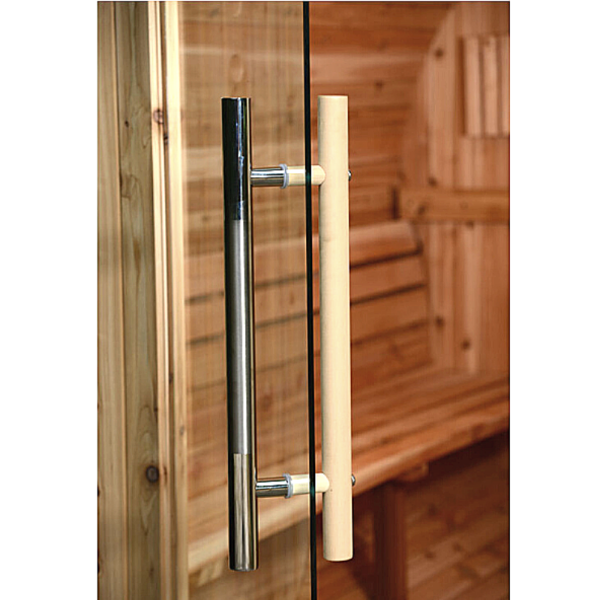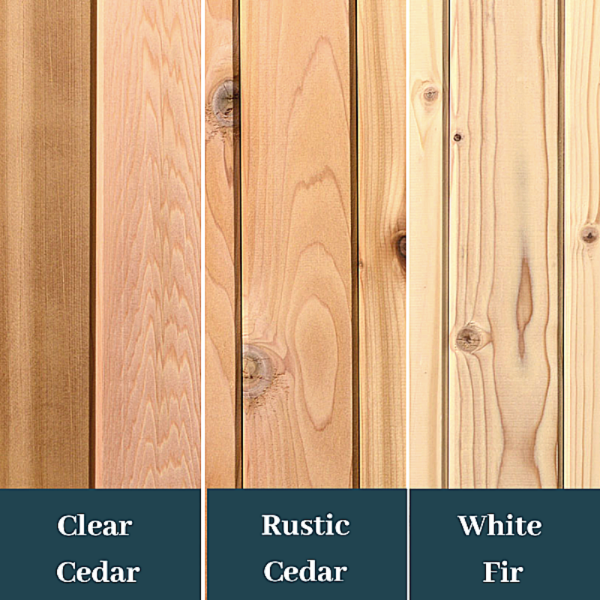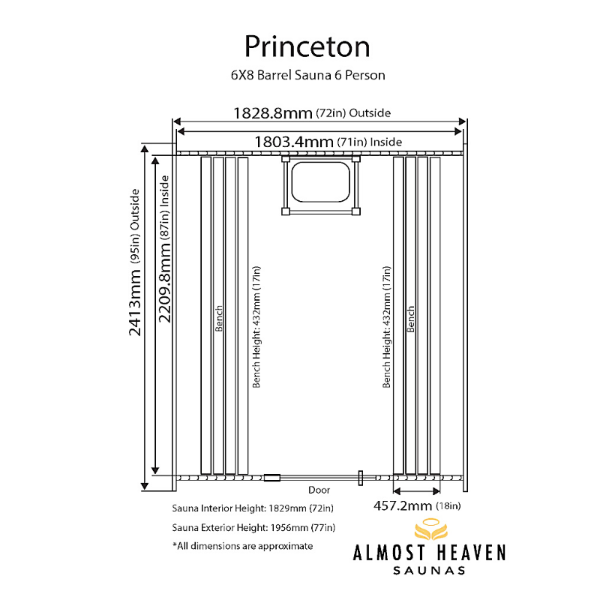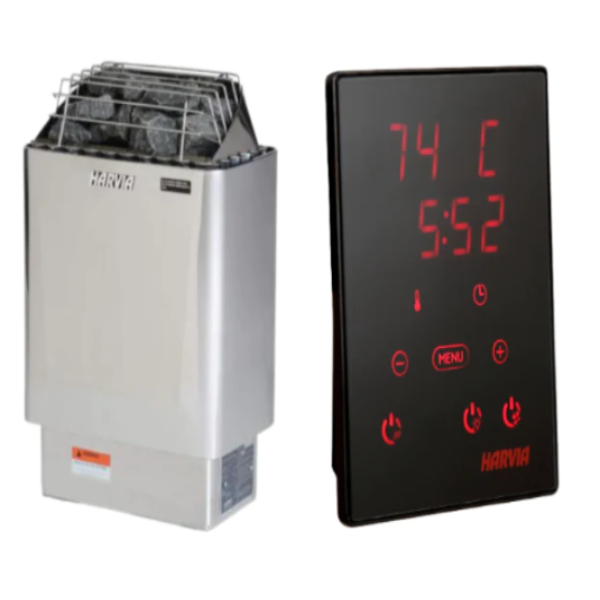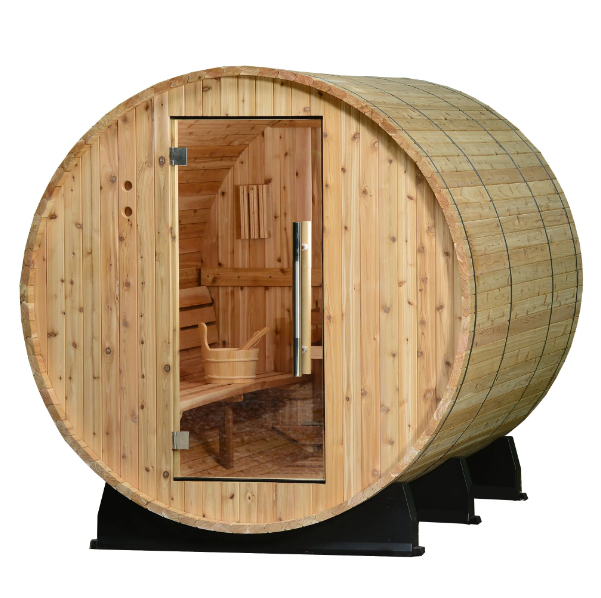 Almost Heaven Princeton 6 Person Standard Barrel Sauna
"Highly recommend Sauna World for purchasing a Sauna! We can say enough about Sauna World there customer support is great! Our Pinnacle Sauna from Almost Heaven is epic."- Abby Lapan
Almost Heaven Princeton 6 Person Standard Barrel Sauna
AUTHENTIC NORDIC EXPERIENCE
Almost Heaven's Princeton 6-Person Standard Barrel Sauna is a premium outdoor sauna designed to offer an authentic Nordic sauna experience. The barrel design is visually striking and functionally efficient, ensuring even heat distribution throughout the cabin.
FEATURES:
Unique Barrel Design:

 Ensures even heat distribution and adds an aesthetic appeal to any outdoor setting.

Premium Material:

 Made of top-grade Western red cedar, known for its durability, resistance to decay, and aromatic ambiance. You can also opt for white fir, onyx upgrade, or thermally modified hemlock.

Capacity:

 Spacious enough to accommodate up to six individuals comfortably.

High-Quality Heater:

 Stainless steel electric heater equipped with sauna stones for optimal heat dispersion and option for steam.

Safety-Enhanced Door:

 A tempered, tinted full-glass door that combines aesthetics, safety, and durability.

Comfortable Seating:

 Dual opposite-facing cedar benches for relaxation and easy conversation.

Efficient Ventilation:

 Integrated vents for optimal airflow, ensuring the perfect balance of heat and fresh air.

User-Friendly Assembly:

 Simplified setup with a secure ball-and-socket profile with stainless steel bands. Assembly is possible with two people, and there is no need to hire a contractor.

Energy-Efficient:

 The barrel design and insulation ensure effective heat retention and reduced power consumption.

Comprehensive Accessories:

 Comes with a wooden ladle, bucket, and an integrated thermometer/hygrometer to elevate your sauna sessions.
Transform your outdoor space into a sanctuary of warmth and relaxation with the Princeton Barrel Sauna,
Specifications:
| | |
| --- | --- |
| Capacity | Holds up to six people |
| Heater Size | 8kW, 240V, 40-amp requirement, hardwire connect |
| Lighting Electrical | 110V, 15-amp service, plug-in connect |
| Assembled Size | 72″W x 95″D x 75 - 3/8″H |
| Interior Room Dimensions | 71″W x 87″D x 69 - 1/8″H |
| Bench Dimensions | 18″W x 87″L x 17″H |
Order Almost Heaven Princeton 6 Person Standard Barrel Sauna today from MySaunaWorld.com. Shop now and indulge yourself!

Stretch Out in This Spacious Sauna
Almost Heaven's Princeton Sauna has the largest interior of their barrel sauna rooms, measuring 6'x8' with opposite-facing benches, this sauna has enough space to let you stretch out or invite some friends over. The Harvia 8kW electric heater fires the room up to 195ºF in an hour, and you can choose from three different sustainably sourced sauna woods: White Fir, Clear Cedar (no knots are shown), or Rustic Cedar (knots are visible).
Princeton Sauna Specs & Upgrades
Personalize your spacious Princeton sauna with these upgrades: Himalayan salt panel, chromotherapy mood light, all-wood sauna door (or with a window), floor kit, or an upgraded heater. The standard 8.0kw electric heater by Harvia will require a 220v, 40 Amp hard-wire connection, please consult a certified electrician. Exterior dimensions: 72″W x 95″L x 77″H and interior: 71″W x 87″L x 71″H. Shipping weight: 875 lbs. The Sauna room has a Lifetime Warranty from Almost Heaven (the heater has a five-year warranty).
Hey Danny, thanks for the great review. Your new barrel sauna looks awesome with that metal roof! Thanks again for shopping with us.
Adam and the people at My Sauna World could not have been more helpful or professional. Outstanding customer service.
I put my wood burning barrel sauna together with the help of a friend in four hours. It is fantastic!! We love it!!
John, thanks so much for the kind words. It was a pleasure working with you, and we really appreciate your business!
Courteous and prompt communication with customer service.
Hi Hellman! Thank you for the review. It was a pleasure working with you. Enjoy your sauna for many years. Please come back if there is anything that we can do for you in the future!