Complete your sauna experience with these great accessories!
Almost Heaven Barrel Sauna Roof Kit
Planning on keeping your sauna in a fairly rainy spot? Not a problem when you add this stylish roof kit to completely eliminate any water seepage in your barrel sauna. The Almost Heaven Barrel Sauna Roof Kit comes in 6' or 8' lengths, with a brown background and the same high-quality cedar you can expect in any Almost Heaven Barrel Sauna.    


Barrel Floor Kit by Almost Heaven
Level the floor of your barrel sauna with our Barrel Sauna Floor Kit. Designed to rest on the curve of the barrel sauna floor, the kit provides a sturdy and level surface. Crafted from red cedar, these durable floor kits come in custom fit sections that are free standing and easily installed in any new or existing sauna. The smooth wood and solid design will make a beautiful and comfortable addition to any barrel sauna.  
Almost Heaven Woodburning Sauna Heater Chimney  Installation Kit
Make your sauna experience safer through the wood burning heater installation kit.
The installation kit allows you to vent your sauna wood stove through the top of the Barrel Sauna, protecting you from hazardous smoke or gases.
The kit helps maintain a properly functioning heater.
The kit is compatible with all of the Harvia wood burning stoves offered by My Sauna World.
The wood burning sauna installation kit can be purchased by pieces or as a complete kit.
Download Complete Installation Guide 
**Harvia wood burning stove and barrel sauna sold separately**
*** To make sure chimney components will match your heater, DO NOT FORGET to choose which heater do you have.***
Almost Heaven Thermometer/hygrometer
Know when your sauna is at the perfect temperature with the wooden thermometer and hygrometer. The wooden thermometer and hygrometer show both the temperature and the humidity levels in your sauna. The wooden frame naturally fits in any of our outdoor and indoor saunas.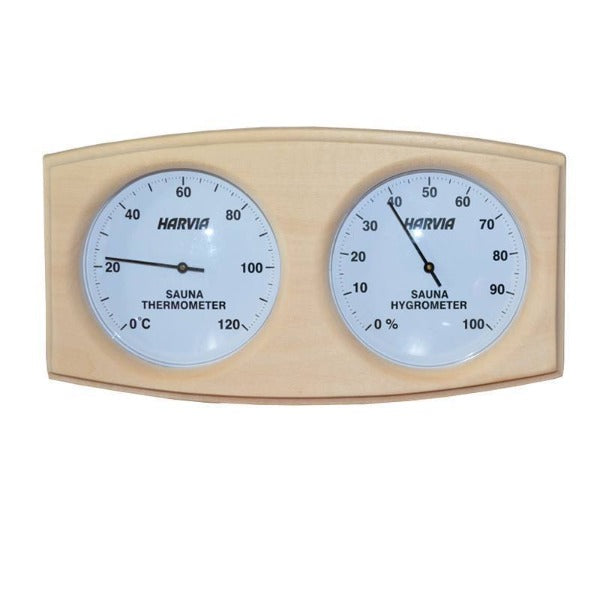 Almost Heaven Bucket & Ladle
Almost Heaven Saunas offers a wooden sauna bucket with a plastic liner to help you more conveniently enjoy a steam sauna. This 4-liter bucket has a plastic liner, keeping the bucket clean and easily maintained. A wooden bucket is necessary for any traditional sauna experience. Use the wooden sauna ladle to sprinkle water on the hot stones for a burst of steam.