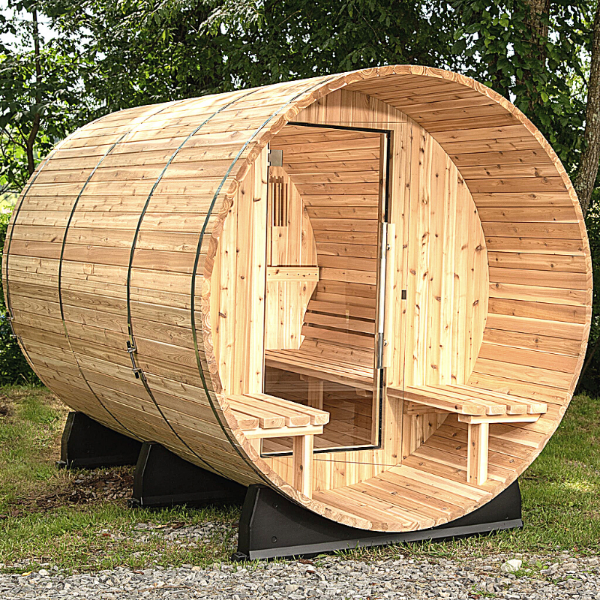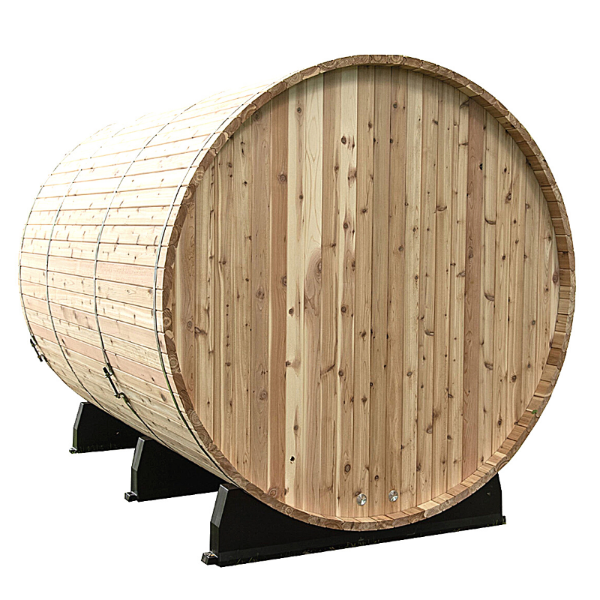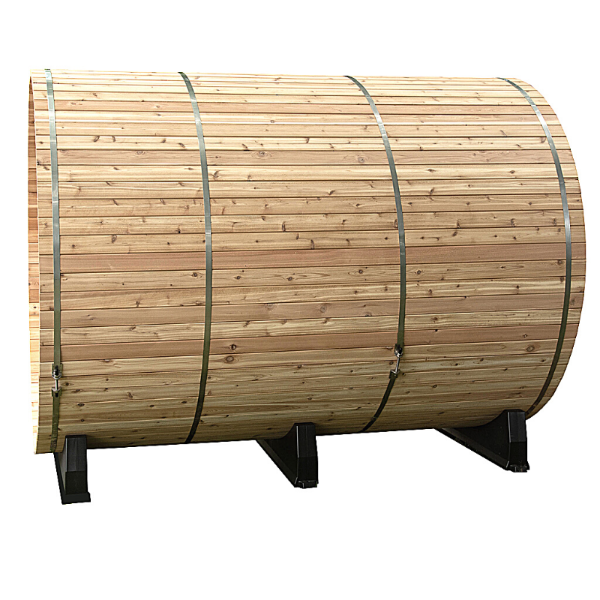 Almost Heaven Charleston 4 Person Canopy Barrel Sauna
"Highly recommend Sauna World for purchasing a Sauna! We can say enough about Sauna World there customer support is great! Our Pinnacle Sauna from Almost Heaven is epic."- Abby Lapan
Almost Heaven Charleston 4 Person Canopy Barrel Sauna
CONVENIENT RELAXATION
With the Charleston, there is no such thing as too functional. Measuring 6'x8', two feet of space have been allotted for the exterior benches. This provides more space to cool off after the sauna or to store water, towels, clothes, or even plants! The six feet of interior space is heated by a Harvia 6kW electric heater and can fit up to six people. 
The included heater will consistently achieve temperatures of 175–185F in 45–60 minutes, or you can delay the start time to eight hours. Relaxation is only a few steps away with the Charleston barrel sauna!
EXCEPTIONAL CRAFTSMANSHIP
Every inch of this sauna speaks of fine craftsmanship. Made with resilient, premium-grade timber, including white fir, rustic cedar, onyx upgrade, or thermally modified hemlock, its exterior showcases the rich, textured grains of the wood, emanating a warm, inviting glow that becomes even more enchanting under the canopy's gentle shade.
The standout feature is its extended canopy, offering a shaded outdoor respite. This space is perfect for cooling down between sessions or savoring a moment of tranquility amidst nature. The transparent, tempered glass door provides a seamless blend of safety and aesthetics, allowing plenty of natural light while indulging in the warmth.
FEATURES
Ball-and-socket lumber that is 1-3/8″ thick for

optimal insulation

Any glass features are

tempered 
Stainless steel

bands, hinges, heater and fasteners

Includes

: Interior LED light & sauna stones 

Weather-resistant

plastic support cradles

Two interior opposite-facing benches for

sitting or reclining
The canopy porch

has two exterior opposite-facing benches

Appropriate for

indoor or outdoor usage
Hand-crafted lumber

profiles and end sections

Best-in-class electric heater

 

Limited lifetime warranty

on the sauna room; 5-year limited lifetime warranty on the heater and its components, with a 1-year warranty on the heating elements (coils)
Specification
| | |
| --- | --- |
| | |
|  Capacity | Holds up to four people |
|  Standard Heater size: | 6kW, 240V, 30-amp electrical requirement, hardwire connect |
|  Lighting electrical: | 110V, 15-amp service, plug-in connect |
|  Assembled size: | 72″W x 95″D x 75 - 3/8″H |
|  Interior room size: | 71″W x 64″D x 69 - 1/8″H |
|  Interior bench dimensions: | 18″W x 64″L x 17″H |
|  Canopy porch size: | 71″W x 29″D x 71″H |
|  Exterior bench dimensions: | 18″W x 29″L x 25″H |
|  Cradle dimensions | 54" x 6 |
|  Shipping weight: | 915 lbs |
|  Shipping size: | 96″L x 41″W x 52″H |
Manual
Note: Due to the size of the Charleston, specialized shipping is required. Please anticipate this shipping anywhere from 3-6 weeks from the date of order.
Order Almost Heaven Charleston 4 Person Canopy Barrel Sauna today from MySaunaWorld.com. Get 10% OFF upon checkout. No code necessary! Plus Get a Free Barrel Sauna Rain Jacket! Shop now and indulge yourself!
Lumbers: White Fir, Rustic Cedar, Clear Cedar

Capacity: 4-person

Assembled Size: 72″W x 95″L x 77″H

Interior Room Size: 71″W x 64″L x 71″H

Shipping Weight: 915 lbs

Shipping Size: 96″L x 41″W x 52″H

Heater Size: 6.0kw, 220v, 30amp electrical requirement, hard-wire connect
Lumbers: White Fir, Rustic Cedar, Clear Cedar

Capacity: 4-person

Assembled Size: 72″W x 95″L x 77″H

Interior Room Size: 71″W x 64″L x 71″H

Shipping Weight: 915 lbs

Shipping Size: 96″L x 41″W x 52″H

Heater Size: 6.0kw, 220v, 30amp electrical requirement, hard-wire connect
Sauna with a Porch
The best selling feature of this 4-Person Charleston Sauna is its front porch – the perfect place to hold towels or drinks and to entertain. Your choice of light colored White Fir or classic Rustic Cedar (with knots) or Clear Cedar (no knots). Thick tempered glass for the front door and stainless steel hardware support the integrity and durability of this sauna as a whole, and opposite-facing benches inside allow you to enjoy a heartwarming conversation.
Charleston Specs & Upgrades
Equipped with LED lights for relaxation, this sauna comes with a variety of upgrades, including Himalayan Salt Panel, Floor Kit, or an all-wood sauna door. Exterior Porch Dimensions: 71″W x 29″L x 71″H. Interior: 71″W x 64″L x 71″H. Standard heater Size: 6.0kw, 220v, 30amp electrical requirement with a hard-wire connect (consult a certified electrician). Option to upgrade to an 8KW Virta Heater with Digital Control. Please note the Xenio control box and screen must either be installed indoors, or in a weatherproof box. Standard Almost Heaven Warranty applies to sauna room and heater.
Perfect!
First of all the assembly was extremely simple! I literally needed my wife to help me for maybe 5 minutes at the most other than that I had it together in no time! Everything went together effortlessly and correctly. I did not have to "modify" anything! We got rid of our hot tub and switched to a sauna and could not be happier with our decision. We love it!!!
Hi Lance! We truly appreciate your review. Glad to know your sauna assembly went perfectly well. Your sauna looks amazing! Thanks for sharing a photo of it as well. Enjoy your sauna!
We love it! We put it in the basement of our Colorado cabin at 8000 feet of elevation and it's wonderful to play in the snow and then go warm up. It was easy to build, my only suggestion is that you sand the ends of the staves that are exposed but other than that we would highly recommend it to everyone.
Steve and Sheryl Helburg
Thanks Steve! Love the pictures of how that fit into the room, looks like you measured perfectly.
We really appreciate your business, and taking the time to leave a review!
We love our sauna and use it all the time. Will never regret the investment.
Thank you so much for the review, Joanne! Glad to know you're loving your new sauna! Feel free to visit again if there's anything we can do for you in the future. Enjoy your sauna!
Took 2weeks to get the electrician but once everything up and working couldn't be happier.only concern is we mounted the light above the heater on the back wall except the switch ended up halfway toward the outside wall and still becomes very hot and almost unable to adjust during a sauna
Hi Perry, thanks for the review, we appreciate it! The recommended placement of the LED light is usually at the back of the heater to avoid exposure on too much heat. Would you be able to email us a photo of the location of your light? I'd be happy to check with our supplier their recommendations given your light set up. Please email us at info@mysaunaworld.com. Enjoy your sauna!