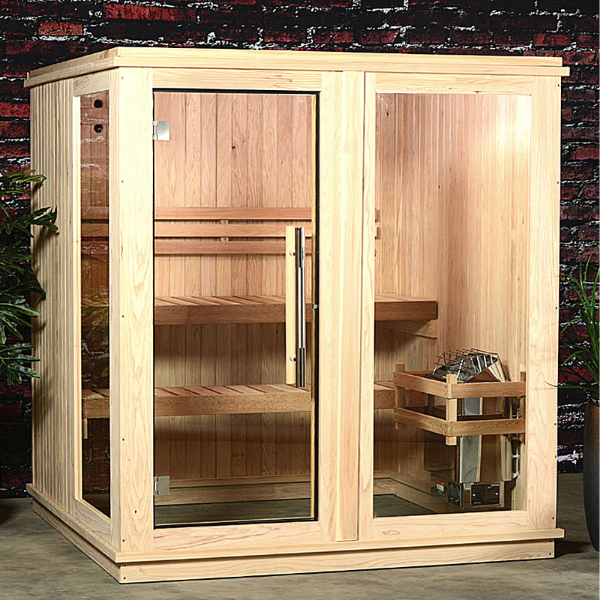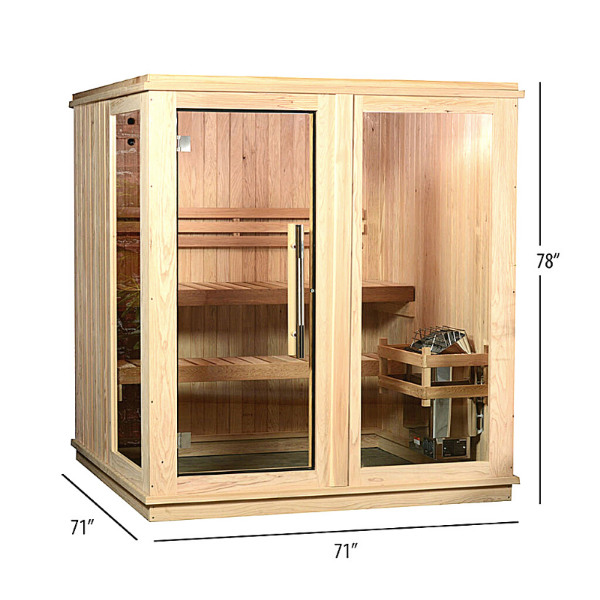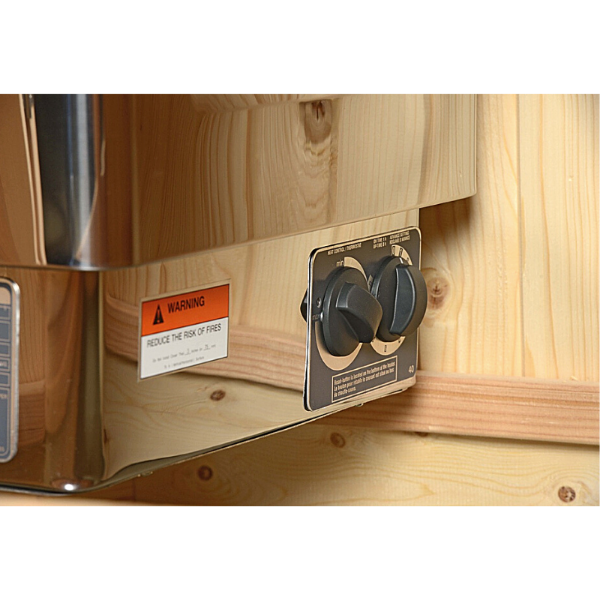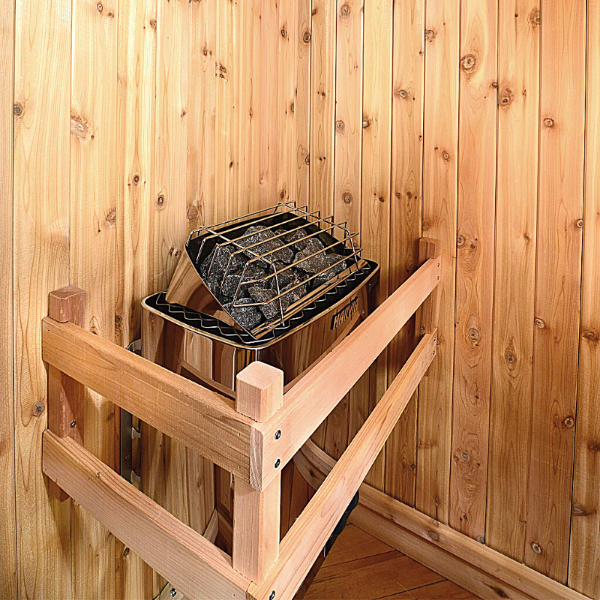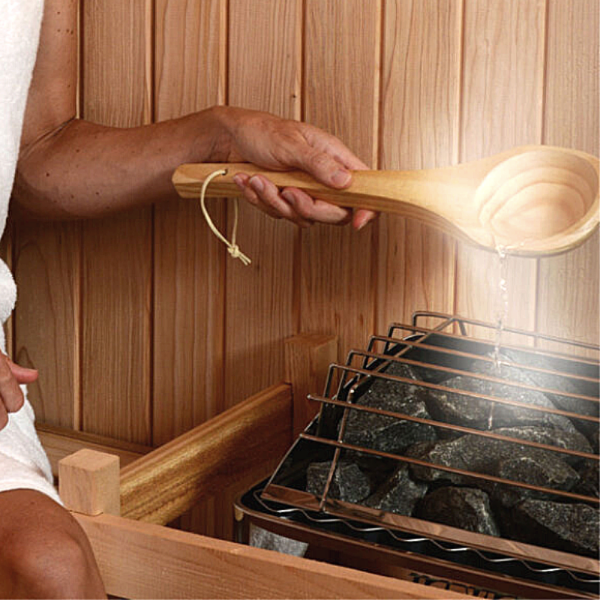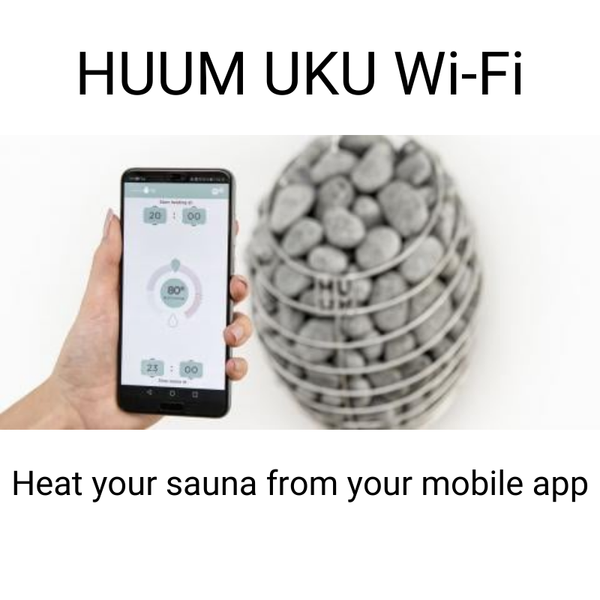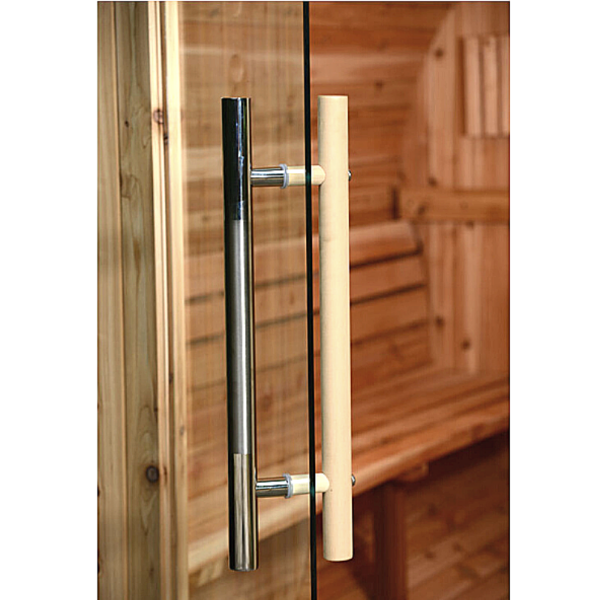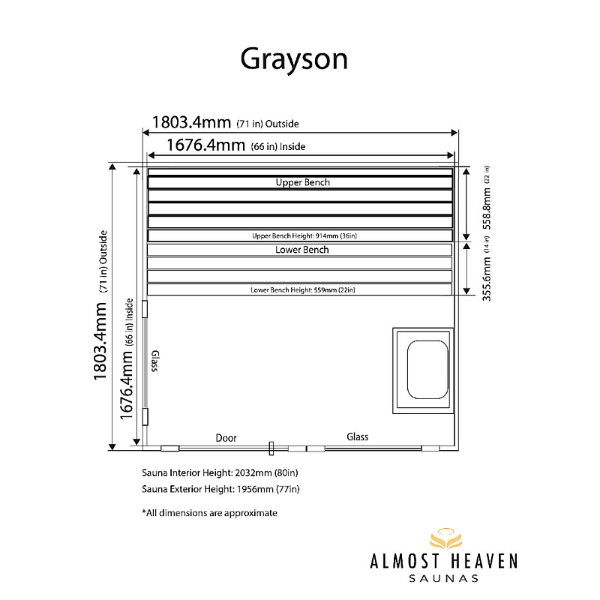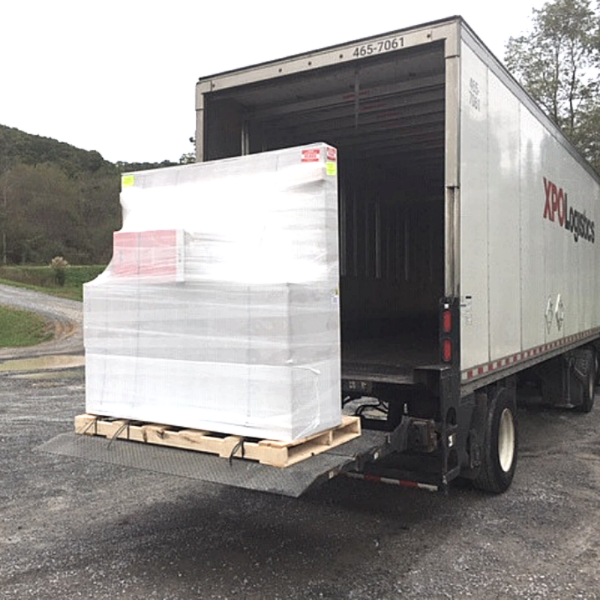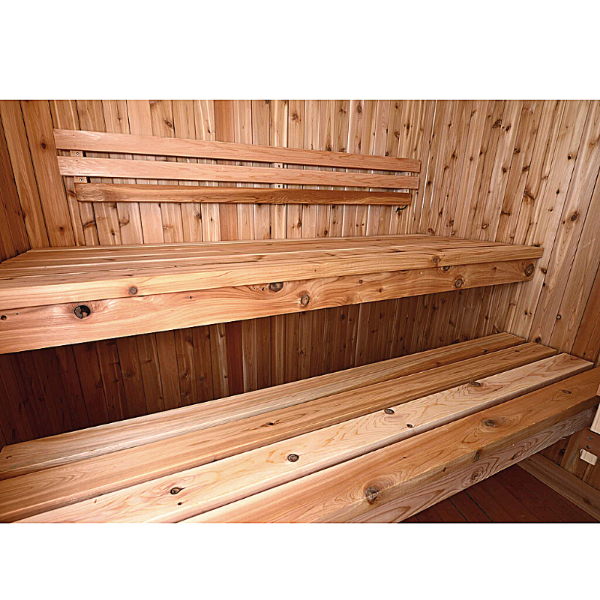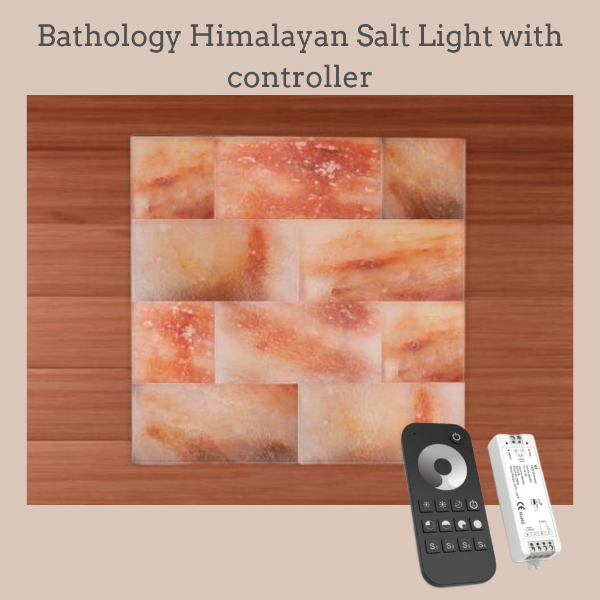 Almost Heaven Grayson 4-Person Indoor Sauna
"Highly recommend Sauna World for purchasing a Sauna! We can say enough about Sauna World there customer support is great! Our Pinnacle Sauna from Almost Heaven is epic."- Abby Lapan
Almost Heaven Grayson 4-Person Indoor Sauna by Almost Heaven
The Grayson Sauna is an easy-to-assemble indoor sauna designed to turn any part of your home into a personal paradise. Created to take up a small footprint and handcrafted with top-tier materials, the Grayson blends efficiency with beauty. This sauna will heat up in as little as 30 minutes, so you can enjoy your Grayson whenever inspiration strikes.

It comes with a 6.0KW Electric Heater. The space will get up to temperatures of 180ºF after an hour of heating.

You can upgrade the Grayson from the standard 6kW heater to an 8kW - the choice is yours!

This will ship within 14 days from the date of order.

Get 10% OFF upon checkout. No code necessary!

Grayson 4-Person Indoor Sauna Benefits and Features

DESIGN

If you're looking for an indoor sauna that not only boosts your health but also looks attractive, the Grayson is your unit. Held together with a tongue-and-groove design as well as stainless steel hinges and fasteners, the Grayson is as sturdy as it is aesthetically pleasing. Pre-assembled wall and roof sections allow for easy at-home construction of the sauna.

MATERIALS

The Grayson is constructed using fir harvested from the Pacific Northwest. These materials not only give the Grayson character but also naturally withstand wear and tear to give you many years of sauna enjoyment. This sauna features a tempered full glass door and front and side floor-to-ceiling windows, creating a spacious getaway right in the heart of your own home.

PERFORMANCE

By reaching temperatures of 190°F and higher, the Grayson can detoxify your entire body and boost your overall sense of wellbeing. For a wet sauna environment, simply sprinkle water on the sauna stones to create an invigorating burst of steam. The Grayson comes with an electric heater and sauna stone. Evoke complete sauna experience by adding bucket, ladle, and thermometer!

ATMOSPHERE

Step into your Grayson and experience ultimate and instant relaxation. Whether you want to sit or recline, the Grayson offers two full-length benches with multi-level seating for up to four people. An interior LED light casts a soft glow inside the sauna—you will feel your stress immediately melt away. The Grayson is a free-standing unit that utilizes your existing floor as the interior floor of the sauna. This indoor oasis is manufactured at our West Virginia factory by experienced professionals who, along with our customer service team, are here to answer any of your questions about the Grayson, before, during and after purchase. The sauna room is covered by a lifetime warranty and the heater by a 5-year warranty.

Specifications:


Capacity: 4 Persons

Heater size: 6kW, 240V, 30-amp requirement, hard-wire connect

Lighting electrical: 110V, 15-amp service, plug-in connect

Exterior dimensions: 71″W x 71″D x 78″H

Interior dimensions: 66″W x 66″D x 77″H

Lower bench size: 66″L x 14″W x 22″H

Upper bench size: 66″L x 22″W x 36″H

Door size: 64″H x 24″W

Window size: 64″H x 25″W (2)

Shipping size: 74″L x 40″W x 49″H

Assembled weight: 750 lbs.

Shipping weight: 815 lbs

     **Note: All dimensions are approximate**


Grayson Indoor Sauna Specification

Capacity: 4 Persons

Utilizes existing concrete, ceramic, vinyl, laminate or tile flooring (carpet not recommended)

Heater: 6kw stainless steel water-over-rocks steam heater

Electrical: 220v, 30-amp service for heater; 10/2 wire, hard-wire connect; 110v, 15-amp for light

Exterior Dimensions: 71″L x 71″W x 78″H

Interior Dimensions: 66″L x 66″W x 77″H

Lower Bench Size: 66″L x 14″W x 22″H

Upper Bench Size: 66″L x 22″W x 36″H

Door Size: 64″H x 24″W

Window Size: 64″H x 25″W (2)

Shipping Size: 74″L x 40″W x 49″H

Assembled Weight: 750 lbs.

Shipping Weight: 815 lbs.

Note: All dimensions are approximate

 
Blending Efficiency with Beauty
The Grayson Sauna is an easy-to-assemble indoor sauna designed to turn any part of your home into a personal paradise. The Grayson is constructed using sustainably harvested White Fir and Red Cedar from the Pacific Northwest. These materials give the Grayson character but also naturally withstand wear and tear to give you many years of sauna enjoyment. Also included is a tempered full glass door and front and side floor-to-ceiling windows, creating a spacious getaway right in the heart of your own home.
Grayson Specifications
The Grayson comes with an interior LED light (110v, 15-amp plug-in), as well as a 6.0KW Electric Heater (220v, 30-amp (10/2 wire hard-wire connect). Exterior Dimensions: 71″L x 71″W x 78″H. Interior Dimensions: 66″L x 66″W x 77″H. Lower Bench Size: 66″L x 14″W x 22″H. Upper Bench Size: 66″L x 22″W x 36″H. Includes Almost Heaven's limited lifetime warranty on the sauna and 5-year warranty on the heater.
I had an excellent experience with Almost Heaven Saunas! I ordered specific customizations and everything was delivered exactly to my specifications! We love our sauna and have been using it every night. Absolutely thrilled with Almost Heaven Saunas and our Grayson sauna!
Hi Kris! Thank you for the review! We are so happy to know that everything turned out well with your Grayson sauna. Glad you are now enjoying it. We'd love to see how it looks now that's it's fully assembled. It was really a pleasure working with you. Feel free to come back anytime if there's anything else we can do for you in the future.
First off, the sauna is absolutely fantastic! My neighbor and I put the sauna together in about 90 minutes - yes, it was that fast. My neighbor commented numerous times (he's an engineer) how easily this all fit together and how well built the sauna materials are. Once it was all put together my electrician got it all hooked up I fired it up and to my amazement in 40 minutes we were touching 160 degrees and after 60 minutes between 170 and 180. Overall a great product and Adam's customer service has been some of the best I've experienced with a business in a long time. He answered all of my questions before, during, and after the transaction - can't recommend them enough!
Thanks Jay! We're so glad you're enjoying your new sauna. Let us know if there's anything we can do for you in the future.
It was super easy to assemble, looks super, and works great. The way everything arrived in one large package was great. Assembly instructions are very good and every piece is marked. The only inconvinience: the shipper forgot to include the rocks for the stove, which cost us a week of time to use the sauna.
Thanks for your review Falk! We are happy to know that the assembly of your sauna went very well. We apologize for the sauna rocks, it is possible it got lost, this happens sometimes. We're glad the new box of sauna rocks reached you already. Please come back if there is anything we can do for you in the future. Enjoy your sauna!