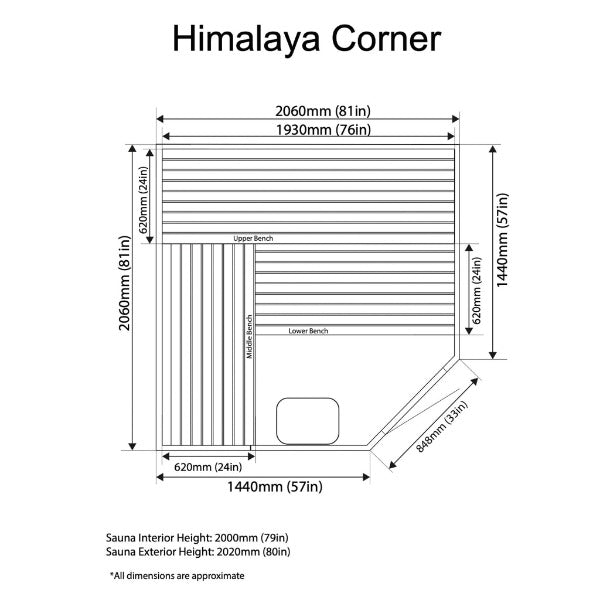 Almost Heaven Indoor Himalaya Corner 6 Person Indoor Sauna
"Highly recommend Sauna World for purchasing a Sauna! We can say enough about Sauna World there customer support is great! Our Pinnacle Sauna from Almost Heaven is epic."- Abby Lapan
Perfect Corner Fit and a Himalayan Salt Wall  - Ready to Ship!
GET 12% Discount! It will be instantly applied at checkout - no coupon code necessary!
Crafted from high-grade smooth-grain Nordic spruce, the Himalaya Corner Sauna boasts a one-of-a-kind corner placement design, making it a space-efficient and stylish sauna. With three benches featuring multi-level seating, you can enjoy customizable seating arrangements for up to six individuals. The back supports on the upper and lower benches offer optimal comfort whether you're sitting or reclining. 
The Himalayan Corner sauna introduces a built-in vent with a sliding cover, allowing you to regulate air circulation easily. Its rear wall is adorned with Himalayan pink salt, which is thought to improve respiratory function, enhance skin hydration, and reduce stress. With its multi-color choices, the back-lit lighting on the salt wall further enhances the sauna's ambiance and therapeutic effects.

Click here for the assembly manual
Innovative Design for Your Indoor Oasis
This corner sauna features 1-1/2" thick wall and roof sections and 5/16" thick tempered door and window glass. You can upgrade the standard 8kW heater to options like the Wall Heater, Cilindro tower heater (with or without digital controls), or the Virta deluxe heater, providing you with versatile heating experiences. Select models also come with WIFI options, allowing you to remotely control and monitor your sauna settings.
Generous Dimensions and Quality Craftsmanship
This sizable indoor corner sauna maximizes space while providing plenty of interior room. Exterior dimensions: 81"W x 81"D x 80"H Interior dimensions: 78"W x 78"D x 78"H Lower bench size: 57"L x 24"W x 18"H Upper bench size:78"L x 24"W x 36"H Upper bench L extension Size: 57"L x 24"W x 36"H Heater requirements: 8kw, 240V, 40-amp requirement, hard-wire connect Lighting requirements: 110V, 15-amp service, plug-in connect Assembly: Generally takes around 6-8 hours. Shipping Weight: 1250 lbs Warranty: Limited lifetime warranty on the sauna room; 5-year limited lifetime warranty on the heater and its components, with a 1-year warranty on the heating elements (coils)