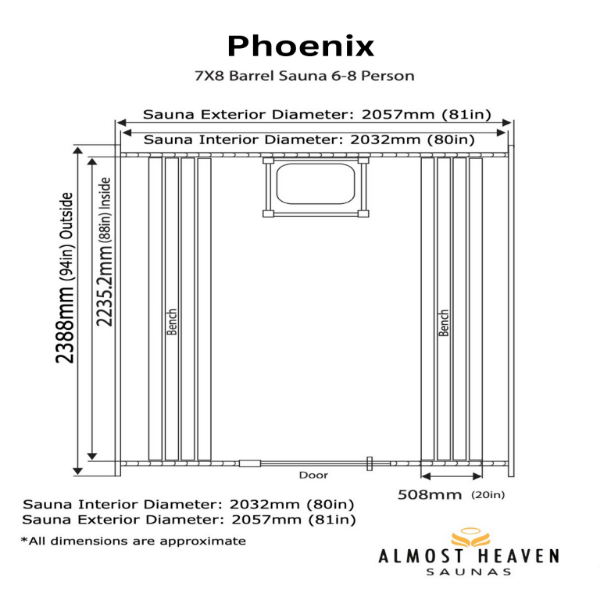 Almost Heaven Phoenix - 6 Person Luxury Barrel Sauna
"Highly recommend Sauna World for purchasing a Sauna! We can say enough about Sauna World there customer support is great! Our Pinnacle Sauna from Almost Heaven is epic."- Abby Lapan
Enjoy Unparalleled Beauty & Luxury 
The Phoenix Sauna by Almost Heaven is one of their most unique and refined sauna models. With perfectly cut glass windows on the front (and options for more windows in the back) and enough space for 6 people, the Phoenix offers a feeling of spaciousness. 
This gorgeous barrel is built with smooth Hemlock that has been thermally modified (learn more about the benefits of thermally modified wood below). Its beautiful deep color contrasts handsomely with the light-colored Hemlock benches, floor and window frames.
Heater Specifications & Sauna Warranty:  This model comes with the sleek black-steel Wall heater by Harvia, which can be mounted on the back wall.  The Wall Heater is 8.0kW, 220v, 40 Amp requirement, with a hard-wire connect, please consult a certified electrician for installation. You can also upgrade to a wood-burning heater (the M3 by Harvia) or a floor heater with Wifi control (Virta). As with all Almost Heaven Saunas, there is a limited lifetime warranty on the sauna room with a 5 year warranty on the heater.
Unique & Stylish Features
One extra-special feature of the Phoenix is its unique floating benches and streamlined design. With no visible support structure for the benches, nor visible joints in the window frames, this sauna offers clean lines, an open feel and a luxuriously modern aesthetic. For the back wall, choose from solid wood for more privacy or double rounded windows or full-glass (to match the front) for views and additional natural light.
Benefits of Thermally Modified Hemlock 
Hemlock wood is known for its hardiness and resilience, which is why it makes a great sauna wood. And when it has been thermally modified, its properties become even more enhanced.  Thermal modification is an eco-friendly process that changes wood's physical and chemical properties, making it more stable, durable and bio-resistant all the way down to its core. It also enhances the color of the wood, giving the usual light-colored Hemlock a rich, mahogany tone. 
Specifications
Holds six people

Standard heater: 8kW, 240V, 40-amp electrical requirement, hardwire connect

Lighting electrical: 110V, 15-amp service, plug-in connect

Heater upgrade: M3 wood stove with chimney installation kit, Virta Heater + Wifi

Assembled Size: 81"W x 94"D x 85"H
Interior Room Size: 79"W x 86"D x 79"H
Bench Dimensions: 23"W x 86"L x 22"H
Shipping weight: 1,020 lbs

Shipping size: 42″W x 95″L x 55″H

Note: All dimensions are approximate