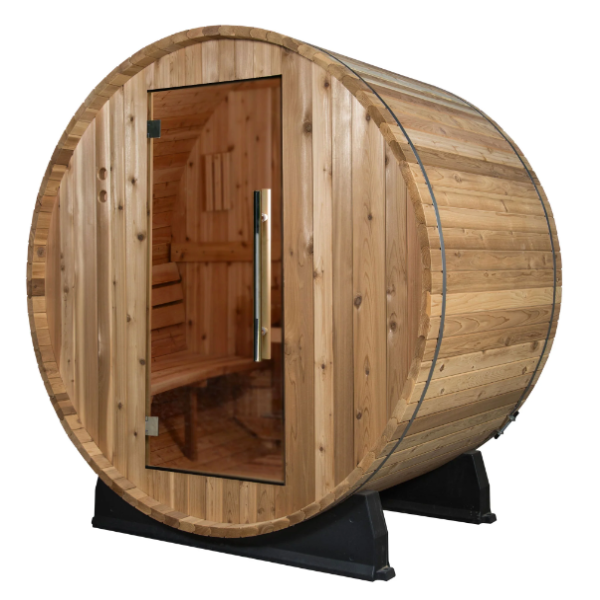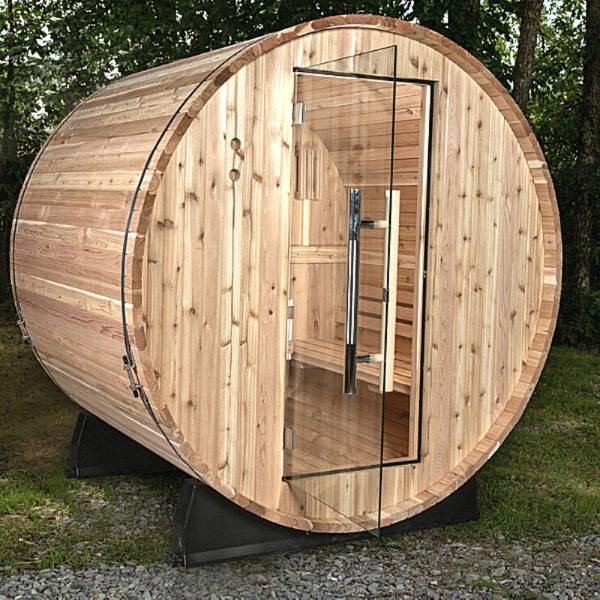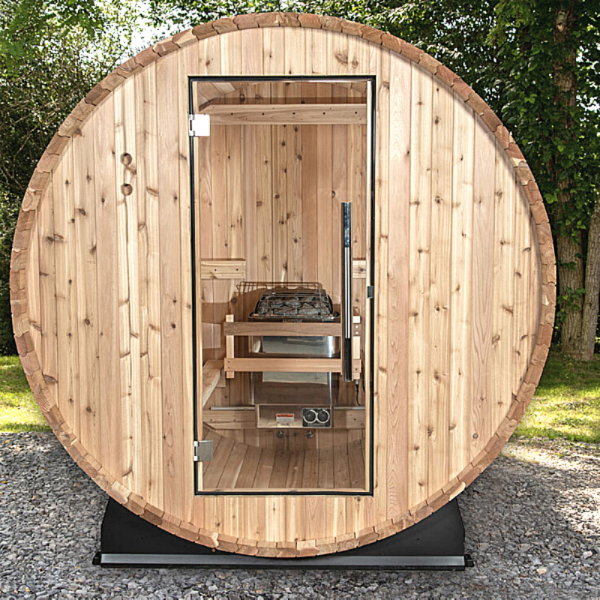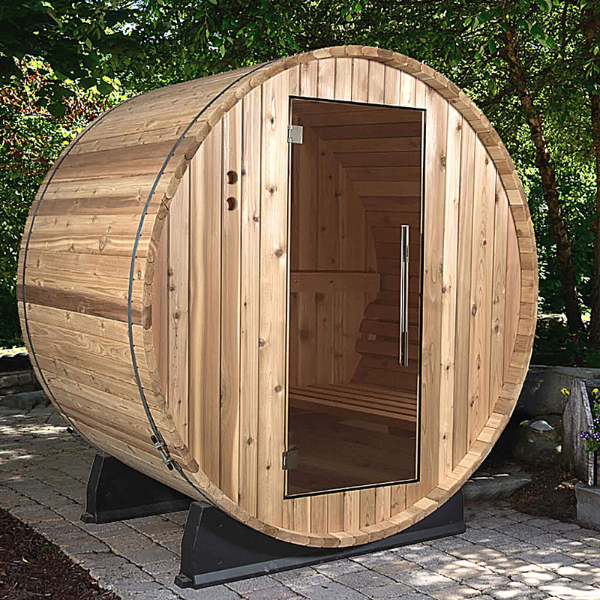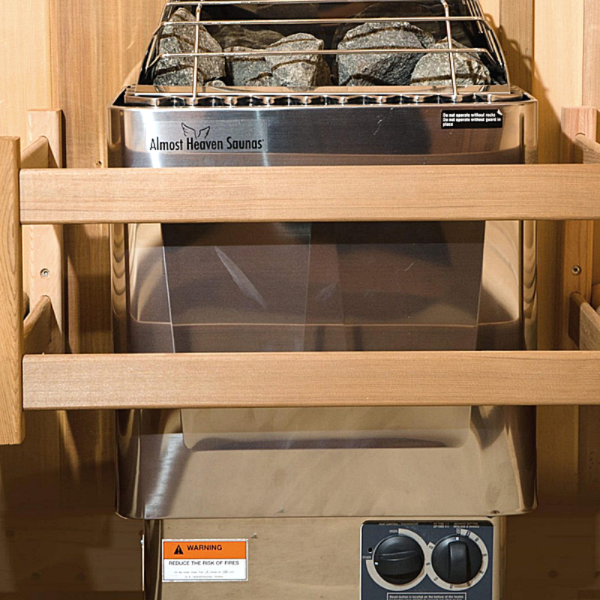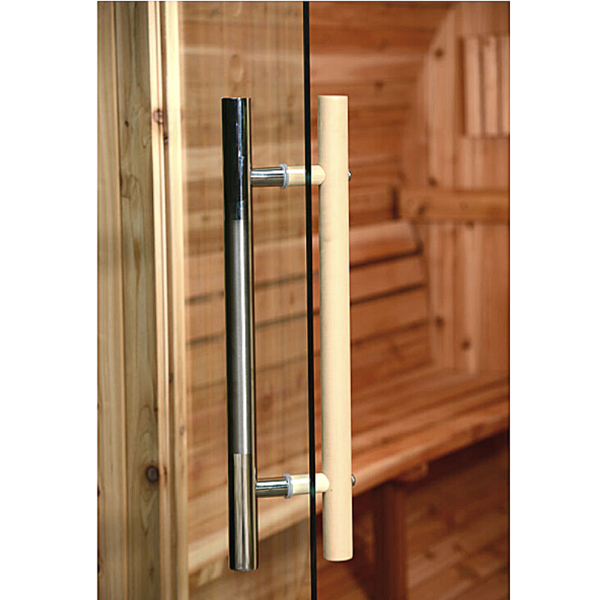 Almost Heaven Watoga 4-Person Standard Barrel Sauna
"Highly recommend Sauna World for purchasing a Sauna! We can say enough about Sauna World there customer support is great! Our Pinnacle Sauna from Almost Heaven is epic."- Abby Lapan
Almost Heaven Watoga 4-Person Standard Barrel Sauna
AUTHENTIC LUXURY
The Almost Heaven Watoga 4-Person Standard Barrel Sauna offers a luxurious, traditional steam experience in a space-saving barrel design, accommodating up to four users. Crafted with premium quality materials such as red cedar, white fir, onyx upgrade, or thermally modified hemlock, it promises durability and an authentic sauna experience.
FEATURES:
Traditional Barrel Design

: Its unique barrel shape offers a space-saving solution and promotes an even distribution of heat, ensuring a thorough and immersive sauna experience.

Spacious Interiors:

 Designed to comfortably accommodate up to four users, this sauna offers ample space for relaxation and socializing, making it perfect for families or small gatherings.

Quality Construction:

 This sauna promises durability and resistance against wear and tear. The wooden panels are tightly secured to maintain heat and provide an efficient insulation system.

Easy-to-use Heater:

 Equipped with a high-quality 4.5kW heater, or you can upgrade to the 6kW, this sauna heats within 45 minutes, allowing users to enjoy the benefits of the sauna in no time. The heater also comes with rocks that can be sprinkled with water to create a steam effect for a traditional sauna experience.

Health Benefits:

 Regular sauna sessions can help detoxify, improve circulation, alleviate muscle and joint pain, and promote overall well-being.

Easy Assembly: 

Designed with user convenience in mind, the Almost Heaven Watoga Sauna has a clear set of instructions for easy assembly with two people and no need to hire a contractor.
Indulge in a luxurious and rejuvenating experience with the Almost Heaven Watoga 4-Person Standard Barrel Sauna, a true testament to craftsmanship and tradition.
Specifications:

| | |
| --- | --- |
| Capacity | Holds two to four people |
| Heater Size | 4.5kW, 240V, 30-amp requirement, hardwire connect |
| Lighting Electrical | 110V, 15-amp service, plug-in connect |
| Assembled Size | 72″W x 59″D x 75 - 3/8″H |
| Interior Room Size | 71″W x 51″D x 69 - 1/8″H |
| Bench Dimensions | 18″W x 51″L x 17″H |
| Cradle Dimensions  | 54" x 6" |
Order Almost Heaven Watoga 4-Person Standard Barrel Sauna today from MySaunaWorld.com. Shop now and indulge yourself!
The Perfect-Sized Barrel
Built to accommodate two-to-four people, the Watoga is a 6'x5' traditional sauna by Almost Heaven Saunas that comes standard with interior LED lights, a tempered glass door and cool-to-the-touch handle (stainless steel on the outside, wooden on the inside), and opposite-facing benches inside. The Watoga is available in dark-hued Rustic Cedar or lighter-hued White Fir – all other elements are constructed of stainless steel. It comes with a Harvia 4.5kW electric heater that includes a start delay timer up to eight hours.
Watoga Specs & Upgrades
Watoga exterior dimensions are: 72″W x 59″L x 77″H. Interior: 71″W x 51″L x 71″H. You can upgrade the Watoga from the standard 4.5kW heater to a 6kW with or without digital control. Option to upgrade to the beautiful HUUM DROP heater, too. If you want to add a color-changing mood light, flat floor kit, Himalayan salt panel, all-wood sauna door or accessory kit the choice is yours! The 4.5kW electric heater: 220v, 30 Amp requirement, hard-wire connection – consult a certified electrician. Five year warranty on the heater, Limited Lifetime Warranty on the sauna room.
Great value, beautiful product and excellent customer service
I ordered my sauna through MSW because they offered the same product. I could find elsewhere at a much better value. immediately, I messaged them through the website and they were highly responsive. They even threw in a discount code and free shipping along with extra items I'd have to pay for on other sites.
The heater upgrade was awesome, and we've been able to get it up to 170° so far. Still tinkering with it, hoping to get to 200 at some point.
Assembly was fairly straightforward, and I was able to complete the build in six hours by myself minus a little bit of help from my wife to hold the structure up as I installed the front and back panels. I'm in pretty good shape though, so I'd recommend to people for the whole job and give yourself more than a day if needed.
The instructions were fairly straightforward, though I was confused about a few of the steps, mostly around the heater, placement and sensor. Thankfully, I found the Facebook group where I was able to ask questions and work through it. Some of the instructions seems to be generic, and not specific to my build, so I'd recommend , watching some YouTube videos for your specific sauna to make sure you're placing everything in the ideal position before screwing anything in. I ended up drilling a few holes in the back wall that I had to putty over and thankfully they're not visible to the naked eye.
We had an issue with the first heater sent and the folks MSW were super helpful in getting us a functioning one.
The only reason I am rating the experience 4-star instead of 5 is because of the confusion in the instructions. Everything else was pretty much perfect.
Thanks you so much for the review Frank. Glad to know assembly went smoothly. Your sauna looks great, thank you for sharing these photos with us.
We appreciate your feedback about the instructions. We'll reach out to Almost Heaven about this for consideration in the future, surely they'll appreciate it as much as we do.
You can always reach out to us anytime or our Facebook Group if you have any questions. Enjoy your sauna!
Love this little sauna! We upgraded to a 8kw heater and it heats up to 175-185 in 20ish mins. Can get higher too. Rustic cedar smells amazing. We did end up spending close to $800 for electrician to setup the heater + parts and for sauna assembly, But it would have been a bit cheaper if we assembled ourselves. It looks great in the backyard too. Customer service we received throughout was great as well. Always quick to respond to our questions. We have already recommended this company to some friends.
Hi Lata, thank you so much for the review. Your sauna looks very lovely! You've got a powerful heater there and nice barrel sauna set-up too.
We truly enjoyed working with you. Please, come and visit again if there's anything we can do to help. Enjoy your sauna for many long years!
Absolutely love this sauna! Took me a little over 5 hours to assemble by myself and use it at least once a day! Been such an awesome purchase! Highly recommend it, great quality and of course doing business with my sauna world was an absolute pleasure. Great customer service and communication! Wouldn't do business with anyone else!
Thanks for sharing the picture of your new barrel sauna Jordan, it looks great out there! We really enjoyed working with you, please don't hesitate to come back if we can do anything else for you in the future.
Great Customer Service and a breeze to put together.Excellent shipping and the Sauna is top notch, couldn't be happier
Sean, thanks so much for the kind review! It was a pleasure working with you. Enjoy your new sauna.
Really glad I got it
Great customer service from My Sauna World and Almost Heaven, really A+ level.
The sauna was easy to install and works great. I chose to do some sanding before putting it together, 60 grit and an ROS makes fast work and knocks down corners, planer marks, and stray splinters. Also, consider laying out the planks if you want to arrange them by color/hue. The instructions for the sauna and heater installation are easy to follow.
Haven't used it in the winter yet, but the 6kw heats it up to 150 in 20 minutes or so, and the sauna holds the heat very well. The bucket and ladle are big hits with my children.
Hi Bruce, thank you for your review, we sincerely appreciate it. We truly enjoyed working with you. Thanks as well for sharing some tips in the sauna assembly. This will surely help our future customers. If there is anything we can be of help in the future, please know that you can reach out to us anytime. Enjoy your sauna!