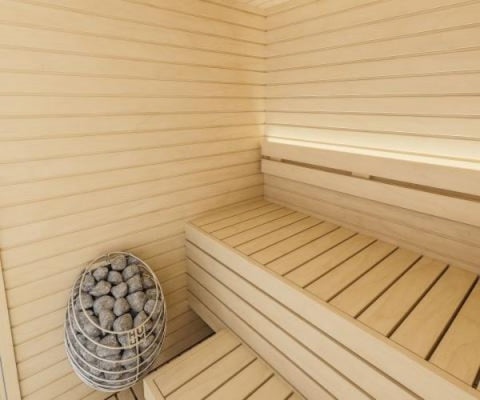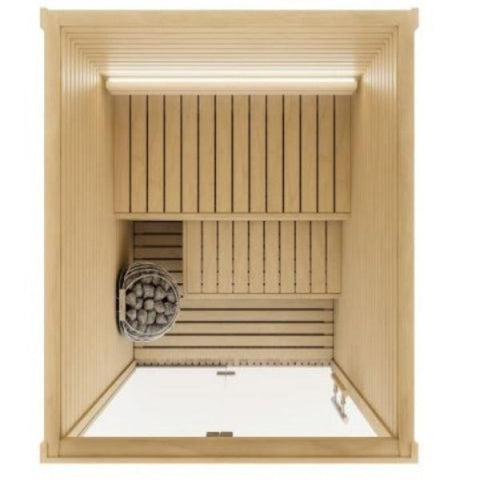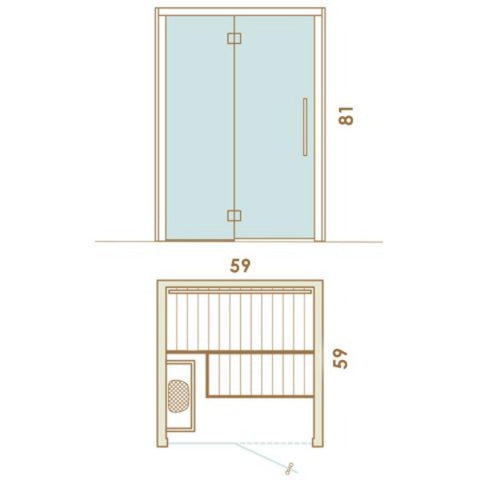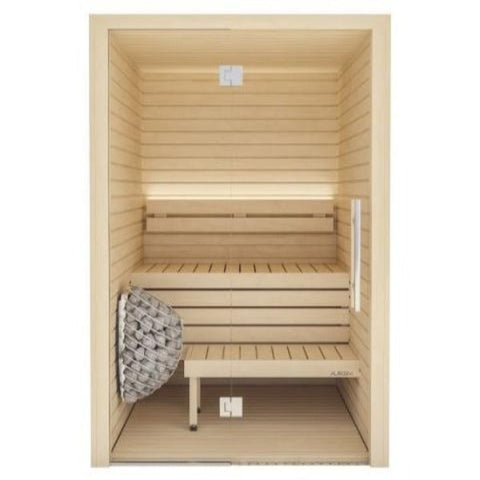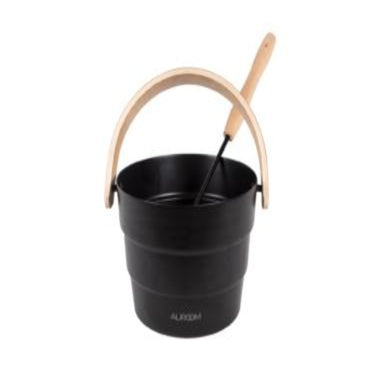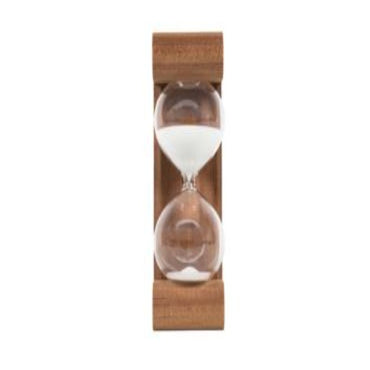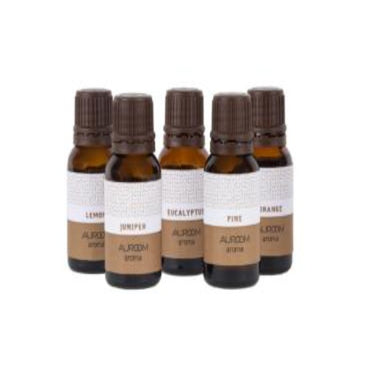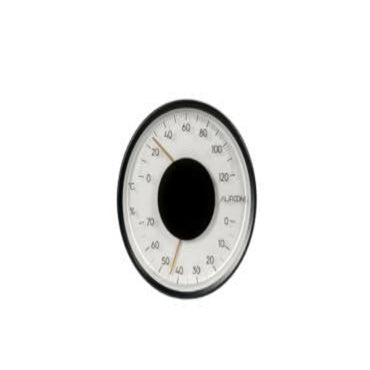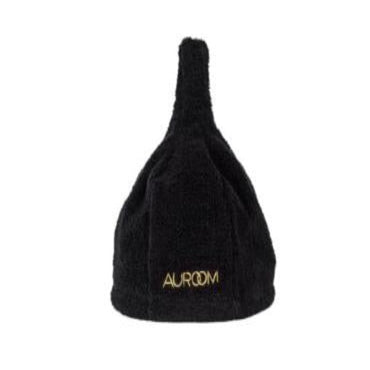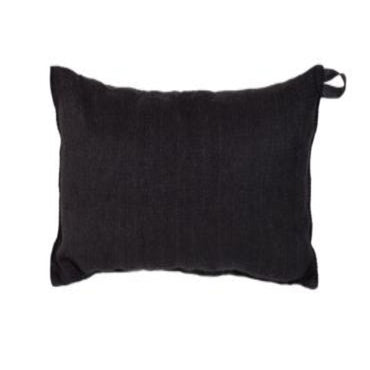 Auroom Cala Glass Cabin Sauna Kit - Aspen
AVAILABLE SIZES:
59"Dx59"W (UP TO 2 PEOPLE)
Up to 4-person, Aspen, DIY, Modular Cabin, Sauna Kit
A small sauna with a big heart, the Cala Glass home sauna boasts a true Finnish sauna experience and meticulous attention to detail. The 3-person Auroom Cala model is engineered to fit into smaller spaces without compromising aesthetics or comfort. Its wax finish offers added protection for the wood and looks amazing.
The Cala is made of long-lasting, sustainably-sourced thermally modified Aspen from northern Europe. This chemical-free thermal modification process - done with only heat and steam - produces a product that is longer lasting than other woods and stands up better to the extreme conditions of a sauna. The full-glass front shows off the beauty and provides more natural light inside. 
The comfortable Cala Glass indoor home sauna form Auroom is easy to assemble and can be installed in practically any space. And with its straightforward setup and low energy demands, it is easy to use and cost-efficient to run. 
FEATURES
Easy DIY cabin (4-6 hour with two people)

Premium glass door with metal-wood handle

Elegant glass wall for a unique sauna experience 

Simple yet luxurious feel 

Preserved with Finland's finest natural sauna wax

Small dimensions (easy to fit into any space)

Horizontal Thermo-Aspen exterior and interior paneling (STP 0.59"x3.54")

Flat bench to efficiently utilize the space  

Footrest for maximum comfortability 

Inside sauna LED strip lighting behind backrest

Heater guard to match the interior 

Enhanced sauna experience with included premium accessories

Bucket + Ladle
Thermometer + Hygrometer
Sand Timer
Aroma Set
Sauna Hat
Sauna Pillow
Multiple cabin sizes available to best fit your needs.
(59 x 59) Actual Dimensions: 59" W x 59" D x 80.75" H - (Up to 2 people)
(59 x 71) Actual Dimensions: 71" W x 59" D x 80.75" H - (Up to 3 people)
(59 x 79) Actual Dimensions: 79" W x 59" D x 80.75" H - (Up to 4 people)
INCLUDES
Sauna Kit
Previously assembled wall elements (6)

Base elements (3)

Corner posts (2)

Corner mouldings (4)

Ceiling elements (2)

Cladding on 2 side walls

Bench supports

Upper bench frame

Lower bench frame

Lightshade

Backrest with LED Lights

Bench grids

Glass wall

Door frame

Tempered Door glass (8mm thick)

Metal-wood door handle

Metal hinges

Heater guard

Floor Grid

Finishing mouldings
Accessories 
Bucket

Ladle

Thermometer

Hygrometer

Sand Timer

Aroma Set

Sauna Hat

Sauna Pillow
Product Video
 SPECIFICATIONS
| Model | CALA GLASS |
| --- | --- |
| | |
| 59x59 | |
| Available Finish | Aspen |
| Exterior Panels Included | 2 fully clad side panels |
| Floor Type | Duckboard |
| Lighting Type | LED Strip |
| Exterior Width | 59" (150cm) |
| Exterior Depth | 59" (150cm) |
| Exterior Height | 80.75" (205cm) |
| Weight | ~ |
| | |
| 59x71 | |
| Available Finish | Aspen |
| Exterior Panels Included | 2 fully clad side panels |
| Floor Type | Duckboard |
| Lighting Type | LED Strip |
| Exterior Width | 71" (180cm) |
| Exterior Depth | 59" (150cm) |
| Exterior Height | 80.75" (205cm) |
| Weight | ~ |
| | |
| 59x79 | |
| Available Finish | Aspen |
| Exterior Panels Included | 2 fully clad side panels |
| Floor Type | Duckboard |
| Lighting Type | LED Strip |
| Exterior Width | 79" (200cm) |
| Exterior Depth | 59" (150cm) |
| Exterior Height | 80.75" (205cm) |
| Weight | ~ |
| | |
| Glass Door | |
| Available Finish | Clear |
| Style | 8mm Tempered |
| Width | 24.2" (61.5cm) |
HUUM heaters make sauna stoves a work of art. The minimalist, round design lets the beauty of the stones show while adding a touch of elegance to your sauna.

This 2-person cabin sauna offers 2 types of HUUM stoves and 3 different ways to control it.

ELECTRIC HEATER OPTIONS

•DROP: The organic and minimalist design of DROP heater takes up very little space and makes a statement piece of your sauna.

•KW: The DROP heater is available in 4.5KW and 6KW. The minimum recommended size for this particular sauna is 4.5KW. If you want more power with faster heating, opt for the 6KW.

HEATER CONTROL OPTIONS:

•HUUM UKU Local: This is a wall-mounted controller that is connected to your heater and a range of sensors in your sauna to give you control over the temperature, steam, and lighting with the touch of a button. UKU local is available in a range of colors and also a wood option (handmade of thermo-ash). See UKU Glass below to get it in all-glass.

•HUUM UKU Wifi: UKU WiFi gives you mobile app control so you can control your sauna from the local panel and also on your smartphone from anywhere (as long as you have Wifi connection).

•HUUM UKU Glass: A streamlined all-glass panel in all-black for your local sauna control with Wifi controls included.

FEATURES

•Tasteful Design: An all-glass front facade and door provides an appearance of timeless splendor.

• Fits Anywhere You Need It: The Cala Glass has a compact shape that can fit most spaces while still providing a relaxing feel that's never cramped.

•DIY Installation: Designed to be an easy and fast assembly that 2 people can finish in 4 to 6 hours.

•Peace-of-Mind Warranty: 2 year warranty

•Includes Everything You Need: Flat benches, backrests, heater guard, lightshade, installation manual, base elements, and more.

SPECIFICATIONS

•Exterior Dimensions: 59"W (4' 11") x 59"D (4' 11") x 80.75"H (6' 8.75")

•Weight: 900lbs

•Material: Thermally Modified Aspen Wood

CALA GLASS CABIN SAUNA

UKU INTRODUCTION

UKU GLASS