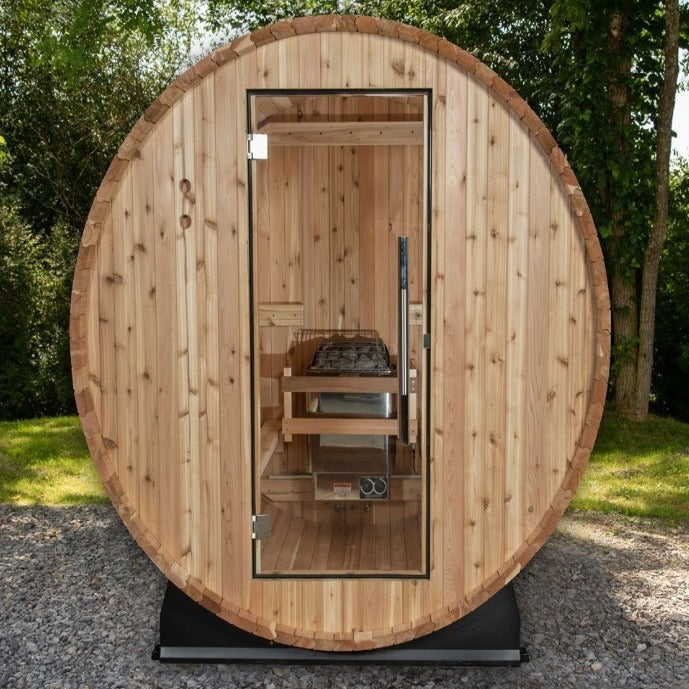 Deluxe Sauna Glass Door
"Highly recommend Sauna World for purchasing a Sauna! We can say enough about Sauna World there customer support is great! Our Pinnacle Sauna from Almost Heaven is epic."- Abby Lapan
Size:
Barrel: 24.25" wide x 56" tall
Product Dimensions:
Barrel: 24.25" wide x 56" tall

Indoor: 25.25" wide x 64" tall
Classic Sauna Door
The classic deluxe sauna glass door is standard with all Almost Heaven indoor or outdoor saunas. The tempered glass door is frameless with a cylindrical handle – smooth wood on the interior and stainless-steel on the exterior. The wooden handle stays cool while the sauna heats up, and the stainless-steel adds an elegant contrast to the natural wood of your sauna.
Fading Glass Door Details
This deluxe glass door includes stainless steel hinges. Product Dimensions: Barrel Deluxe Glass Door: 24.25″ wide x 56″ tall. Indoor Deluxe Glass Door: 25.25″ wide x 64″ tall.
This was some of the most personalized and professional service I have ever received. Truly differentiated from receiving early information about the saunas, to delivery, to service. I absolutely love my sauna, and give the highest recommendation to buy from them again. World class all the way!
Thank you so much Seth for the great review! We'd truly appreciate your recommendation! It has been a wonderful experience working with you. Happy to know you're loving the sauna. Please visit again if there's anything we can be of help with.