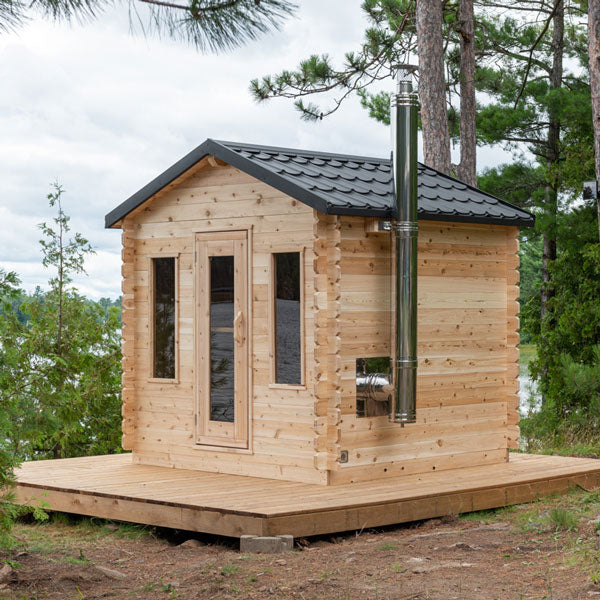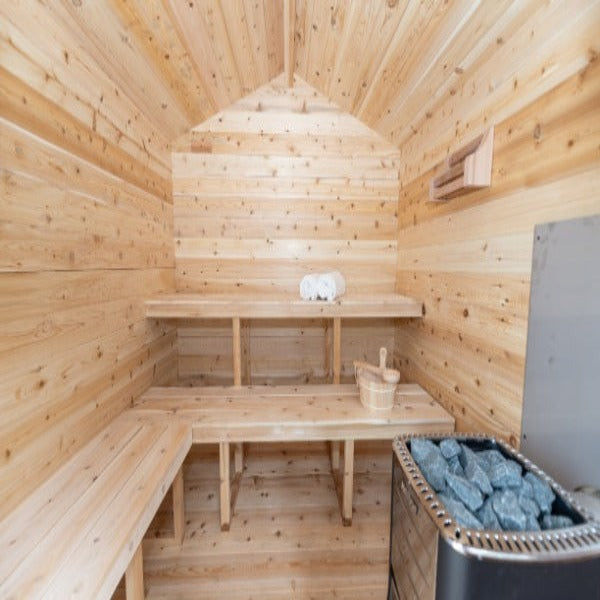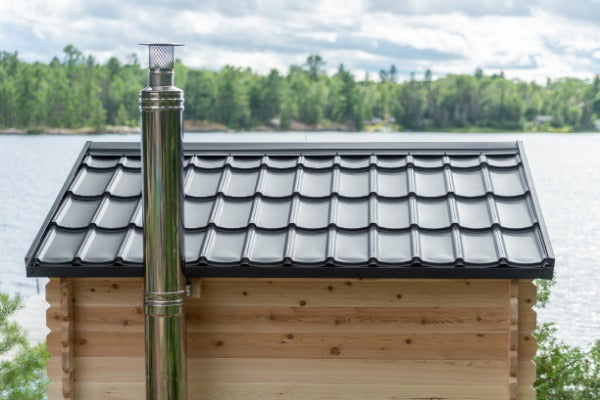 Dundalk Leisure Canadian Timber Georgian Cabin Sauna CTC88W
A Handsome, Eco-Friendly Sauna That Will Last for Years
The Dundalk Leisurecraft Georgian Cabin Sauna features a gorgeous cabin made from handcrafted white cedar. This wood is a lovely light color that looks fresh and is sure to please the eye of very nature lover.  White cedar is sustainably sourced, making an eco-friendly sauna with a lesser impact on the environment. You will enjoy its luxurious  appeal and the beautiful appearance inside and out will allow you to appreciate your sauna sessions even more. Enjoy the natural cottage aesthetic that will fit right into your outdoor space. 
RESOURCES
Here's What You'll Find Inside
The Dundalk Leisurecraft Georgian Cabin Sauna has a spacious interior, measuring nearly 23 square feet with a floor-to-ceiling height of 6 feet. The entire interior, including its benches and accessories are made of the same white cedar for a cohesive look. Inside, you'll find a L-shaped lower and high bench, with enough space for bathers to sit or recline. The sauna cabin has a capacity for two to six users, making it ideal for family and friends.
More About This Sauna's Features
Experience the most genuine sauna experience with the Dundalk Leisurecraft Georgian Cabin Sauna. Like all Dundalk Leisurecraft products, this sauna is easy to assemble with simple hand tools. The sauna comes with a beautiful metal shingle roof in matte textured black color to keep it dry in all seasons. The choice of heater is up to you – Harvia wood burning heater with an optional stainless steel chimney kit or a Harvia 8kw electric heater. For a complete sauna experience, you can purchase the wooden hourglass sand timer, cedar thermometer, bucket, and ladle.
Worth every penny!
Great product, I am about halfway in the assembly process, everything fits like a glove. I am 75 and am doing this myself, as I prefer, not easy, but it will be done right! It helps having quality material to work with, thank you!
Thank you so much for the review, Robert! Working with you has been a wonderful experience for us. If you need assistance or you have questions about your sauna, please know that you can always reach out to us. Enjoy your sauna!