Introducing the Dundalk Leisurecraft Cold Plunge Chiller - your opportunity to take your wellness routine to the next level.  Whether you want a quick post-workout ice bath or a long, hot soak after a long day, the Cold Plunge Chiller can make it happen. Boasting a state-of-the-art design, the chiller immediately delivers icy cold water that cools your tub down to a 3°F, allowing you to enjoy the benefits of a cold plunge whenever you want. Additionally, you can use it to heat the water up to 104°F, creating a luxurious hot soak. The choice is yours! 

The Cold Plunge Chiller is easy-to-use and includes hassle-free maintenance. The built-in circulation pump ensures even water flow, and the ozone filter preserves water purity, maintaining the cleanliness of your tub at all times. Use it with any Dundalk Tub!
RESOURCES
VIDEO TUTORIAL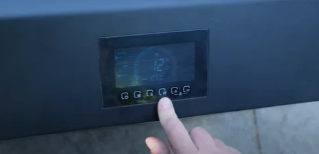 Easy to Use for Maximum Enjoyment
The Dundalk Leisurecraft Cold Plunge Chiller is engineered with simplicity in mind. Using it is a breeze! With just the touch of a button, power the chiller on and off, adjust temperature settings, and toggle between Celsius and Fahrenheit. The user-friendly screen displays the water temperature and flow rate, and for added convenience, the built-in Wi-Fi feature allows you to control it from your smartphone using the Smart Life App.
Compact and Convenient Design
The Cold Plunge Chiller features compact dimensions and a heavy-duty frame equipped with castors, so you can effortlessly move it wherever you need. It operates on a standard 110-volt electrical system, so it's conveniently compatible with most household outlets. Just plug it in, and go! This energy-efficient design enables you to enjoy incredible health benefits and relaxation without worrying about high energy consumption. In addition, the GFI switch ensures safety during use so that you can enjoy your experience without any hassle or concerns.