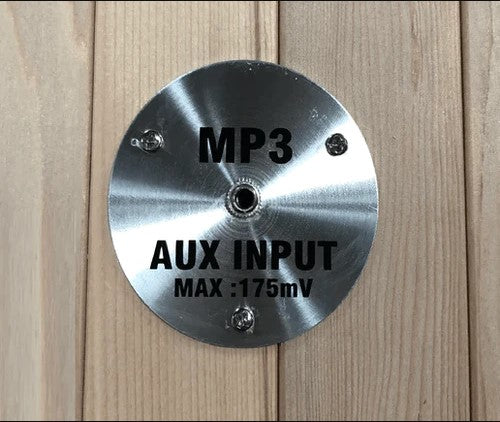 Dynamic Sauna Barcelona Edition 2-Person Far Infrared Sauna DYN-6106-01
Dynamic Sauna Barcelona Edition 2-Person Far Infrared Sauna DYN-6106-01
DESCRIPTION
Because not all Unveiling the epitome of sauna craftsmanship, the Dynamic Sauna Barcelona Edition from Golden Designs is not just another sauna. It's a reflection of timeless elegance combined with modern amenities, all available at a price point that won't stretch your budget. Each component embodies premium quality, ensuring that the Barcelona Edition stands out as a benchmark in the world of wellness solutions.
FEATURES:
Perfect Fit: Specially designed for two, it fits seamlessly in any space, ensuring you don't have to compromise on your home aesthetics.

Pristine Construction: Sculpted from top-notch natural hemlock wood, guaranteeing durability and a luxurious look.

Versatile Installation: Whether your floor is carpet, tile, laminate, or hardwood, the sauna adapts effortlessly.

Uniform Heating: Featuring 6 Carbon heating elements placed with precision, every corner of the sauna receives consistent warmth.

Advanced Detoxification: Equipped with low EMF Carbon infrared technology, step in for a healthier detox experience.

Interactive Control Panels: Offering interior and exterior LED panels, adjusting your sauna settings is just a touch away.

Inbuilt Entertainment: A state-of-the-art music system with Bluetooth capability and 2 dynamic speakers ensures relaxation with your favorite tunes.

Healing Ambiance: The interior chromotherapy lighting doesn't just enhance the ambiance but harmonizes your body energy.

Privacy Ensured: A stylish tempered glass door that ensures your private moments remain undisturbed.

Quick Assembly: No lengthy setups. With the clasp-together design, in under an hour, your sauna sanctuary will be ready.
SPECIFICATIONS:
| | |
| --- | --- |
| Exterior Dimensions: | 39" W x 36" D x 73" H (Roof overhang: add 2") |
| Interior Dimensions: | 36" W x 32" D x 67" H |
| Sauna Weight: | 250 lbs. |
| Shipping Weight: | 295 lbs. |
Golden Designs' Dynamic Sauna Barcelona Edition ensures that you don't just buy a sauna, but bring home an experience. An experience of luxury, health, and relaxation. Join the league of elite homeowners who believe in uncompromising quality without the hefty price tag. Shop now and redefine comfort!

Dynamic Saunas by Golden Designs
Because not all saunas are created equal, Golden Designs Infrared Saunas offers one of its best products, the Dynamic Sauna. It showcases practical designs without compromising class and elegance, offering all the latest features without hurting your pocket. It is easy to assemble and to use and each component is made with the highest quality.
Dynamic Features & Specs
This sauna comes standard with 6 Carbon heating elements, Bluetooth capability and two speakers with pre-amp, chromotherapy light, and an interior and exterior LED control panel. Exterior dimensions are: 39″W x 36″D x 73″H (roof overhang: add 2″), and interior dimensions are 36″W x 32″D x 67″H. With electrical requirements of 120V/15 amp – consult a certified electrician, if needed.
Hi Rob, thank you for the review and for sharing with us a photo of your lovely sauna. And thank you so so much for the second sauna purchase! Awesome! Feel free to reach out anytime if you have any questions or need any assistance. Enjoy your sauna!
Hi Megan! Thank you so much for the review and for sharing with us a photo of your sauna. It looks lovely! We're glad everything went smoothly in your sauna assembly! Feel free to reach out to us anytime if there's anything we can do for you in the future. Enjoy your sauna!
Great!
Was a bit tough to put together and definitely not big enough for 2 people but it's been really great so far!
Thanks for the review, Andrea! We appreciate it. Please know that you can reach out to us anytime for any future questions or concerns about your sauna.
Beautiful Design
We love our new sauna! It is so beautiful and well designed. I especially love the hand-carved door handles and magazine rack. It is much more than we expected for the reasonable price.
Thank you so much for the review, we truly appreciate it. Glad to know you're loving it. Please visit us again if there's anything we can do for you in the near future. Enjoy your sauna!
GREAT!
Received my sauna very fast. Went together very easily. Heats up in 30 minutes, speakers sound good. Very Satisfied with my purchase!
Thanks for the review Jonathan! Glad to know everything went well. Please know you can always reach out to us if there's anything we can do to help in the future. Enjoy your sauna!