The Evolution Cedar Hot Tub is a new line of wood burning hot tubs that comes standard with a white plastic liner to avoid any leaking issues and make for an easier to clean wood burning hot tub, The shell is manufactured in Canada with 3/8" (9.5mm) HDPE Plastic welded together by hand and tested for leaks before shipping. A solid floor is made with western red cedar as well as the wood skirting on the outside this tub will comfortably sit up to 5 people. You can order this tub with an Aluminum Wood Burning heater or without a heater to be used only for cold plunge therapy, both options will ship to you fully assembled and ready to use. The heat up time with a good quality fire is between 3 and 4 hours and the insulated vinyl cover will keep the water warm for up to 12 hours. Choose from our optional accessories to fully benefit from this Canadian Made wood burning hot tub!
Wood Burning Hot Tub
Relax in hot water listening to a crackling fire in our Cedar Hot Tub, also known as Japanese soaking tubs. These traditional, cooperage–style cedar hot tubs are hand-crafted from clear western red cedar, giving you quality and craftsmanship that stands the test of time. No electricity is involved since wood is burned to heat the water which takes at most around 4 hours to heat from 45ºF to 105ºF. Filtration and chemicals are not required. The tub can be enjoyed by family and friends on even the coldest of nights.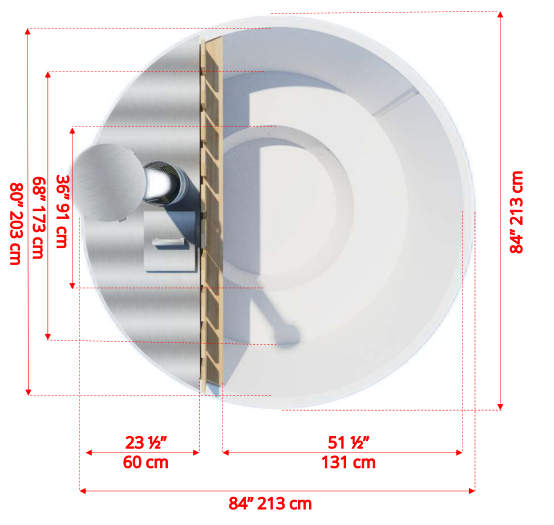 Hot Tub Dimensions
Comes in 7 sizes to choose from - whether it's a cozy tub for two or a larger tub that's built for sharing with family and friends, you'll love this addition to your yard. Optional extras include: a hot tub cover and wooden steps with railing. Dundalk LeisureCraft Inc. warrants their cedar hot tubs against defects in materials and workmanship under residential use for a period of five (5) years.