REJUVENATE WITHOUT BREAKING THE BANK: THE BEST AFFORDABLE SAUNAS
ON THE MARKET
In a world filled with hectic schedules and endless to-do lists, a weary soul yearns for a retreat — a sanctuary where worries could be shed and vitality could be restored. 
One way to achieve this blissful state is through the therapeutic power of saunas — but a dilemma soon emerges. How could one possibly afford such luxury without emptying their pockets?
Say goodbye to the misconception that saunas are only for the elite.
Let's venture deep into the market's labyrinth to discover the most affordable sauna options that deliver their pricier counterparts' indulgence and benefits while preserving your financial well-being.
What Type of Saunas Should You Pick? 
Before diving into the search for affordable saunas, it's essential to understand the different types of saunas available. Saunas offer a variety of experiences and health benefits, so familiarizing yourself with the options will help you make an informed decision. 
Traditional Sauna: Classic Finnish sauna with high temperature (158°F to 212°F) and low humidity. It uses wood stoves, electric heaters, or infrared heaters.

Infrared Sauna: Radiant heat directly warms the body at lower temperatures (120°F to 140°F). They are believed to offer detoxification, pain relief, and improved circulation.

Steam Sauna: Uses high humidity and moist heat (104°F to 122°F). Steam gets produced by water on heated rocks or steam generators.

Hybrid Sauna: Combines traditional and infrared saunas' advantages into a single unit. These saunas get equipped with a conventional heating element and infrared heaters. Users can easily alternate between the two heat sources during their sauna experience.            

Portable Sauna: Lightweight and easy-to-assemble saunas, often using infrared heating elements, suitable for home or travel.



Each type offers unique features and benefits, from the classic Finnish sauna to portables and infrared saunas.
Reviews of Affordable Saunas 
The market offers a range of affordable saunas that can provide a revitalizing experience without compromising on quality. From traditional steam saunas to innovative infrared models — there are options to suit different preferences and budgets.
By exploring reviews of some of the best affordable saunas available, you can gain valuable insights into their features, performance, and overall customer satisfaction. 
Health Mate Essential Lounge Infrared Sauna – Most Portable
The Health Mate Essential Lounge Infrared Sauna is a compact and versatile solution for those seeking an affordable home sauna experience. The design fits seamlessly into small spaces, making it suitable for apartments or your commercial business, like a wellness clinic. 
Not only is it compact and portable — it's also environmentally friendly. Made from sustainable Eucalyptus planks, the sauna is designed to minimize its environmental impact. It also features a built-in lounger that fully supports your head, back and knees. It has low EMF levels, which ensures a safe and worry-free experience.
Key features
Compact and portable design

Constructed from 100% Eucalyptus planks sourced from sustainable forests

Environmentally friendly construction with minimized impact

Built-in lounger for full body support and relaxation

Accommodates individuals up to 6' 5" in height

Low EMF levels verified by third-party testing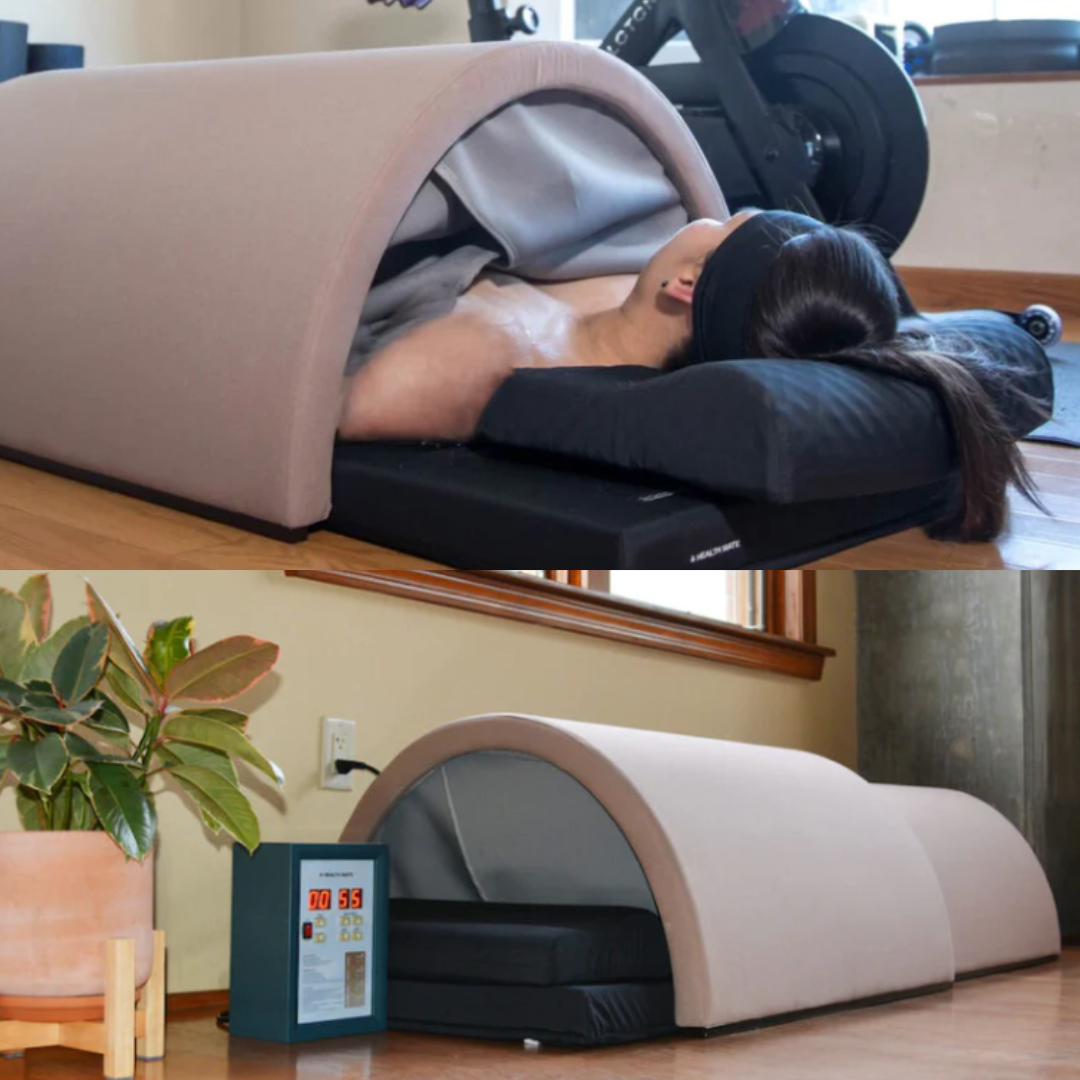 Health Mate Essential Comfort Infrared Sauna – Most Comfortable 
The Health Mate Essential Comfort Infrared Sauna offers a high-impact sauna experience in a compact size, making it ideal for small spaces. Its compact and collapsible design allows for easy storage, and its emphasis on user comfort sets it apart. 
Despite its affordable price, the sauna includes all essential components for a complete experience, such as a control box, memory comfort pad, memory pillow, dual memory foam covers, and a sauna towel.
Key features
Includes Seven heat pads and two heat sources for comprehensive heat distribution 

The controller allows for precise customization of time and temperature. 

Contoured cushion padding and memory foam headrest provide ultimate relaxation and support.

Its Low-EMF contributes to an abundance of health benefits 

User-friendly and quick setup procedure.
Forever Saunas 2-Person Standard Sauna – Best for Couples
Enjoy the ultimate traditional sauna experience with heated stones with this 2 person Sauna. The Forever 2-person standard affordable sauna combines functionality with stunning aesthetics, featuring spacious interiors with beautiful wooden benches and luxurious wood flooring. It provides adequate space for two people and ensures a roomy experience, even for solo sauna sessions.
Key Features
It includes an easy-to-assemble kit and is lightweight.

Choose between modern-looking Harvia KIP or elegantly styled HUUM Drop stone heaters.

Effective heat retention and two vents on the rear of the sauna for proper ventilation

Made with premium materials, such as aspen wood, which is comfortable for the skin.

Durable stainless steel frame.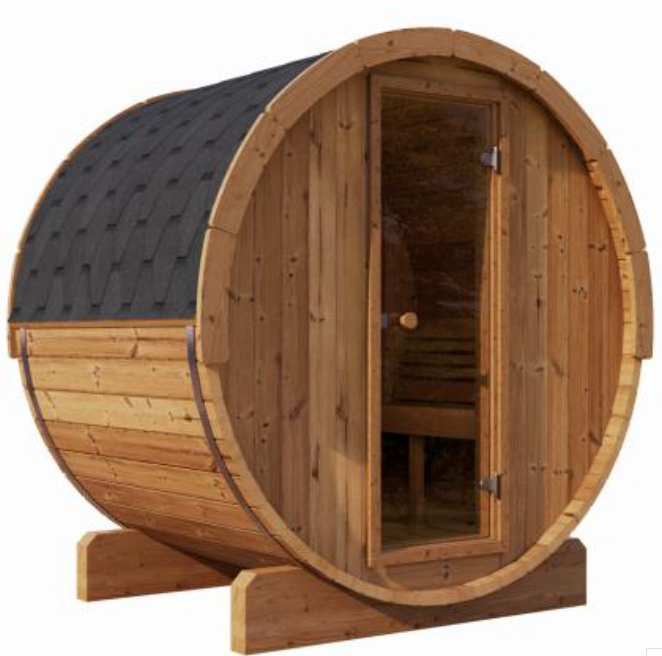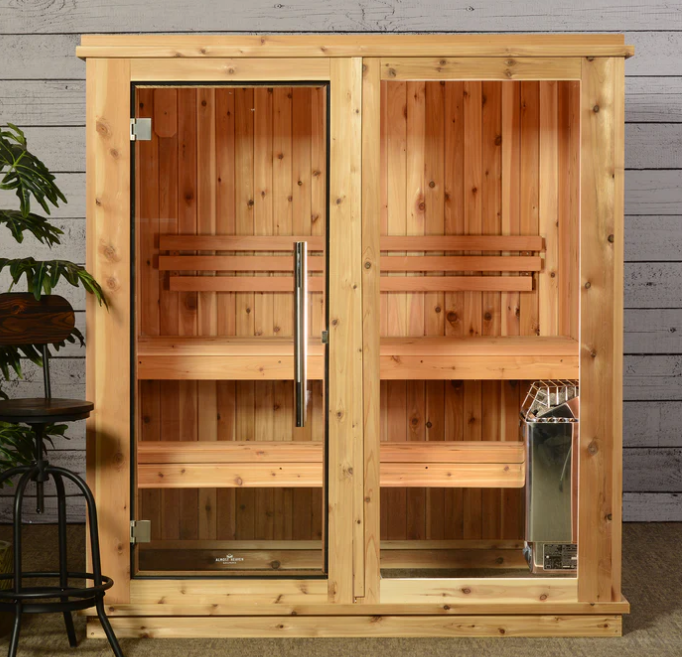 The Rainelle 4-Person Indoor Sauna by Almost Heaven – Most Easy To Assemble 
The Rainelle 4-Person Indoor Sauna offers a unique and affordable home sauna experience with its stylish glass design while ensuring privacy and inviting sunlight. The sauna features two full-length, multi-level benches, offering ample space for you and your friends or family to enjoy the heat. 
Key Features:
Harvia 6kW electric heater with delayed start option.

With its free-standing design, the Rainelle utilizes your existing floor as the interior floor, making it easy to install on vinyl, tile, ceramic, concrete, or solid floors (except carpet).

It can be assembled easily by two individuals in a few hours.

Four-person capacity.
SaunaLife Model X7 Indoor Home Sauna – Most Spacious 
Enjoy a luxurious yet affordable sauna experience with the SaunaLife Mo The X7 Indoor Home Sauna.  The simple DIY installation can be completed in just one day by two people, thanks to the prefabricated wall and ceiling panels. With solid grade-A Aspen benches for ultimate comfort, a full glass front for a sophisticated look, and a reversible door swing for versatility — the X7 kit promises a delightful sauna experience. 
Key Features:
Wi-Fi, app-based operation capability.

Low voltage (24-volt DC) operation for bathing safety.

Dual-level seating options to suit all bathers.

Up to six people capacity.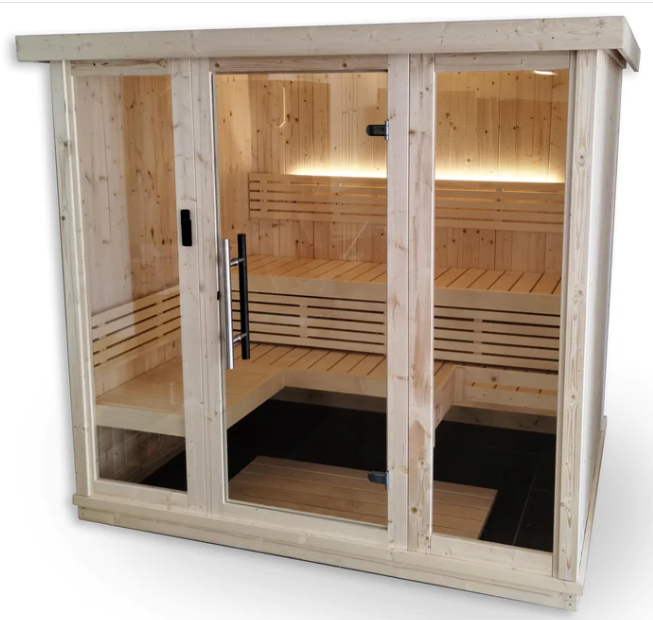 Buyer's Guide: How to Choose the Best Affordable Sauna?
You should consider several factors when choosing the right sauna for your home. Doing so will help you find an affordable sauna that fits your budget while providing the desired relaxation and health benefits. 
To help you with the decision, we've come up with the following tips:
Size and Space
Determine the space in your home or backyard where you plan to install the sauna. Saunas come in various sizes, so measure the area accurately before purchasing. Consider whether you need a compact sauna for personal use or a larger one to accommodate multiple people.
Heat Source
Once you've determined the size you want, check the heat source of your sauna. Saunas can be heated using different methods, such as
 electric

 infrared

 traditional wood-burning stoves



Electric saunas are usually more affordable to purchase and install than wood-burning saunas, which require additional ventilation and may incur higher maintenance costs. Infrared saunas are energy-efficient and provide a gentle heat that penetrates the body, but they can be slightly more expensive.
Quality Construction 
Do not compromise on build quality when looking for your affordable retreat. Always go for saunas made from durable and high-quality materials. Cedar and hemlock are popular due to their resistance to warping and cracking in high heat and humidity. 
Good insulation is essential for heat retention and energy efficiency. Ensure that the sauna you choose is well-insulated and built to last. 
Key Features
Key features are an essential aspect of saunas. You may only require the basic features, such as adjustable temperature control and timers. However, if you want added comfort, invest in a sauna with interior lighting, audio systems, or additional seating options.  
Remember that more features can increase the overall cost, so prioritize based on your preferences and budget.
Safety and Certifications
Besides the key features, ensure that the sauna you select complies with safety standards and certifications. Look for saunas that have been tested and certified by recognized organizations, indicating that they meet safety and performance requirements. The most notable ones include:
Underwriters Laboratories (UL), which globally tests and certifies saunas for safety and compliance

CE Marking for the European Union, indicating adherence to essential health and safety requirements.

Intertek, a company that evaluates saunas for safety and energy efficiency.



User Reviews and Recommendations
Read customer reviews and seek recommendations from friends or family who own affordable saunas. Their experiences can provide valuable insights into different sauna models and brands' quality, performance, and affordability.
Warranty and Customer Support
Check the warranty offered by the manufacturer. A more extended warranty period indicates the manufacturer's confidence in their product's quality. Also, consider customer support and after-sales service availability to address concerns or issues.
Price Comparison
Research and compare prices from different retailers or manufacturers. Look for sales, discounts, or special offers to help you find the best affordable sauna within your budget. Remember not to compromise quality for the sake of a lower price.
FAQ Section 
What are some benefits of a sauna?
Saunas offer several benefits, including relaxation, stress reduction, improved circulation, detoxification, muscle recovery, and potential cardiovascular benefits.
What to do after a sauna?
After a sauna session, cooling down gradually by taking a cool shower or stepping into a cold plunge pool is recommended.  Rehydrate by drinking water or a sports drink and allow your body to rest and relax.
Does the sauna burn fat?
Saunas can temporarily increase heart and metabolic rates but do not directly burn fat. The weight loss experienced immediately after a sauna is due to water loss through sweating, not fat loss. 
Conclusion
In conclusion, finding an affordable sauna doesn't mean compromising quality or the rejuvenating experience that saunas are best known for. With various options available in the market, individuals can enjoy the benefits of relaxation without straining their finances.
While we're on the topic, MySaunaWorld hosts a variety of affordable sauna options. From compact portable saunas to space-saving infrared models, our range includes options to suit different budgets and preferences. 
Our dedicated team will help you find the perfect sauna that fits your needs and financial goals. Contact us to find your match today! 
SIGN UP. SAVE BIG.
Subscribe to be the first to know about our special monthly sauna sales, sent right to your inbox.