UNVEILING THE BEST SAUNAS FOR HOME TO CREATE A SERENE ESCAPE
Saunas have become the universal symbol of relaxation and rejuvenation as they offer a multitude of respiratory and mental health benefits. 
Unfortunately, finding time in your busy day to visit a sauna can be nearly impossible. Sometimes commuting to a sauna can be harder than setting time aside to spend in one.
However, installing a sauna can deep clean your pores and boost your immune system while remaining in your home. With a sauna for home use, you won't ever have to sit in annoying traffic to get to your sauna oasis again.
In this article, we will talk about all the benefits of having your own home sauna and recommend some of the best saunas for home use. 
The Benefits of Having a Home Sauna
In the modern day, convenience is prized more than ever. It's why streaming services have exploded in popularity in the last few years. People want constant and immediate access to what comforts them. However, unlike streaming services, saunas offer tangible health and beauty benefits.
Furthermore, enjoying these benefits from the comfort of your home is now possible. Imagine spending a few minutes in your very own sauna without having to step foot outside your home. You could reduce your stress before heading off to bed, and sleep soundly like a baby all night because of it.
The best part is you wouldn't have to share your sauna with strangers who may make you uncomfortable. It's hard to relax when you don't even feel secure. 
Fortunately, the best saunas for home use allow you to regularly indulge with total security and comfort. It seems obvious to get one, but you must decide what type of sauna you want before you do.
Indoor Home Saunas
For homebodies who dread sharing a sauna with anyone, indoor home saunas provide a convenient solution to the horrid possibility of having to head to a public sauna. 
It's a good thing that indoor saunas can be installed in various spaces, including:
The basement

A spare room

The master bathroom

An enclosed patio



This high level of accommodation works well with all kinds of living situations. However, there are a few different indoor saunas, each tailor-made for a particular set of preferences. Let's run through them.
Types of Indoor Saunas
No doubt you are familiar with the traditional sauna. Due to their rich history, they are the sauna type most frequently portrayed in movies and television. Traditional saunas rely on heated rocks or stoves to raise the temperature within the room.
The heat generated relieves tension within your muscles and further detoxifies your body by helping it sweat. While this sounds incredibly pleasant, some people can't deal with high temperatures. For those individuals, an infrared sauna would be the next best choice.
Infrared saunas utilize built-in infrared heaters to generate their heat. This radiant heat directly affects your body rather than heat the air itself. It's a more targeted approach. The result is deeper tissue penetration, which relieves muscle and joint pain more effectively.
While the efficiency of infrared saunas allows them to heat you faster, sometimes a more natural approach is preferred. Aside from traditional saunas, steam saunas offer another alternative.
As the name would suggest, steam saunas produce moist heat. This moist heat causes you to sweat, which has numerous health benefits for your skin like opening up your pores and providing a deep cleanse in the process. This sauna type is best suited for creating a calming atmosphere.
Factors to Consider When Choosing an Indoor Sauna
Regardless of what indoor sauna type you may choose, there are a few factors you'll have to keep in mind. The most obvious one is the size of your sauna. How much room do you have available to accommodate your indoor sauna? It's not just a matter of having enough room for the sauna and proper installation, the next thing to consider is whether the sauna requires maintenance and, if so, what kind of maintenance. While saunas are not the most demanding things when it comes to upkeep, you should expect to wipe down the sauna's interior with a mild cleaner several times a month.
Now, let's look at some of the best indoor saunas for home use.
Best Indoor Home Saunas
The following saunas differ in overall style and how many people they can sit. However, their quality as a whole is second to none. What sets them apart is their size and additional features; one even has built-in speakers!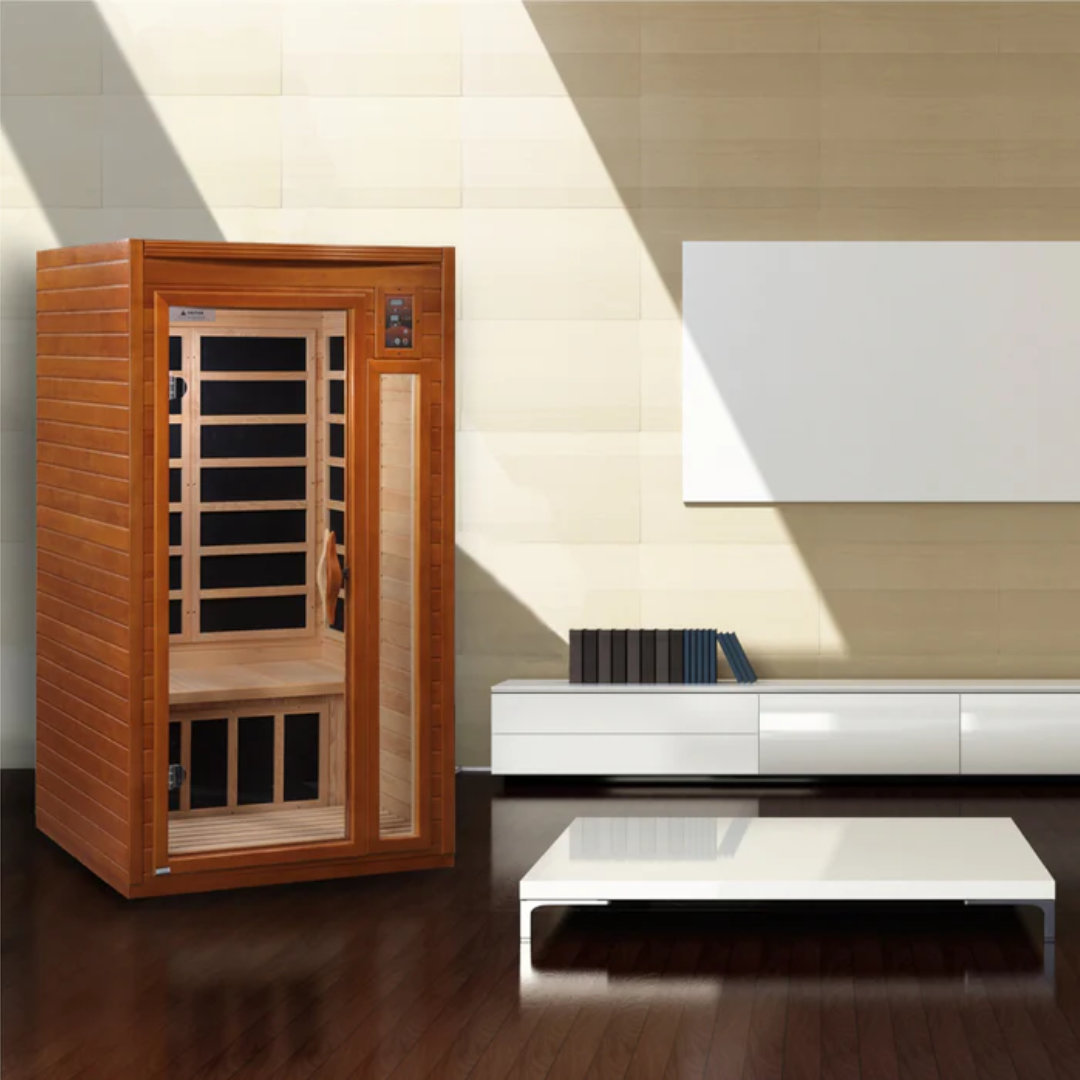 Dynamic Sauna Barcelona Edition
Get ready to step into the Dynamic Sauna Barceleona Edition's calming albeit highly customizable domain. Crafted with the finest materials, the Dynamic Sauna offers exceptional quality and performance. 
Its natural hemlock wood construction exudes a timeless appeal, while the six strategically placed carbon heating elements ensure even and effective heating throughout the sauna.
Featuring low EMF Carbon infrared technology, this sauna enables superior body detoxification, promoting overall well-being. 
The interior and exterior LED control panels provide easy access to adjust the settings. At the same time, the built-in music system with Bluetooth capability and dynamic speakers enhance your relaxation with your favorite tunes! Not to mention, it's pretty affordable for only $1,799.
Specifications:
Seats two people

Hemlock wood construction

Interior and exterior LED control panels

Tempered glass door

Built-in Bluetooth capability
Almost Heaven Rainelle
The Almost Heaven Rainelle is your private slice of paradise, built for privacy and to accommodate groups of up to four people. The Rainelle is equipped with a powerful Harvia 6kW electric heater, which allows you to customize your sauna experience.
You can choose to delay the start time or turn it on right away, reaching temperatures up to 180°F after just an hour of heating. Besides being quick to heat up, the Almost Heaven Rainelle is also quick to install.
This $4,699 magic box is designed as a free-standing model that utilizes your existing floor. Compatible with concrete, ceramic, vinyl, laminate, or tile materials, it would only take two individuals a few hours to fully assemble the sauna. Meaning that not only does this sauna comfort you, but it also respects your time!
Specifications:
Seats four people

Privacy glass installed

Harvia 6kW electric heater

Multi-layered seating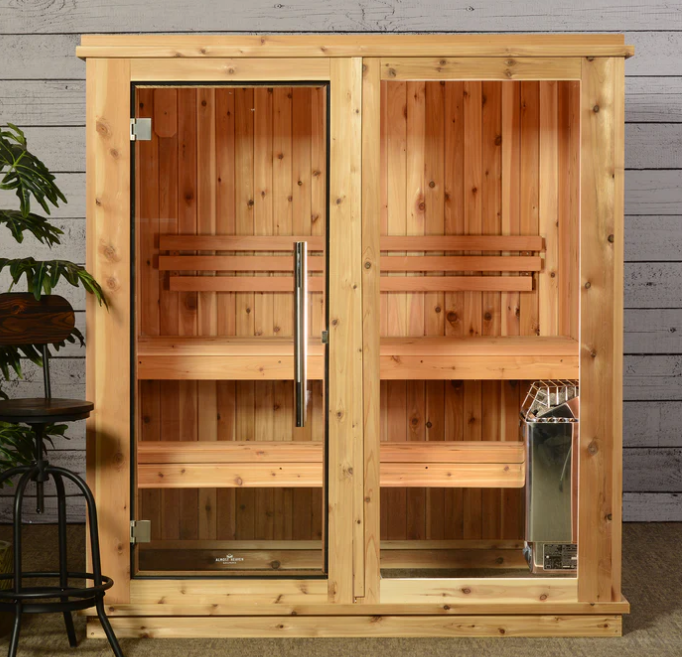 Outdoor Home Saunas
An outdoor sauna brings the luxury and relaxation of a spa experience right to your backyard. It's a perfect retreat to unwind and rejuvenate in nature's embrace. The benefits of an outdoor sauna are undeniable. 
Before you jump into purchasing one, let's talk about what makes an outdoor sauna so special. 
Advantages of Outdoor Saunas
Outdoor saunas provide a unique opportunity to better connect with the world around us. Not only do you get to enjoy all the benefits that saunas are known for, but you also have the chance to take in your surroundings. 
Additionally, outdoor saunas offer more by way of customization. Since they are installed outside rather than indoors, you get a lot more options when it comes to where you want to place them. As the centerpiece of your backyard, you could use your outdoor sauna as a fantastic social gathering area for you and your loved ones.
Let's look at one outdoor sauna that could stand up to the task:
Almost Heaven Pinnacle
The Almost Heaven Pinnacle outdoor sauna is the perfect backyard addition to any home, and is available for $5,466. Capable of seating four individuals, this sauna employs a cozy barrel design. Its barrel design utilizes its space efficiently. Providing optimal seating room while reducing the amount of unnecessary free space.
The result is a comfortable area that heats up effectively. You won't have to worry about moisture from the ground eating into the Pinnacle's wood. This is because the entire barrel sauna rests on polymer support cradles.
Instead of using natural light and being reduced to only using the sauna during the day, the Pinnacle comes with its own pre-installed LED lights. 
Some of its other features include:
Stainless steel hardware

Thick tempered glass

High-grade softwood



By way of customization, the Almost Heaven Pinnacle lets you choose between three wood options: white fir, rustic cedar, or clear cedar. Rather than conform to your sauna, why not have your sauna conform to you?
Installing and Maintaining Your Home Sauna
Installing and maintaining your own home sauna is an exciting endeavor. One that brings relaxation and wellness right to your doorstep or backyard if you prefer an outdoor sauna. 
The general installation process involves the following:
Selecting a suitable location

Preparing the space

Assembling the sauna

Connecting the necessary electrical components



Once installed, regular maintenance is key to ensuring optimal performance and longevity of your sauna. This includes cleaning the interior and exterior, inspecting and replacing worn-out parts, and monitoring the sauna's electrical system. 
Furthermore, safety precautions should always be observed during sauna usage. Ensure you are spending an appropriate amount of time in the sauna and not ignoring your body if you are feeling unwell. Always be sure to exit the sauna immediately if you fell dehydrated, lightheaded, or dizzy.
By following these guidelines, you can enjoy the benefits of your home sauna for years to come.
Conclusion: The Best Sauna for Home
Having your own sauna at home saves you time and brings you numerous health benefits. Why fight for a seat at the local sauna when you can have your own private room available whenever you desire? If you are ready to relax the right way, contact us! We can set you up for a lifetime of comfort with one simple call. 
SIGN UP. SAVE BIG.
Subscribe to be the first to know about our special monthly sauna sales, sent right to your inbox.