BENEFITS OF INSTALLING A
COMMERCIAL SAUNA
FOR YOUR BUSINESS
In today's bustling business world, where stress and pressure seem to be constant companions, it becomes crucial to prioritize the well-being of our employees within our workplace. A commercial sauna is an ideal solution to this menace; it brings many benefits that can boost the well-being of your team.
Here, we'll explore the numerous advantages of installing a commercial sauna. From the research-proven health benefits to the profound impact on mental well-being — a sauna provides a sanctuary where individuals can unwind and relax.
Whether you own a fitness center, spa, hotel, or office building, grasping the potential advantages of incorporating an indoor commercial sauna can genuinely transform your employees and your organization's overall success. 
Let's look at commercial saunas in more detail and see what they can bring to your business.
What Is A Commercial Sauna?
Unlike a personal sauna, which ideally fits one to two people, commercial saunas are designed to host multiple people at once. It's a special space you'll find in group settings, such as sports facilities and labor-intensive working spaces. Here, people can come together to experience the wonders of heat therapy and delve into a communal sauna experience. 
Here's a quick comparison between commercial and personal saunas and their use cases:
Commercial saunas come in different types,  such as the traditional Finnish saunas or the innovative infrared saunas. Some even combine the benefits of both. These saunas maintain precise heat and humidity levels, creating the perfect environment for relaxation, detoxification, and rejuvenation. 
Commercial Saunas For Your Business
The following two commercial saunas for sale are handpicked and will be a fantastic value add for your business. 
They also feature a few convenient added facilities and are currently on sale — so hurry up and get the best commercial saunas for your business.
Golden Designs Catalonia 8-Person Infrared Sauna - Most Spacious 
Price: $7,999 (19% Off)
The Catalonia spacious 8-person sauna has wheelchair accessibility and PureTech Ultra Low EMF FAR infrared heating panels, designed to provide an unparalleled sauna experience. This discounted commercial sauna gets crafted with sustainability in mind. It features reforested Canadian Hemlock planks that exceed industry standards and enhances heat retention, energy efficiency, and quality.
Features:
8-Person Capacity: Enjoy the spaciousness of Catalonia, which comfortably accommodates up to 8 individuals on its custom-designed portable benches.




Bluetooth and MP3 Auxiliary Connection: Enhance your sauna experience by connecting your favorite devices to enjoy personalized audio.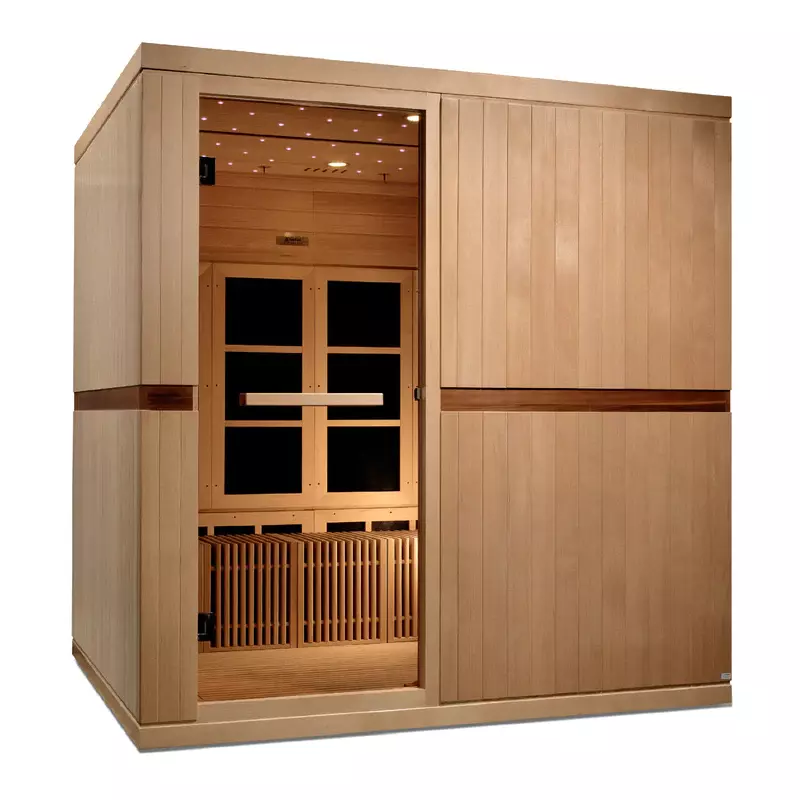 Interior and Exterior LED Control Panels: Conveniently operate the sauna with three sets of control panels, providing easy access from both inside and outside.




Interior Reading Lights: Settle in with your favorite book or magazine, as the gentle reading lights create a cozy ambiance.




Galaxy Star Chromotherapy Lighting System: Immerse yourself in a calming atmosphere enhanced by the soothing colors of the chromotherapy lighting.




Natural, Reforested Canadian Hemlock Wood Construction: Experience the beauty and durability of the sauna's eco-friendly construction, ensuring superior heat retention.




Clasp Together Assembly: Effortlessly assemble the sauna with the clasp-together design, simplifying the setup process.




Extra Wide Bronze Privacy Tempered Glass Door: Enjoy easy accessibility with the wheelchair-accessible door, providing a sense of openness and inclusivity.
Almost Heaven Patterson 6-Person Indoor Sauna - Best-In-Class Heater
Price: $5,439 (49% Off)
The Patterson 6 person indoor sauna prioritizes comfort. With pre-assembled panels, backrests, and benches, the Patterson Sauna offers a seamless and effortless in-home assembly process — ensuring a stress-free installation. 
Every detail of the Patterson Sauna has been carefully crafted with serious sauna lovers in mind, making it a beautiful and functional choice. The Patterson is one of the most affordable saunas in the market right now, so grab one for your business while you still can!
Features:
Seating for up to 6 individuals: Maximizes floor space while accommodating multiple sauna users, ideal for smaller rooms.




Full-length top benches: Offers ample relaxation space for comfortable and spacious seating during sauna sessions.




Retractable lower bench: Provides flexibility in seating arrangements, allowing users to customize their sauna experience.




High-grade spruce wood: Ensures durability and long-lasting performance, maintaining the sauna's quality over time.




Stainless steel hinges, heater, and fasteners: Offers superior durability and reliability, ensuring the sauna functions optimally.




Pre-assembled components: Simplifies the assembly process, saving time and effort during installation.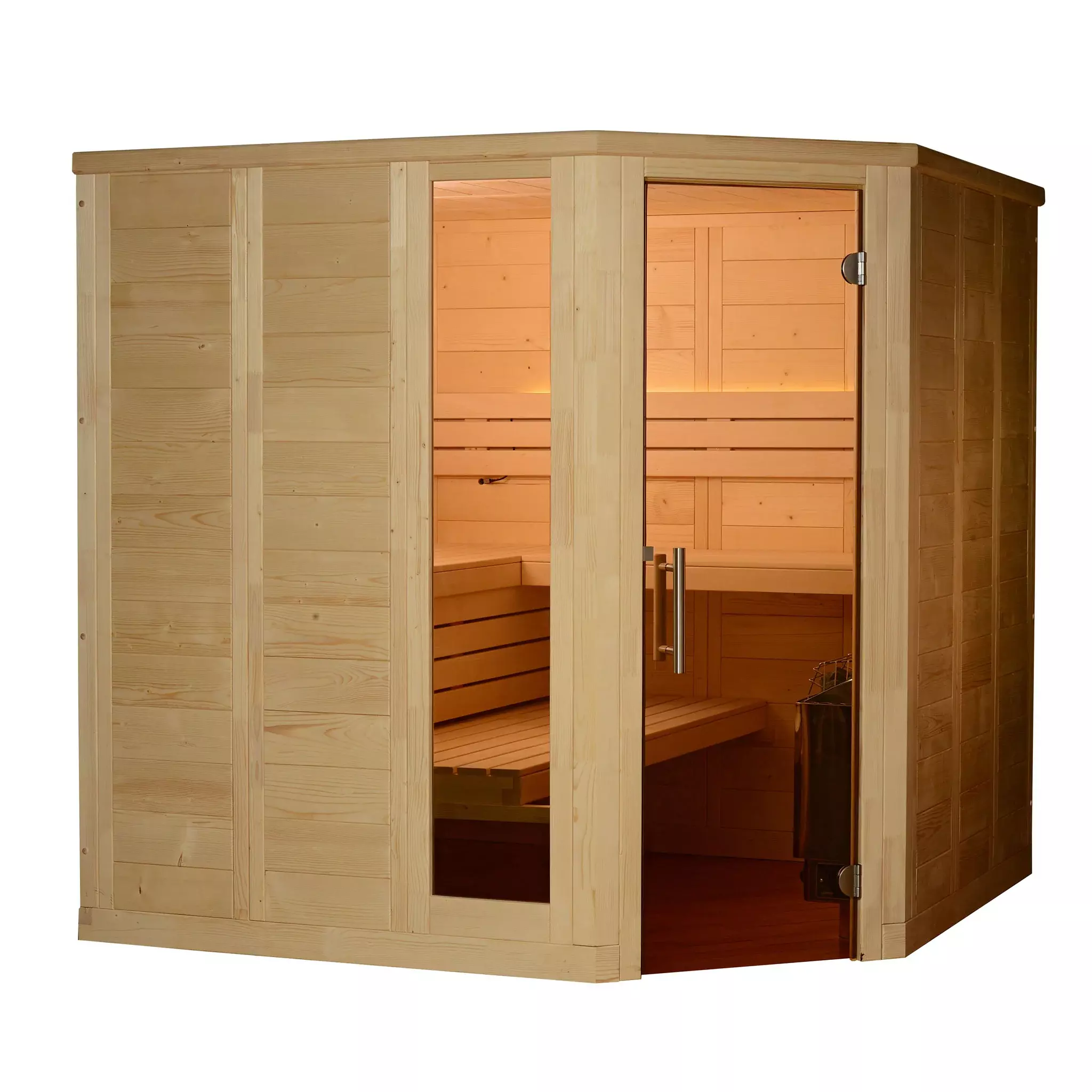 Interior LED light: Creates a soothing and ambient atmosphere, enhancing relaxation and tranquility during sauna sessions.




Best-in-class heater and sauna stones: Delivers an authentic and effective sauna experience, providing optimal heat and steam production.
Why Are Commercial Saunas Rising In Popularity?
You might be wondering why commercial saunas are taking the corporate world by storm right now. In an age where wellness and self-care are becoming increasingly important, commercial saunas provide an easy and accessible solution. 
Businesses and individuals alike are drawn to these soothing havens, and it's easy to see why. Let's dive into the reasons why commercial saunas are so popular.
Benefits Of Installing A Commercial Sauna
As said before, there are numerous tangible benefits to installing a commercial barrel sauna, whether for your employees, customers, or guests. 
Several institutes have carried out reputable peer-reviewed research to outline the physical and therapeutic benefits of the immersive heat therapy saunas provide. 
Health benefits aside, you can also easily highlight the abstract benefits of having a commercial sauna in your workspace. These include:
Enhanced Well-being
In today's hectic and demanding world, taking care of our employees' well-being is paramount. Commercial saunas create a dedicated sanctuary where they can truly unwind and recharge. The comforting warmth and therapeutic effects of saunas work wonders in alleviating stress, boosting circulation, easing muscle tension, and promoting overall well-being.
Employee Satisfaction and Retention
Incorporating an office perk, such as providing access to a commercial sauna, shows your employees that their well-being matters. This thoughtful gesture increases job satisfaction, higher morale, and a sense of appreciation. The availability of a commercial sauna can be a valuable perk that attracts top talent and contributes to employee loyalty and retention.
Productivity Boost
A relaxed and rejuvenated workforce is a powerhouse of productivity. Regular sauna sessions can significantly reduce individual absenteeism, and enhance focus, concentration, and cognitive abilities, ultimately boosting overall productivity. The physical and mental benefits gained from sauna use directly translate into improved performance in the workplace.
Competitive Edge
In a competitive business landscape, offering unique and luxurious amenities can set you apart. Incorporating a commercial sauna adds that special touch, appealing to customers who value wellness and relaxation. It's a distinguishing feature that can give your business an edge over competitors.
Community and Social Bonding
Commercial saunas serve as a hub for fostering a sense of community and camaraderie among employees, customers, or guests. Sauna sessions become shared experiences, promoting social interaction, team bonding, and creating a positive atmosphere within the workplace. It's a space where relationships get strengthened and connections forged.
Wellness Tourism Appeal
For businesses in the hospitality industry, such as hotels and resorts, a commercial sauna holds great allure for wellness-minded travelers. It adds an extra layer of appeal to your establishment, attracting guests seeking a holistic and rejuvenating experience. A commercial sauna becomes a powerful draw that sets your business apart and satisfies the desires of wellness-oriented tourists.
Choosing The Perfect Commercial Sauna For Your Business
Before you enjoy the vast benefits of installing commercial saunas, consider a few key things. 
Each business will have a different purpose for its commercial sauna, but accounting for the following factors is a must regardless of the kind of business you have.
By carefully considering these factors and comparing available options, you can make a well-informed decision that suits your business needs perfectly. 
FAQ
What Maintenance Is Required For A Commercial Sauna?
Commercial Saunas are relatively low maintenance. You should regularly clean the surfaces to prevent decay and inspect the wood for signs of damage due to heating. Otherwise, commercial saunas are made of durable materials and are rather hassle-free
How To Maximize A Commercial Saunas Efficiency?
Ensure your sauna has an efficient heating system installed, and place your sauna in a well-insulated location. Ensure proper ventilation facilitates airflow across all parts of the sauna, and install airtight windows to keep the heated air inside for long periods.
What Are The Best Places To Install A Commercial Sauna?
Any setting where groups of people can avail of the commercial sauna is an excellent place to install it. However, the most suitable locations to keep a commercial sauna are gyms, spas, and sports centers.
Conclusion
Hopefully, this guide has enlightened you about all the benefits commercial saunas can offer. These saunas are amazing one-time investments that can immediately bring value to your workspace or leave a lasting impression on your customers.
If you're looking for the ideal commercial sauna for your business, come check out all the products available at My Sauna World. We house various commercial saunas, from traditional to indoor ones. 
If you have any questions regarding our products, feel free to contact us, and one of our dedicated staff members will promptly respond to your queries.
SIGN UP. SAVE BIG.
Subscribe to be the first to know about our special monthly sauna sales, sent right to your inbox.