COMPARING THE CHARACTERISTICS OF HEMLOCK VS. CEDAR SAUNAS
If you've ever wondered about the secret behind the delightful aromatic experience in a sauna, it all starts with your choice of wood. While there are several types of sauna woods available, cedar and hemlock saunas are among the popular options, and for good reasons too. 
Such types of wood have exceptional heat retention and insulation properties that can help maintain an optimal temperature for a relaxing sauna experience. 
The question is, what sets these two apart? How do you choose between Cedar and Hemlock saunas? Read on to learn more about the unique characteristics of these saunas and how they differ in performance, cost, and maintenance.
Why Is Choosing the Right Sauna Wood Important?
Wood is vital in defining a sauna's experience, durability, and safety. Since sauna temperature can easily soar up to 212 degrees Fahrenheit, inappropriate materials could warp or crack under extreme heat, significantly diminishing the lifespan and safety of your sauna. 
The sauna wood should withstand high temperatures and be comfortable to touch. It's also important to select wood types that don't emit toxic vapors or chemicals when heated, as they can potentially result in several health issues, including respiratory irritation (via Better Health).
Creating a steamy environment is important to the sauna experience. Though, it's actually the wood lining that makes the steam experience more appealing by absorbing extra moisture, preventing condensation, and helping maintain a balanced indoor humidity.
Since a humid environment is also a potential breeding ground for bacteria, you must pick a wood type that resists microbial growth. Certain types of wood, such as cedar or Nordic spruce, contain natural oils and resins that have effective antibacterial properties.
Besides maintaining optimal temperatures and humidity levels, the wood should also withstand high weight without compromising structural integrity — which is especially critical in commercial or public saunas. The suitable sauna wood should be dense and resilient against the heat stress and physical loads the user exerts.
Cedar vs Hemlock: What's the Difference?
Cedar has been considered the gold standard for building saunas and outdoor structures for centuries. But hemlock is gaining popularity as an eco-friendly alternative. So what's the difference? Let's find out!
Insulation 
Insulation is vital for saunas, affecting heat retention and energy efficiency. Cedar has a higher insulation value due to its cellular structure, which creates tiny pockets that help retain heat, making it a popular choice for a comfortable sauna experience. Hemlock also offers insulation but to a lesser degree compared to cedar. 
Durability
Cedar's innate toughness and natural resistance to decay and insects give it an edge over Hemlock in terms of durability, sometimes even exceeding 30 years. 
While still durable, Hemlock does not have the same decay resistance, meaning it may not last as long when exposed to harsh weather conditions. However, when treated with sealants and other protective finishes, you can easily extend its lifespan. 
Stability 
Stability is essential for sauna construction, as the varying temperature and humidity levels often cause the wood to expand and contract. While cedar is inherently stable, hemlock is much more dense and has exceptional compressive and bending strength. 
This means that a hemlock sauna is more likely to hold its shape with minimal warping or twisting, which is especially useful if you use your sauna often.
Aesthetics
The visual appeal of wood significantly impacts the general ambiance of a sauna. Cedar is often prized for its rich red and golden hues, adding warmth to any aesthetic. 
It typically has fewer knots, and its sap content is minimal, contributing to a smooth, uniform appearance. On the other hand, Hemlock is lighter in color and features beautiful grains with a low sheen finish, giving off a natural, earthy feel.
Mold Resistance
Mold resistance plays a vital role in maintaining the sanitary and overall health of your sauna environment. Cedar's natural oils give it a significant advantage in mold resistance, making it suitable for damp and humid sauna environments. Conversely, Hemlock tends to absorb moisture, leading to mold growth over time.
Cost
Sturdy and resilient, cedar naturally resists moisture, mildew, and insect damage, driving its price. Conversely, hemlock offers a more affordable alternative with almost as many benefits. 
Design
Cedar's rich color palette, dimensional stability, and attractive appearance complement various indoor and outdoor sauna designs. With its lighter color and rustic vibe, hemlock is perfect for those seeking a more traditional or minimalist design.
Aroma
When it comes to your overall sauna experience, the aroma of sauna wood type matters. Cedar has a pleasant, distinct scent with earthy undertones that many associate with relaxation and well-being. 
Hemlock has little to no aroma, making it suitable for those sensitive to strong smells.
Allergic Potential 
It's no secret that some folks are more prone to allergies and sensitivities from certain wood types. And since a sauna experience is all about relaxation and rejuvenation, allergic reactions should be the last thing on your mind. 
Research shows that cedar might trigger allergies or cause respiratory irritation due to its strong and distinctive aroma. Hemlock is known for its hypoallergenic properties, making it an ideal choice for people with sensitive skin and allergies.
Maintenance
Thanks to its exceptional moisture resistance, cedar doesn't tend to warp or crack in high humidity, and it's much less likely to become a breeding ground for mildew and mold, making it easy to clean and maintain over time. 
Hemlock is prone to dents, scratches, and insect attacks, so you should be extra diligent about protecting it from humidity, high temperature, and pests. However, its even grain and knot-free design make it easy to clean.
Our Top Picks for Hemlock Saunas
Following are some of our top picks for Hemlock saunas:
Almost Heaven Salem
Hemlock Saunas
Enjoy an unmatched sauna experience with Almost Heaven Salem Hemlock Sauna. Constructed with thermally modified wood, this barrel sauna features subtle grains that offer a simple yet elegant aesthetic. 
Measuring 6'x4', the Salem hemlock sauna provides ample space to accommodate two people comfortably yet remains compact enough to fit seamlessly into any backyard or patio space. 
Equipped with a powerful Harvia 4.5 kW electric heater, the sauna can reach a comfortable 180 degrees Fahrenheit within just an hour. Short on time? You can delay the start time of the sauna up to eight hours for maximum scheduling flexibility.
The aesthetically pleasing tempered glass door adds an elegant touch. It offers a glass sauna experience, while the opposite-facing benches make interacting with your fellow sauna user easy. 
This sauna has a chromotherapy mood light and a Himalayan salt panel, facilitating a unique and therapeutic sauna experience that extends beyond mere heat therapy. Priced at less than $7500, this sauna comes with a limited lifetime warranty on the sauna room and a 5-year warranty on the heater.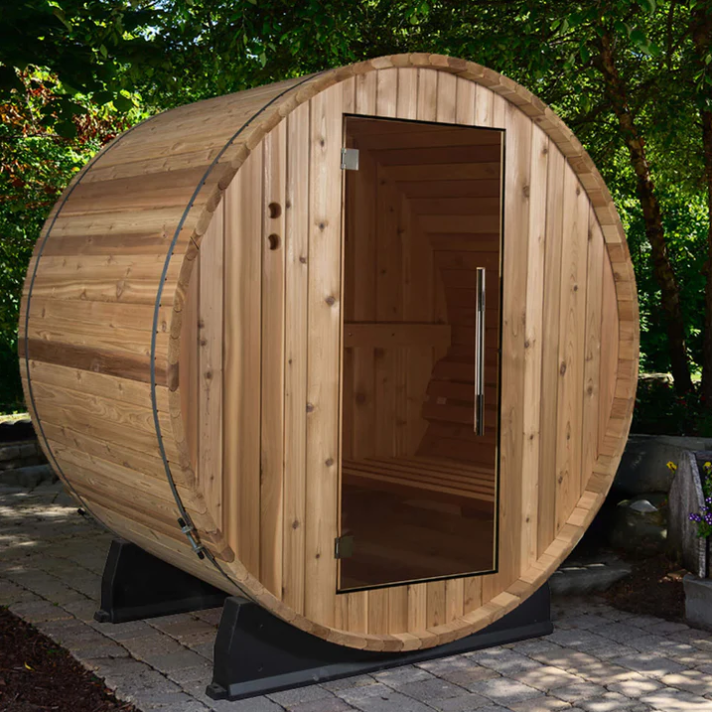 Almost Heaven Pinnacle Hemlock Sauna
This Almost Heaven, Pinnacle Hemlock sauna is designed to accommodate four persons at a time and is made of thermally modified hemlock smartly mounted on polymer support cradles. This thoughtful feature elevates the sauna's undercarriage, preventing moisture damage. 
With a powerful 6.0kw, 220v stainless steel heater, this sauna warms up to around 195 degrees Fahrenheit in less than an hour, giving you quick access to your heat therapy sessions. Its uniform grain and light colors will complement any backyard or deck. 
Even better, you can enhance the ambiance with a color-changing chromotherapy mood light, increase the therapeutic benefits with a Himalayan salt panel, or add an elegant all-wood sauna door.
Our Top Picks for Cedar Saunas
Following are our top picks for cedar saunas:
Almost Heaven Rainelle Cedar Sauna
The Almost Heaven Rainelle Cedar Sauna goes beyond the traditional, offering an exquisite, visually appealing retreat equipped with impressive functionality. This sauna has a rustic Cedar wood construction with a glass door that lends the perfect amount of light while ensuring privacy. 
This sauna has a powerful 6kW electric heater and can effectively heat your space to help you relax in the therapeutic heat. Its multilevel benches provide versatile seating options, allowing you to choose the perfect spot based on your preferred heat intensity.
Designed to be a free-standing model, the Rainelle Sauna can be placed on various types of flooring, including concrete, ceramic, vinyl, laminate, or tile, so you can easily install it anywhere in your home.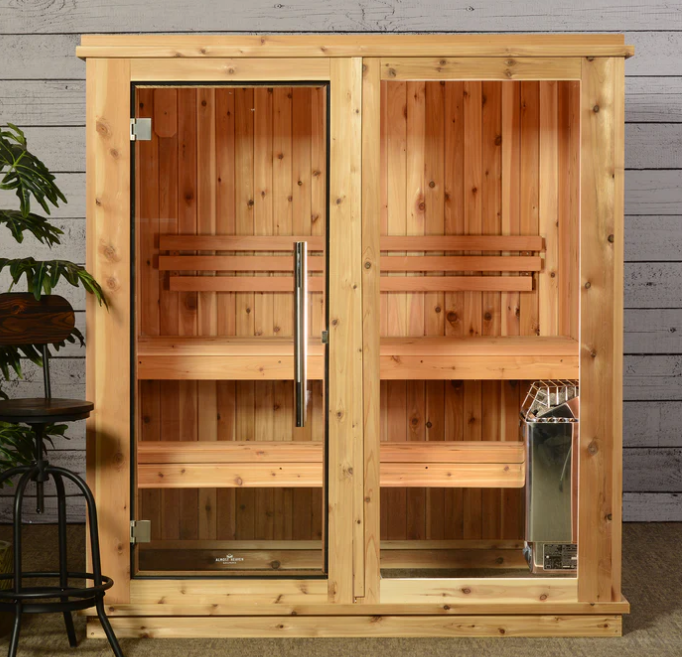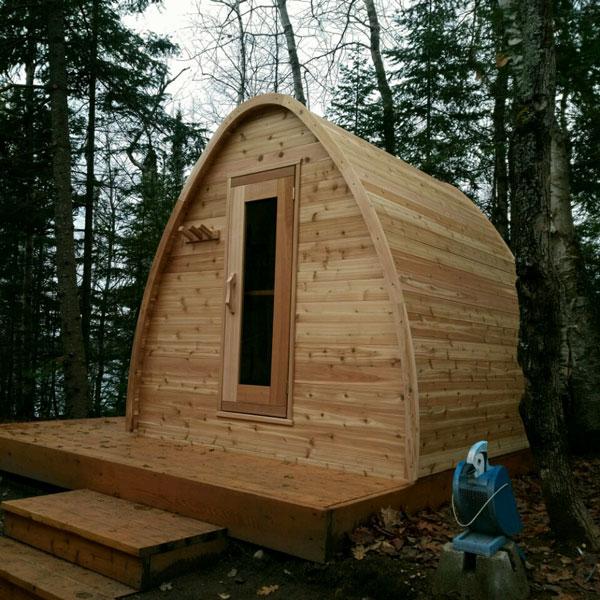 Dundalk Leisure Craft Knotty Cedar POD Sauna
The Dundalk Leisure Craft Knotty Cedar Pod Sauna reveals a unique blend of eclectic design and classic beauty. This sauna features a striking raindrop shape that adds a distinctive flair to your decor and ensures additional headroom for maximum comfort. Its triple-layer roof provides extra insulation, protection, and longevity. 
With this sauna, you can choose an electric heater or a wood-burning stove to heat your room. This sauna is crafted with knotty red cedar, giving ana fantastic aroma to elevate your experience. 
Since this POD sauna is available in three different sizes, you can easily choose one per your needs. Even better, you can amplify your experience by incorporating a 2' front porch, front windows, or even a front 4' changeroom into your bespoke wellness hub. 
Hemlock vs. Cedar Saunas: What's the Better Option?
Still confused about whether you should go for a hemlock or cedar sauna? The choice ultimately depends on your personal preference, location, and budget. 
Indoor preference: Due to its lower resistance to humidity and protective finishing, Hemlock saunas are often a favorite for indoor settings. 

Outdoor choice: Cedar's high resistance to moisture and decay make it ideal for outdoor saunas. 

Infrared saunas: Since infrared saunas emit infrared rays, you must pay close attention to the wood quality you choose. Western Red Cedar offers both antimicrobial and antibacterial properties, so you won't have to worry about microbial growth. Plus, cedar releases a calming, earthy scent—perfect for enhancing your sauna experience.

Budget: Cedar saunas are often a bit pricier, so if you're shopping on a budget, you may opt for a hemlock sauna instead.
FAQs
Is Hemlock Better Than Cedar for Saunas?
Hemlock and Cedar both have their advantages for use in saunas. Hemlock is cost-effective, has a lighter color with refined texture, and has little to no aroma, making it a good option for folks with allergies. 
Conversely, Cedar has a pleasant scent and natural oils that resist mold and mildew, making it more durable. Ultimately, choosing between hemlock vs. cedar depends on personal preference and budget.
Is Hemlock Wood Good for Saunas?
Yes, hemlock wood is a good option for saunas. It's a strong, durable wood resistant to warping and cracking, making it suitable for saunas' high temperatures and humidity levels. Additionally, hemlock's light straw color and refined texture make it easy to paint or stain to customize your sauna's appearance. 
Does Hemlock Last Longer Than Cedar?
The durability of hemlock and cedar can be quite similar when properly maintained. While cedar is mold and mildew-resistant, hemlock is much more structurally stable and can withstand rot and decay, especially when treated with a suitable protective finish. 
Cedar is generally more resilient in damp environments, which may provide slightly better longevity for sauna use.
What's the Difference Between Red Cedar and Hemlock?
Red Cedar and Hemlock are two different types of sauna woods with distinct characteristics. Red Cedar is known for its warm reddish hue, aromatic scent, and exceptional resistance to termites, moisture, and decay, making it a popular choice among sauna enthusiasts. Hemlock, conversely, has a lighter color, smooth texture, and a distinctive odor.
What's the Best Wood for a Sauna?
The best wood for a sauna depends on personal preferences, budgets, and specific requirements. Generally, softwoods like Western Red Cedar, Hemlock, and Spruce are more suitable for sauna construction because of their ability to withstand extreme temperatures, better insulation, and mold resistance.
Hemlock vs. Cedar Saunas: The Takeaway
Regarding the Cedar vs. Hemlock Saunas debate, both contenders truly shine in their unique ways. With its soft, aromatic wood and low-maintenance design, a cedar sauna combines luxury and practicality perfectly. 
However, if you prefer a serene and scent-free environment, you might find the perfect wellness companion in hemlock saunas. 
If you're looking for at-home saunas that provide the best value for money, check out MySaunaWorld's traditional and infrared saunas collection. For more information, feel free to contact us, and our friendly staff will be happy to answer any questions and help you find the perfect model for your needs.
SIGN UP. SAVE BIG.
Subscribe to be the first to know about our special monthly sauna sales, sent right to your inbox.