HOW TO USE HIMALAYAN SALT IN A SAUNA FOR MAXIMUM BENEFITS
Ever wondered what it would feel like to relax in a pink-hued salt cave, breathing in the pure, mineral-rich air? From improving blood circulation to detoxifying the body, reducing stress, and strengthening the immune system, there's much more to Himalayan salt than meets the eye.
The good news is you don't have to travel far to enjoy the benefits of a Himalayan salt sauna. With a few simple steps, you can create your own salt sauna at home and enjoy the benefits of this ancient wellness remedy.
Keep reading to learn more about using Himalayan salt in a sauna to unlock its maximum benefits. Discover how this pink-hued wonder can elevate your sauna sessions to a new level of blissful indulgence.
Understanding Himalayan Salt Saunas
The Himalayan salt in the sauna increases the benefits of sauna therapy tenfold and leaves you feeling rejuvenated, detoxified, and stress-free. If you're wondering how a salt sauna works and how to use Himalayan salt in the sauna, we have some tips and tricks for you to try.
What Is Himalayan Salt and How Is It Different From Regular Salt?
Himalayan salt, or pink salt, generally comes from the foothills of the Himalayan mountain range. The majority of the salt is sourced from the Khewra mines in Pakistan. The unique pinkish hue comes from the presence of nearly 84 trace minerals and iron oxide in the salt.
While plenty of other salt mines contribute to producing Himalayan salt, like the Warcha salt mine, Khewra remains the largest, most significant source of Himalayan salt.
How is Himalayan salt different from the good ol' table salt? For starters, Himalayan salt has a higher concentration of minerals like calcium, magnesium, potassium, and iron to name a few. Regular table salt has fewer elements since its minerals are often stripped away during processing. 
That's not all. When it comes to flavor, the two salt varieties are quite different. Where pink Himalayan salt has a subtle and mild flavor, regular table salt has a sharper, salty taste.
How Does a Himalayan Salt Sauna Work?
Also known as salt caves or salt therapy rooms, the Himalayan sauna therapy uses pink salt to help simulate the environment of natural salt caves. The sauna is typically constructed from salt bricks and panels, creating a humid microclimate rich in salt particles. 
Salt is a natural hygroscopic, meaning it attracts water molecules. The moist heat from the sauna triggers the ionization process, releasing negative ions, also known as "vitamins of the air." 
This creates a wonderful effect on your physical and mental health as you bask in the soft pink afterglow of the Himalayan salt. Negative ions have been shown to relieve anxiety, reduce stress, improve sleep, clear the air of allergens and pollutants, and boost your immune system.
You'll also notice that the air feels crisp and clean in a Himalayan salt sauna. This is because Himalayan salt can neutralize harmful electromagnetic radiation (EMR) emitted by electronic devices. Therefore, you can disconnect from the outside world and bask in a relaxing sanctuary free from electronic disturbances.
The Himalayan salt sauna is not just about the ambient atmosphere; it can also provide several health benefits. When you breathe in the salty air — aka halotherapy — you absorb the trace minerals through your skin and respiratory system, promoting detoxification, relaxation, and even improved skin health, notes WebMD.
Health Benefits of Using Himalayan Salt for Sauna
People have been using Himalayan salt for ages for different purposes in their own ways, but its health benefits remain the focal point. The Himalayan salt offers various physical, mental, and even spiritual benefits, primarily due to the presence of minerals like potassium, magnesium, iron, and calcium.
Here are some ways you can benefit from Himalayan salt saunas:
Better Sleep
Himalayan salt sauna is a popular choice to help sleep better, especially among troubled sleepers.
Healthline explains that Himalayan salt has a calming effect on the nervous system. This is primarily because salt is a natural ionizer, meaning it changes the electrical charge in the atmosphere. 
This helps enhance the production of serotonin, a neurotransmitter associated with mood regulation and relaxation. Himalayan salt sauna therapy can help you prepare for a restful night's sleep by promoting a sense of calmness and creating a more relaxing environment.
Along with helping induce calmness and enhance mood, some claim that Himalayan salt particles in the air act as natural filters, trapping and clearing the air of impurities, potentially alleviating respiratory issues or allergies that might disrupt your sleep. 
Reduced Stress
The Himalayan salt sauna bath is a popular therapeutic method to relieve tension, boost mood, and reduce stress since it leaves more negative ions in the surrounding air. 
The theory goes that the more negative ions floating around in the air can rejuvenate your body and mind, potentially helping with depression. 
Columbia University conducted a study focusing on seasonal affective disorder participants. When these individuals were exposed to electrically generated negative ions, a whopping 58% of them reported an improved mood. Pretty impressive, right? 
Though, it's important to note that further research is needed to fully validate the effects of negative ions on stress reduction.
Whether or not the mood-boosting effects of a Himalayan salt sauna are due to negative ions, creating a serene environment can still do wonders for your stress levels. If a salt sauna helps chase away the winter blues or boost your mood on a rainy day, go for it!
Improved Skin 
Some solid evidence suggests that salt can be pretty helpful when managing certain skin conditions. A 2005 study published in the Journal of Dermatology showed that bathing in a salt solution worked wonders for relieving dry skin and inflammation. 
Himalayan salt sauna therapy also has an indirect effect on your collagen production. We all know how stress is one of your skin's worst enemies, especially when it comes to keeping a youthful complexion. Chronic stress means your cortisol levels — aka the stress hormone — are always high. Research shows that high cortisol levels can decrease your collagen production, aging the skin. 
One way you can help keep your stress levels down is through regular Himalayan sauna baths. Studies show that the negative ions released in a Himalayan salt sauna session can reduce stress in the long run. Say hello to firmer, more youthful-looking skin.
Strengthened Respiratory System
The benefits of salt therapy for folks suffering from respiratory ailments have been studied in detail. 
One study published in the Journal of Aerosol Medicine and Pulmonary Drug Delivery notes that spending only an hour in a room with natural salt cave stimulation helped ease respiratory ailments in 124 patients.
Another 2017 study published in the Journal of Pediatric Pulmonology observed that salt rooms had beneficial effects on children suffering from mild asthma. 
Additionally, a 2007 study published in the Journal of Pneumologia showed that patients of chronic obstructive pulmonary disease (COPD), who used dry salt inhalers for half an hour a day for five days a week, showed significant improvement within three months.
How to Use Himalayan Salt in a Sauna
While it may seem like a straightforward process, there are a few sauna etiquettes and requisites that you need to follow. This ensures you reap the full benefits of a Himalayan salt sauna.
Choosing the Right Himalayan Salt
While many options are available for pink salt on the market, choosing the right Himalayan salt is critical for the sauna's efficacy. It is better to use unrefined Himalayan salt that is free from additives or contaminants.
Unrefined salt is bare of minerals and impurities and often contains anti-caking agents. Ensure to use pure unrefined Himalayan salt in moderate quantities to avoid irritation and discomfort. 
Different Forms of Himalayan Salt
Himalayan salt rocks or chunks, salt granules, Himalayan salt bricks, blocks, and Himalayan salt lamps and crystals, are some forms of Himalayan salt available. What form you opt for will depend on the type of sauna and the ambiance you're trying to create.
For instance, if you want to simulate a salt cave look, choosing salt rocks and chunks is better. Your traditional sauna will have a more rustic and visually appealing appearance as the sauna heats up. 
For those who want to incorporate salt in the construction of their sauna, it's best to use salt bricks and panels (like the one used in this Golden Design Reserve Edition sauna). This gives the added benefit of consistent heat and mineral-rich air. 
Conversely, salt granules can be spread on the floors, and crystals can be added to your sauna to trigger the ionizing effect. While these may not be specifically for a sauna, you can still use them to create a warm, gentle ambiance.
For best results, make sure to always use high-quality products. Yes, the quality of the salt really does matter. Several sellers claim to sell real Himalayan salt when they're just cheap knock-offs.
Get your desired Himalayan salt forms (like the Himalayan salt wall panel or the salt lightbox) from a reputable online retailer. You don't want to settle for any old salt when trying to create the ultimate sauna experience.
Optimal Sauna Practices With Himalayan Salt
When it comes to Himalayan salt therapy, consider following these sauna etiquettes for optimal results.
Use essential oils like Frankincense, ylang-ylang, or lavender in your Himalayan salt session for sauna aromatherapy that offers extra relaxation and healing.

Drink plenty of water before and after the sauna session to stay hydrated.

Follow up with a cold shower or a dip in a pool to bring your body temperature back to normal. 

While personal preferences usually dictate the temperature of a sauna, a more recommended heating setting is between 118 to 167 degrees Fahrenheit. Remember to always start with a low temperature and short duration and gradually increase as you get used to it. 

Avoid using any lotions or creams on your skin before your session, as they may interfere with the absorption of the salt.

Wipe off any excess sweat or salt from your skin after your session, and rinse off with lukewarm water.

Consult your doctor before using Himalayan salt in a sauna if you have any medical conditions or concerns.

The time duration for a Himalayan salt sauna may vary according to personal preference and tolerance. However, you should typically stay in a sauna for 10 to 20 minutes to avoid dehydration, overheating, and irritation. 

Breathe deeply and enjoy the benefits of Himalayan salt for your skin, respiratory system, and mood.



FAQs
How Long Do You Need To Stay in a Himalayan Salt Sauna?
A typical Himalayan salt sauna session should last anywhere between 10 to 20 minutes. Though, this time varies according to individual preference and tolerance levels. Some can even stay up to 30 minutes in the sauna. Remember to take it slow, especially if you're a beginner, and take frequent breaks.
Can You Add Himalayan Salt To Infrared Sauna?
Yes, you can add Himalayan salt to infrared saunas, and you should. Doing so will help you reap the powerful detoxifying benefits of infrared saunas and halotherapy's healing properties, including air purification, reduced stress, and increased energy levels. 
Does Himalayan Salt Remove Toxins?
Yes and no. Himalayan salt contains trace minerals like potassium and magnesium, which have been shown to improve your liver and kidney function — the primary organs responsible for eliminating toxins. 
When it comes to Himalayan salt, no direct scientific evidence can support the claims of its supposed ability to remove toxins from the body. 
While you can certainly use Himalayan salt to improve your overall health and potentially aid your detoxification process (courtesy of its magnesium content), just don't rely on it as a magic potion to cleanse your system.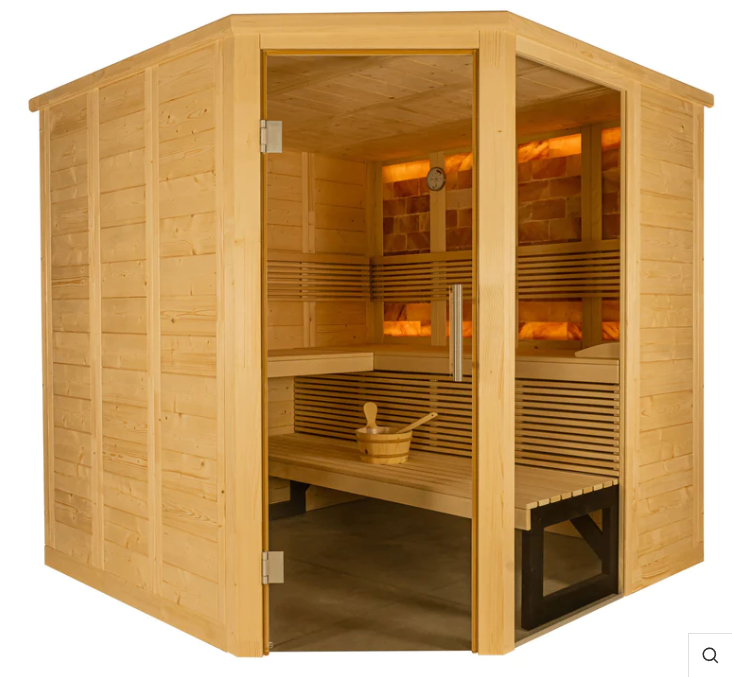 That's a Wrap on Himalayan Salt Saunas
Combining heat, negative ions, and mineral absorption in a Himalayan salt sauna creates a holistic experience that can leave you feeling physically and mentally rejuvenated. 
It's like taking a mini vacation to a Himalayan salt cave right in the comfort of your home. If you would rather not wait in line or feel self-conscious about being in a public space, consider using an at-home sauna. 
With an at-home sauna from MySaunaWorld, you can indulge in a Himalayan salt sauna session without leaving the house. For more information or queries, contact us; our friendly staff will gladly assist you.
SIGN UP. SAVE BIG.
Subscribe to be the first to know about our special monthly sauna sales, sent right to your inbox.