ARE INFRARED SAUNAS ACTUALLY GOOD FOR YOU?
Nothing beats a quick 30-minute sauna session. However, advancement in technology has caught up with this traditional therapeutic activity and infrared saunas are the talk of the town. 
Everyone wants to know if infrared saunas are healthy for you or not?
A sauna session — whether traditional or infrared — undoubtedly rests and relaxes your body. The heat helps to relieve sore muscles and improve your blood circulation, while the calm environment can help your overall well-being and health.
DIFFERENCE BETWEEN INFRARED AND TRADITIONAL SAUNAS 
An Infrared sauna operates at a lower temperature than a traditional sauna, ranging from 120⁰F to 140⁰F, whereas the conventional sauna temperature varies from 150⁰F to 190⁰F.
Traditional sauna's high temperatures can be uncomfortable for some. That's because a traditional sauna heats the air directly, slowly heating internal body temperature. An infrared sauna, on the other hand, does not heat the air surrounding you. Instead, it uses infrared lamps emitting electromagnetic radiations to warm your body. This allows the heat to easily penetrate your body tissues by heating your body.
That means your body will experience intense sweating at lower temperatures... 
The infrared sauna environment is more tolerable for most, and because of such, beneficial. The lower heat temperatures allow you to experience longer sauna sessions and its benefits, without having to bear the extreme heat.
HEALTH BENEFITS ASSOCIATED WITH INFRARED SAUNAS
Several studies have been conducted on the health benefits of traditional saunas. However, there has also been some interesting research into the benefits of infrared saunas, too, which we cover below.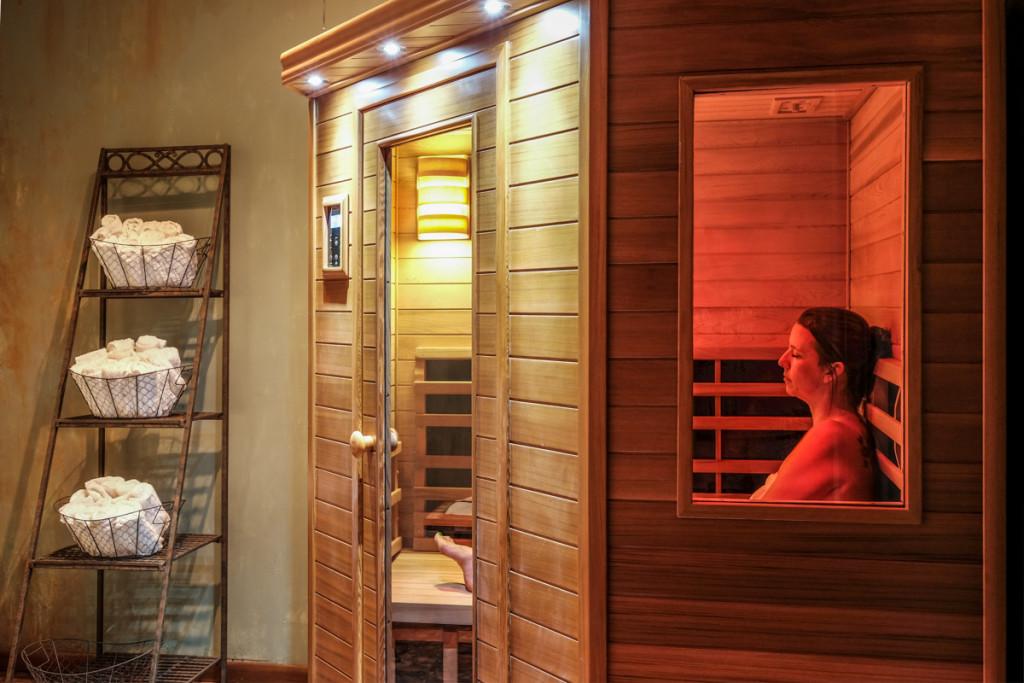 LOWERS BLOOD PRESSURE
Unsurprisingly, several studies have found that infrared saunas can help reduce blood pressure in individuals with hypertension. This is because the heat relaxes your heart and veins, letting blood flow more easily through, lowering your blood pressure.
Reports have shown dramatic reductions in blood pressure from regular sessions of 15-30 minutes in far infrared saunas.
REDUCES FATIGUE & FEELINGS OF DEPRESSION
Are you tired of feeling tired? Infrared sauna sessions may help. One study of those with mild depression and fatigue found those who participated in 15 minutes of infrared sauna time (20 sessions over 4 weeks) produced "statistically significant improvements" in complaints of hunger, ability to relax, and feelings of depression. 
And another small study of those living with chronic fatigue has shown infrared sauna therapy effectively reduced negative symptoms, including perception of fatigue and improvement of mood (including anxiety and depression). Two women with severe chronic fatigue who participated in 15-minute far infrared sauna sessions 11 months (5x a week for 2.5 months, then just 2-3x times a week), reported "dramatic improvements" in fatigue, pain, and sleep disturbances.
RELIEVES MUSCLE SORENESS & ARTHRITIS
People with injuries find themselves healing better with regular infrared sauna use, and a ten-person study supports it. This study found that infrared saunas could help ease muscle soreness and increase recovery progress after strength training sessions.
Not only that, far Infrared saunas may temporarily relieve joint pain and improve range of motion in people with arthritis, and may also help people maintain bone health. 
Sitting in warmth and quiet can always relieve mental pain, but it's good to know it can ease physical pain as well.
SIGN UP. SAVE BIG.
Subscribe to be the first to know about our special monthly sauna sales, sent right to your inbox.
WEIGHT LOSS & SKIN DETOX BENEFITS
Far-infrared saunas have also been studied for obesity and weight loss. In one study, participants did either cardio exercise for 15 minutes with 30 minutes of far-infrared sauna or the same exercise with NO sauna. 
Subjects who USED the sauna lost NEARLY 2X as much weight and 5X as much body fat as those who did not use the far-infrared sauna. 
As you can imagine, using an infrared sauna puts your body through a small amount of heat stress. As your body works hard to re-acclimate to the new temperature, that work burns calories.
When it comes to detoxing, sweating is usually believed to help, but claims for whether or not they help you detox heavy metals are much debated. An infrared sauna might help your body to remove environmental toxins through sweat. One study has shown that 15-20% of infrared sauna-induced sweat is composed of cholesterol, fat-soluble toxins, heavy metals, sulfuric acid, and ammonia. 
CONCLUSION
As you can see, the regular use of infrared sauna is associated with a number of health benefits. And thus far, according to the MayoClinic no negative side effects have been found.
If you're looking for a safe and natural way to improve your overall health, consider adding a personal infrared sauna into your daily routine and home. If you have any questions about finding the infrared sauna for you, the different models available, and more, please reach out to us or use the chat option on this page and we'll be happy to help.