GET 5 NIGHTS OF LUXURY ACCOMODATION ON US WITH ANY SAUNA PURCHASE!
WE COVER THE HOTEL, YOU COVER AIRFARE AND TAXES & FEES
ORDER YOUR SAUNA NOW AND TRAVEL TO YOUR DESTINATION WITHIN 18 MONTHS!


ANY SAUNA, ANY SIZE, ANY BRAND
00

Days

00

Hours

00

Minutes

00

Seconds
This deal has expired but, but there are still lots of great sauna choices available!
LEARN ABOUT OUR MOST POPULAR SAUNAS: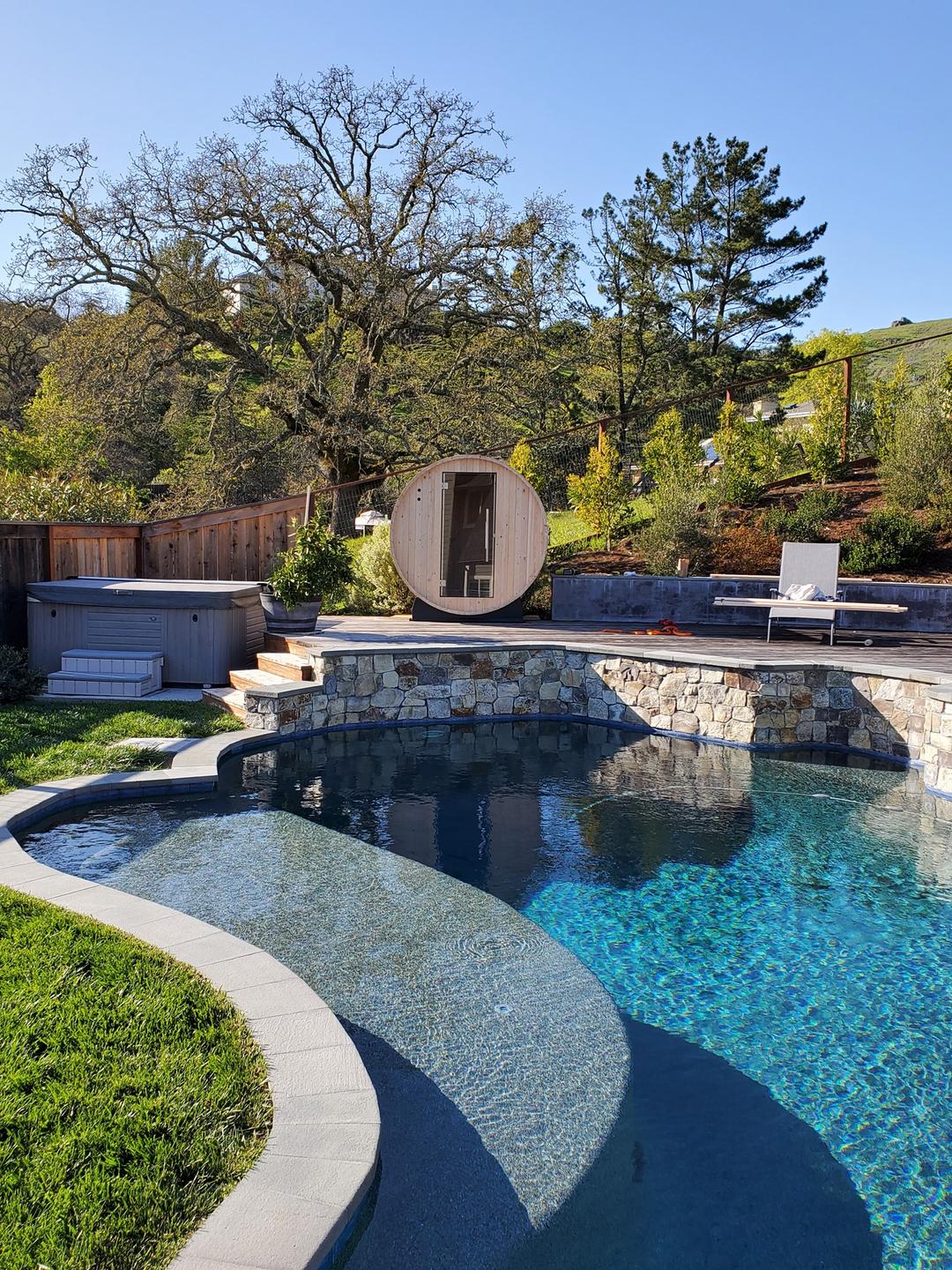 BARREL SAUNAS
A Barrel For Every Space
Barrel saunas can be used indoors or outdoors, with an electric or wood-burning stove (for indoor use, choose electric!), and come in a range of sizes and customizations. Select brands are ready-to-ship tomorrow! 
Amazing Reputation for Quality!
The highly effective design of barrel saunas (and POD saunas, too!) maximizes interior space and allows them to heat quickly and efficiently.
Easy Pallet-to-Patio Assembly
Barrel saunas, and ALL saunas on our site, are designed to be easily assembled with just 1 or 2 people in a handful of hours.
INDOOR SAUNA
A Sauna to Fit Your Home
We offer a large selection of indoor sauna designs, sizes, and wood types to fit your home and personal tastes.
Quality Lumber & Superior Craftsmanship
Each board is hand-planed and each piece is personally inspected to ensure all indoor saunas meet the highest standards.
Hassle-Free Assembly
Indoor saunas are some of the easiest to assemble. In just a few hours you'll be dusting off your hands and ready to enjoy.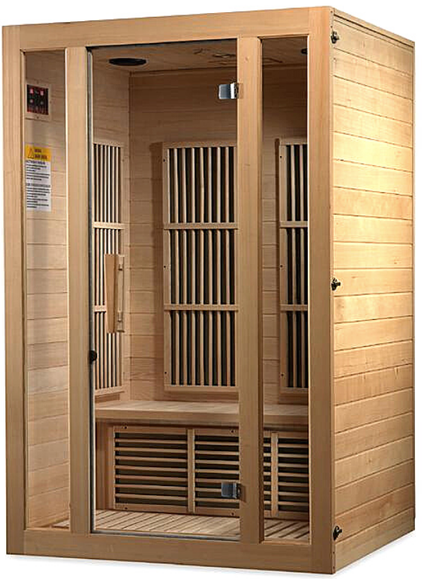 INFRARED SAUNA
A Different Kind of Heat = Longer Sessions
Infrared saunas use carbon heaters to emit electromagnetic radiation to heat your body directly, rather than heating the air around you, like wood-burning or electric stove saunas do. Enjoy the benefits of sweating at lower temperatures without the "extreme" heat feeling.
Audio & Light Therapy for a Full Sensory Experience
Most infrared saunas include built-in bluetooth audio hookups and remote-controlled color light therapy so you can maximize the physiological benefits of your infrared sauna even more.
Quality Materials and Great Craftsmanship
Large range of sizes and styles are available. All our infrared saunas are built using light-colored Canadian Hemlock or the darker Red Cedar. Both are strong, non-toxic, and durable wood types.
How does this luxury vacation offer work?

When you purchase any sauna, let us know which vacation destination you're interested in at checkout! We will follow up with an email that shares all the details and accommodation options. You have 7 days to "activate" your offer, and once activated, you have 18 months to take advantage of it!




Your accommodation (valued at more than $1750 - $2450) is completely covered by us – you will just be responsible for airfare, transfers, food & beverages, and taxes and fees.

What's with the taxes & fees? Are there any other "hidden" fees?

Taxes and fees are based on local tourism and bed taxes, value-added tax, sales tax based on the full rack rate of the accommodations, maid service fees, zone surcharges, travel agency fees, federal, state, local, or municipal taxes, etc. The nightly taxes and fees included in these offers are:

Cancun, Mexico $37.62 per night ($188.10 total)

Kyoto, Japan, $30.17 per night ($150.85 total)

Phuket, Thailand, $28.05 per night ($196.35 total)

Santorini, Greece $29.68 per night ($148.40 total)




Some resorts charge an extra "resort fee" ranging from $5 to $20 to cover resort amenities, activities, and more. If applicable, any resort fees will be disclosed when choosing a hotel and preferred travel dates.

Do I get to choose the hotel or resort? Do I get to choose the dates?

Yes! Depending on availability, you will be able to choose from up to 3 different hotels or resorts. You will also get to choose your preferred travel dates, as long as it's within 18 months of activation of this offer.

Do I have to watch a timeshare presentation on this vacation?

No! You will never be required to attend ANY sales or timeshare presentations on your no-strings-attached vacation!

Most vacation destinations allow for 2 children under the age of 12; however, when adding children you are likely to see fewer hotel choices. For more luxury options, this vacation offer is best used for 2 adults.

The sale ENDS 11:59 pm EST February 28th, 2022.

Do you offer financing for the sauna purchase?

Yes! We have some flexible options from Bread. At checkout, just choose Bread as your payment method, select your installment plan, and within no time you'll be enjoying your sauna.

How long will it take for my sauna to arrive?

It often depends on the brand. We can get your Almost Heaven Sauna to you in 8 to 10 weeks! The My Sauna World team will keep you in the loop every step of the way, from order confirmation all the way to receipt of your sauna at your address.

The list below is the current delivery timeline by brand:

Golden Designs Sauna - within 1 week

Thermory Saunas - within 1 week

Almost Heaven Saunas - 2 to 3 Weeks

Dundalk Leisure Craft - 15 to 20 weeks

Baltic Leisure - 3 to 4 weeks

Saunacore - 2 to 3 weeks

TheraSauna - 4 to 6 weeks
What's it like to get your sauna from My Sauna World?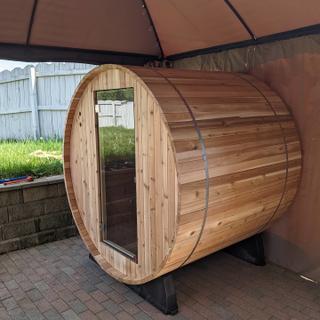 Absolutely love this sauna! Took me a little over 5 hours to assemble by myself and use it at least once a day! Been such an awesome purchase! Highly recommend it, great quality and of course doing business with my sauna world was an absolute pleasure. Great customer service and communication! Wouldn't do business with anyone else!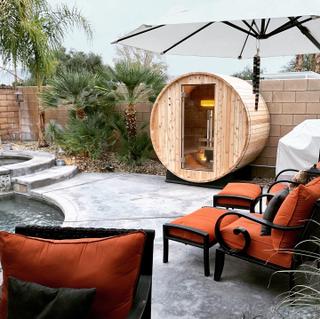 Purchased a 2 person Almost Heaven barrel sauna and were delighted with the product. The order process was quick and easy, the sauna arrived on-time, installation was simple, following the provided instructions, and the sauna is extremely high quality. We've used it daily for over 2 weeks and quite frankly I don't know how we lived without it. If I had it to do over again I wouldn't change a thing... except maybe purchasing a 4 person model to easier share with friends!
00

Days

00

Hours

00

Minutes

00

Seconds
This deal has expired but, but there are still lots of great sauna choices available!
DON'T MISS OUT!
Get your dream sauna AND dream vacation all in one go!
HERE'S WHAT OTHER CUSTOMERS HAD TO SAY!