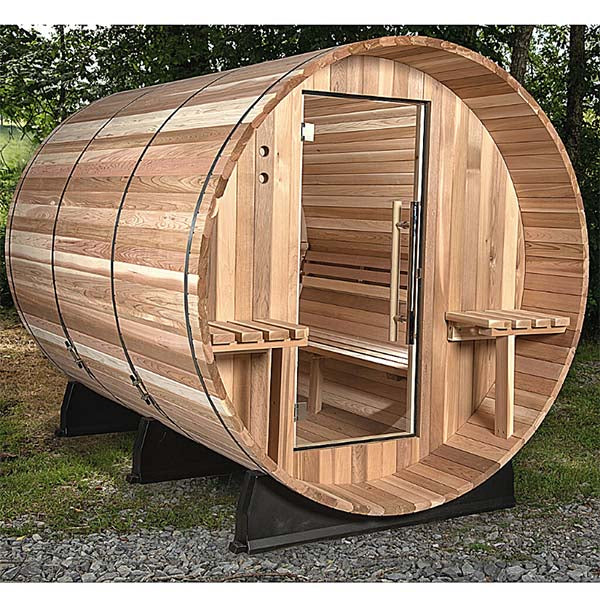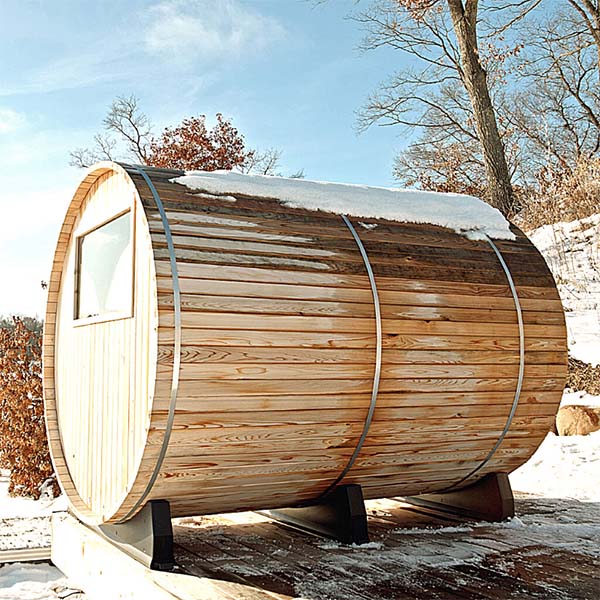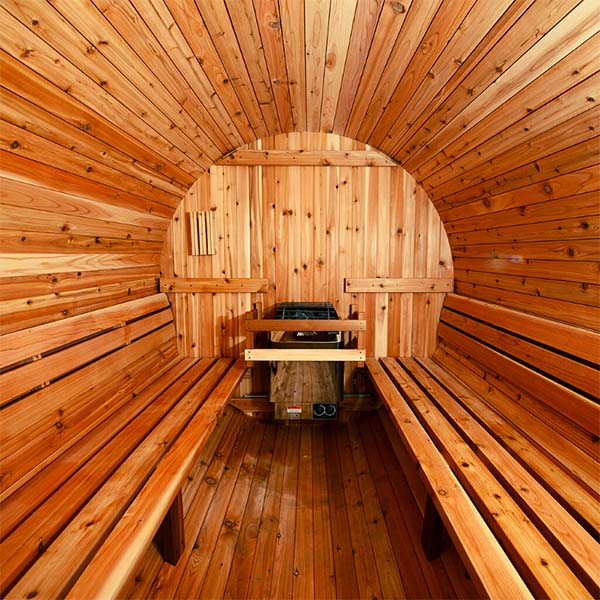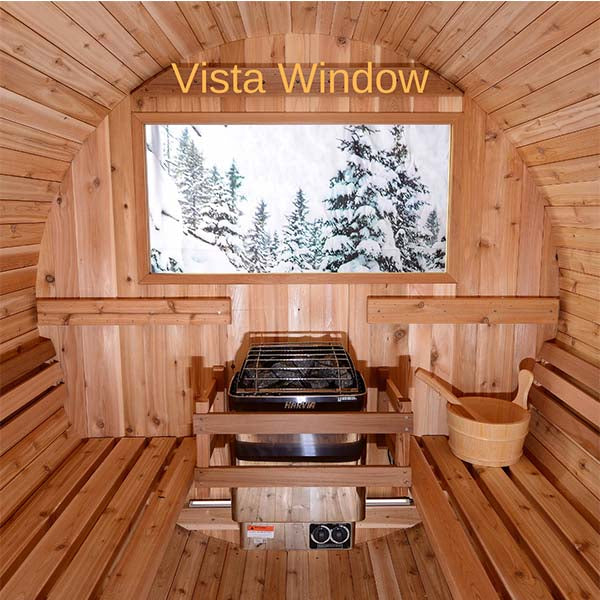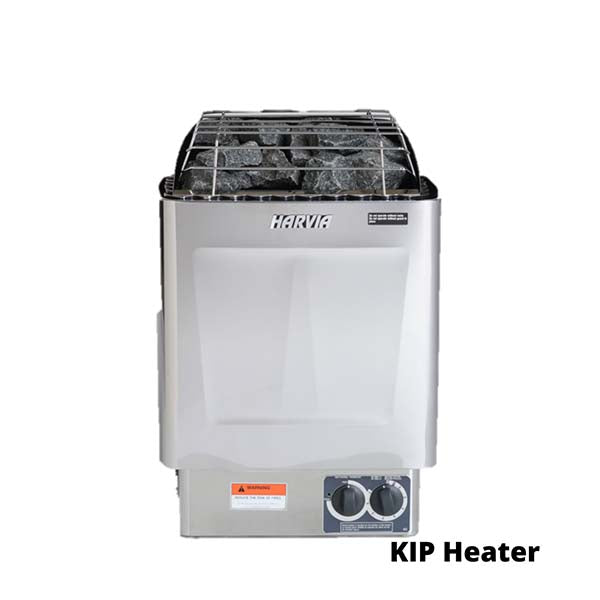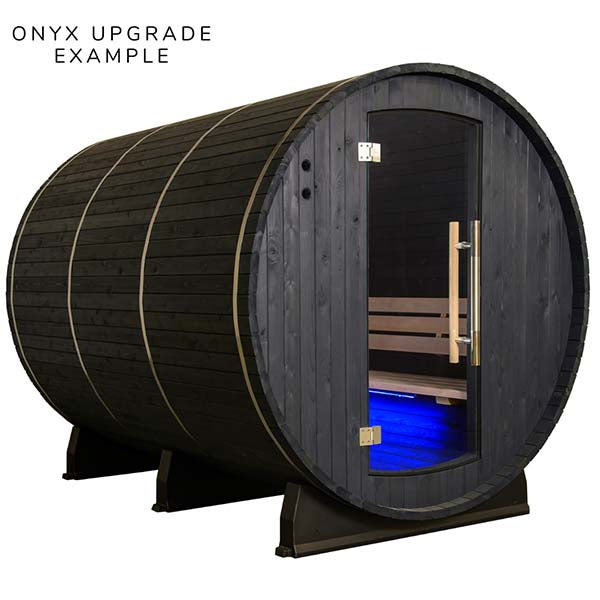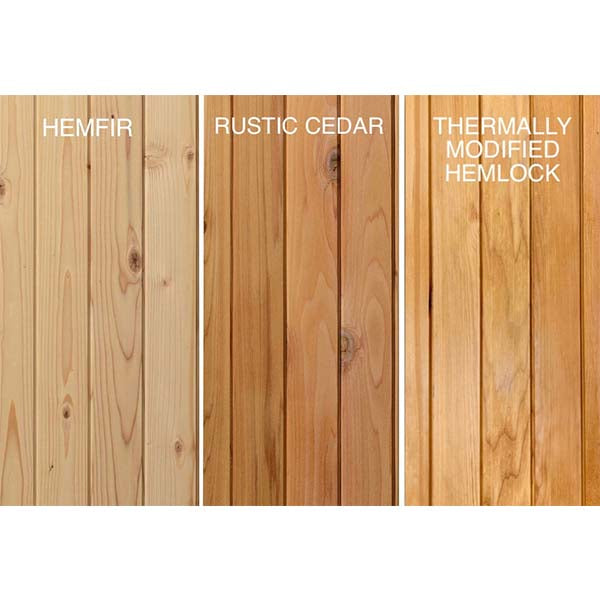 Almost Heaven Huntington Canopy Barrel 6 Person Sauna
"Highly recommend Sauna World for purchasing a Sauna! We can say enough about Sauna World there customer support is great! Our Pinnacle Sauna from Almost Heaven is epic."- Abby Lapan
Huntington 6-Person Canopy Barrel Sauna by Almost Heaven
Authentic Experience
Handcrafted from the finest wood, this sauna speaks the language of traditional luxury, while its barrel shape ensures an even distribution of heat. The experience? Pure sauna bliss!
Starry Night Canopy
With our unique canopy design, gaze upon the skies, count the stars or simply let the gentle rustle of leaves be your lullaby as you soak in the warmth.
Roomy Paradise
Got squad goals? We've got you covered! Designed to comfortably accommodate up to 6 persons, it's perfect for a steamy get-together with friends or some quality family sauna time.
Superior Steam
Our heaters are the heartthrobs of the sauna world. Feel the embrace of perfectly enveloping steam, transporting you to a world of serenity and relaxation.
Aromatherapy Slot
Why just steam when you can scent? Add a dash of lavender or eucalyptus and elevate your sauna session to a fragrant paradise.
Eco-friendly Craftsmanship
A treat for you and gentle on Mother Earth! Sustainable wood, energy-efficient design, and a love for nature go into each sauna we craft.
Dive into a world where the ancient tradition of saunas meets modern innovation! The Almost Heaven Huntington Canopy Barrel Sauna isn't just about sweating it out; it's about an immersive experience, a celebration of warmth, and above all, the sheer joy of relaxation.
Features:
all-and-socket lumber: 1-3/8″ thick

Any glass features are tempered 

Stainless steel bands, hinges, heater and fasteners

Interior LED light

Sauna stones included

Weather-resistant plastic support cradles

Two opposite-facing benches for sitting or reclining

Two exterior opposite-facing benches

Indoor or outdoor usage

Hand-crafted lumber profiles and end sections

Best-in-class electric heater & sauna stones

Limited lifetime warranty on the sauna room; 5-year limited lifetime warranty on the heater and its components, with a 1-year warranty on the heating elements (coils)
Specifications
| | |
| --- | --- |
| Lumbers: | White Fir, Rustic Cedar, Clear Cedar |
| Capacity: | holds between four and six people |
| Heater size: | 8kW, 240V, 40-amp electrical requirement, hardwire connect |
| Lighting electrical: | 110V, 15-amp service, plug-in connect |
| Assembled size: | 72″W x 95″D x 75 - 3/8″H |
| Interior room size: | 71″W x 75″D x 69 - 1/8″H |
| Interior bench dimensions: | 18″W x 75″L x 17″H |
| Canopy porch size: | 71″W x 12″D x 71″H |
| Exterior bench dimensions: | 18″W x 12″L x 25″H |
| Cradle dimensions: | 54" x 6 |
| Shipping weight: | 915 lbs |
| Shipping size: | 96″L x 41″W x 52″H |
Order Almost Heaven Huntington Canopy Barrel  6 Person Sauna today from MySaunaWorld.com. Shop now and indulge yourself!

Large Sauna With A Porch
Huntington offers a well-rounded traditional sauna experience: plenty of room to stretch out and enjoy the sauna heat, plus two exterior benches to cool off. Seven feet of the 8-foot-long sauna is reserved for the interior space, while the exterior benches take up the remaining foot. Like all Almost Heaven Barrel Saunas, you can choose from three different durable sauna woods for construction: White Fir, Rustic Cedar, and Clear Cedar. If you prefer a built-in cover and outdoor benches outside your sauna, the Huntington will be the perfect sauna for you.
Huntington Sauna Specs & Upgrades
Personalize the Huntington Canopy Barrels Sauna with these luxurious options: Himalayan salt panel, chromotherapy mood light, flat floor kit, or an upgraded heater (HUUM DROP or Xenio Digital Control) The standard 8.0kw electric heater by Harvia will require a 220v, 40 Amp hard-wire connection, consult a certified electrician. Assembled Size: 72″W x 95″L x 77″H and interior: 71″W x 75″L x 71″H. Shipping weight: 915 lbs. Limited lifetime warranty on the sauna room; 5 years on the heater.
Beautiful sauna!!! Much easier than I expected to assemble, took a total of 4 hours. Can't wait to get warm by the pool on those cool evenings. Customer service was excellent..
Thanks Peter, your sauna looks amazing over there by the pool!!
It was a pleasure working with you, thanks again for your business. Come back anytime :)
The shipment was uneventful, the assembly was easy, just got the electrical hookups done, and I'm enjoying my first session.
So far so great!
Thanks Charles, we're so glad you're enjoying your new sauna! Let us know if we can ever help with anything else.
Delivery was excellent as is customer service and very easy to put together
Hi Julie! Thanks for the great review. We're happy to know that everything went well with your sauna. It's our pleasure to assist you. Thank you for doing business with us.