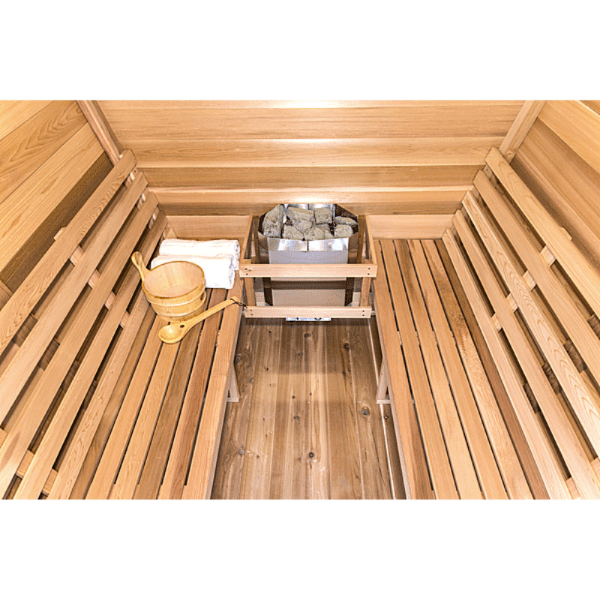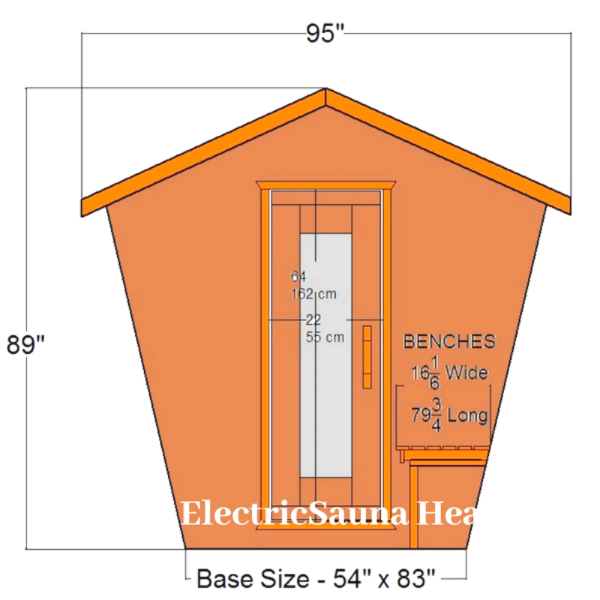 Dundalk Leisure Craft Eagles Nest Clear Cedar Outdoor Sauna
Heater Options:
Harvia KIP Electric Heater 6KW
Eagles Nest Outdoor Sauna by Dundalk Leisure Craft
The Eagles Nest Outdoor Sauna's unique design can match any home whether it is a modern home or a rustic cottage.
Enjoy your 1st sauna experience in 6 to 7 months when you place the order today.
Product Highlight of Eagles Nest Outdoor Sauna by Dundalk Leisure Craft:
Solid Wood construction with a full-tempered glass door.

2 long benches with built-in angled backrests.

At the heart of this sauna is a SaunaCraft stainless-steel sauna heater or wood burning sauna heater that will heat up the Eagles Nest in 30 minutes or less.
Unique Shape in Clear Cedar
The Eagles Nest Sauna is like the cabin sauna but has an interesting tapered shape, topped with a cedar shingle roof. Inside, are 2 long benches with angled backrests. Constructed using durable and strong tongue and groove walls and dovetail joints, this sauna is built with clear cedar, meaning no knots are visible, giving it a smooth appearance. The Eagles Nest in Clear Cedar comes in 3 sizes: 8' X 6', 8' X 7', and 8' X 8'. Each size provides a minimum 6-person capacity.
Eagle's Nest Upgrades
You have 2 options for heating: the Saaku Electric Heater or the Harvia Wood Burning heater. The wood burning heater will come with a chimney and heat shield. If you want to add a 20'x30' rectangular back window to the back wall for extra light, you can do so, but only with an electric heater. (The chimney of a wood burning stove doesn't fit with the window). You can also add a covered 2-foot porch with benches for a handy place to cool off directly outside the sauna door, or a completely enclosed, 4-foot changeroom with benches that provide more space, privacy, and protection from the elements. Standard Dundalk 3-year warranty applies.