THE BENEFITS OF USING A 1-PERSON TRADITIONAL SAUNA FOR RELAXATION
It's no secret that a good sauna session can melt away your stress after a tiring day. Regarding public saunas, you must follow certain etiquette, adhere to scheduled hours, and often deal with strangers. Quite the buzzkill for your relaxation goals, right?
Fortunately, a 1 person sauna can offer you the same rejuvenating experience without distractions or awkward moments. Besides providing maximum privacy, 1 person traditional saunas like Almost Heaven Logan Sauna offer unparalleled convenience and versatile installation options that public saunas can't replicate. 
Read on to learn about all the benefits of using a 1 person traditional sauna and why you should consider buying one for yourself. 
Benefits of Using a 1 Person Traditional Sauna
If you're under the impression that a 1 person traditional sauna might be too small to have any substantial positive impact on your health and wellness journey, think again! 
Besides offering the perfect personal space to relax and detoxify, these compact sweat lodges also have an impressive suite of benefits that make them a worthwhile investment. 
Following are some of the benefits of using 1 person traditional saunas:
Privacy and Personalization
One of the key attractions of a 1 person traditional sauna is its privacy. Public saunas and saunas at gyms, hotels, and health facilities, can be intimidating to some people, especially those who are shy or introverted. 
A 1 person sauna allows you to enjoy the benefits of heat therapy without feeling like others are watching you. You also don't have to wait in line, worry about hygiene or deal with crowds; it's just you and your thoughts!
Also, you can personalize the space per your preferences. With a 1 person traditional sauna, you get to control the temperature and the duration of your session. Even better, you can play your favorite tunes, light up some candles for sauna aromatherapy and even perform a sauna workout without worrying about others.
Space-saving Design
If you're concerned about space, a 1 person traditional sauna offers an ideal solution. These mini saunas are designed to fit into tight spaces, so you won't have to sacrifice valuable living space in your pursuit of improved health.
Focuses on Individual Wellness
The fact that a 1 person traditional sauna is tailored to your needs means your wellness journey becomes more focused, intimate, and productive. Unlike 3 person saunas or 4 person saunas, you don't have to compete for time slots or feel rushed due to other people waiting in line. 
The one-on-one nature of these saunas allows you to concentrate on your body's needs, whether you are recovering from an injury or respiratory illness, trying to lose weight, improving your mental health, or just looking for a bit of relaxation.
Cost-effectiveness
While it may initially seem like a sizable investment, the 1 person traditional sauna makes up for it in the long run. Large saunas can take ages to reach optimal temperatures, but 1 person traditional saunas usually heat up within minutes, making them much more energy efficient. 
When you add up the continuous costs of public sauna visits or memberships, owning a personal sauna becomes a truly economical solution.
Versatile Installation Options
The ultimate appeal of a 1 person traditional sauna is the versatility that comes with its installation process. Most of these saunas are constructed using high-quality wood like cedar or hemlock that can withstand harsh elements, making them ideal for indoor and outdoor use.  Their compact, modular design allows for easy setup in various spaces, such as garages, patios, or backyards.
Popular 1-Person Traditional Saunas 
Following are our top picks for 1 person traditional sauna: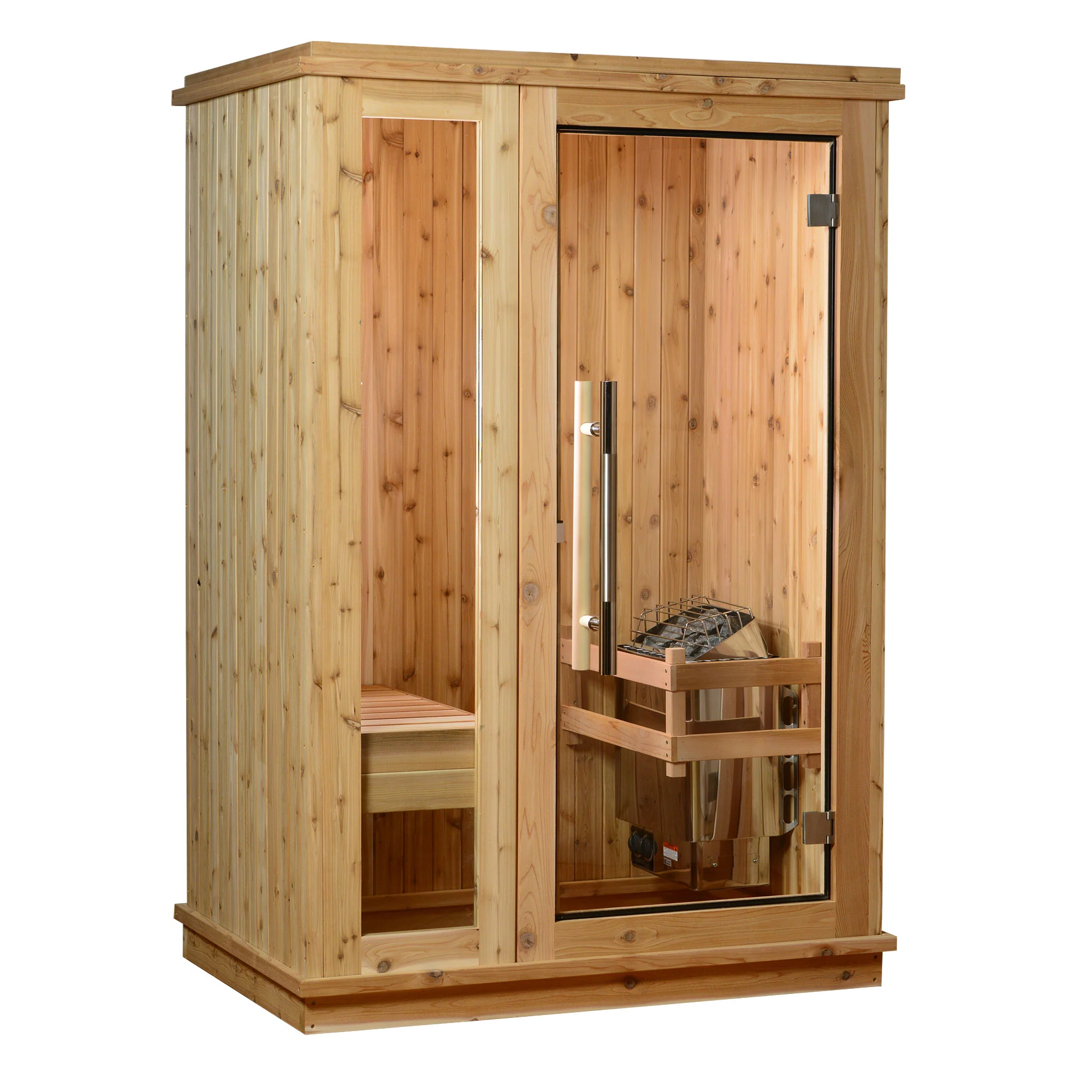 Almost Heaven Logan 1-Person Indoor Sauna
The Almost Heaven Logan 1 Person Traditional Sauna features a tongue and groove lumber construction and 1-3/8" finished thickness, offering exceptional durability. The sauna comes equipped with a 4.5 kW water-over-rocks steam heater that helps generate soothing steam to help you relax and de-stress. 
Are you worried about space? The Logan single person sauna also has a wide horizontal slat bench for a comfortable seating experience. Thanks to its pre-assembled wall and roof sections, you won't have to worry about spending hours setting this sauna up. 
You can place the 1 person sauna on concrete, vinyl, ceramic or tile flooring. For maximum personalization, you can add a chromotherapy light or a Himalayan salt panel that'll enhance your sauna experience while adding a therapeutic edge.
Therasauna Classic TSP3737 1 Person
While traditional saunas are mostly available at fancy spas and wellness centers, finding a far infrared sauna can be challenging. But the TheraSauna Classic 1 to 2 Person Sauna (infrared) is a simple and affordable solution to this problem. 
The TheraSauna Classic boasts a patented onboard computer system for constant infrared emission and proprietary, high glass-content, solid-ceramic TheraMitters™ that offer the right watt/density balance, ensuring you'll always get the perfect heat intensity for optimized therapeutic effects.
Crafted using aspen hardwood, the 1 person sauna is not only an elegant addition to your home but also non-toxic and hypoallergenic. With its SoftTouch™ control, you can easily adjust the heat intensity. This sauna also features an interior reading light, so feel free to bring your favorite book or magazine and enjoy a good read while you get your sweat on. 
This sauna is ETL and CE certified, so you can rest assured that you're using a safe, top-quality product.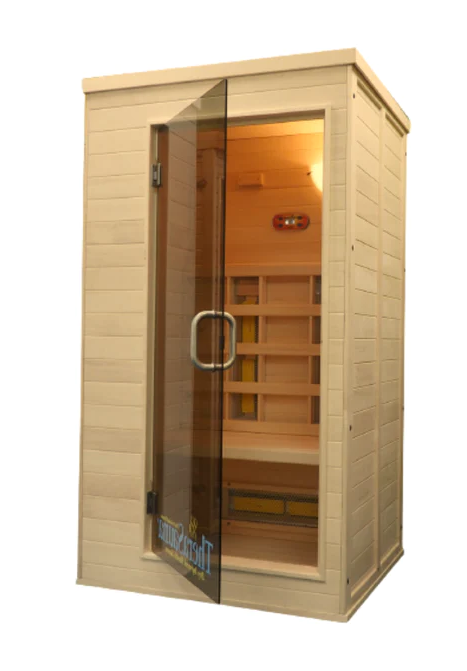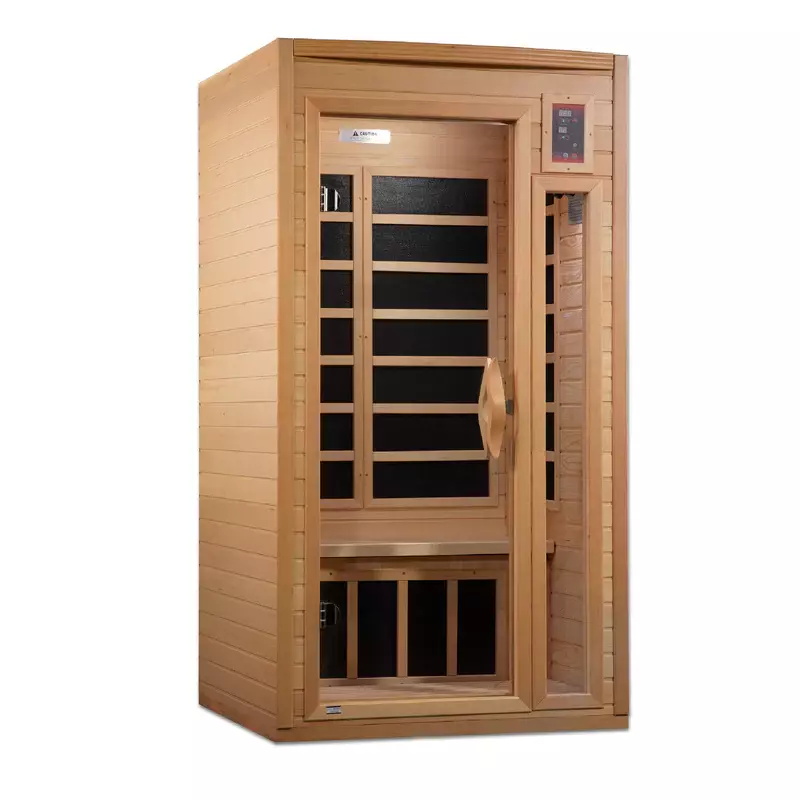 Golden Designs Geneva Sauna
Superbly designed, the Golden Designs Geneva Infrared Sauna transcends standard expectations, making it a prime choice for personal use. This sauna boasts a natural hemlock wood construction with an exquisite Barcelona honey blonde finish that is aesthetically pleasing and robust.
Thanks to its six strategically placed low EMF carbon heating elements, each corner of the sauna receives even heating for optimal detoxification and relaxation. Its interior and exterior LED control panels let you modify the settings to meet your needs, while its built-in interior reading light/chromotherapy lighting system enhances your sauna experience. 
With its clasp-together assembly, setting up the sauna is a breeze! Once assembled, you can place it on any leveled surface like carpet, tile, laminate, or hardwood floor.
1 Person Traditional Indoor vs. Outdoor Sauna
Buying a single person traditional sauna makes it easy to confuse indoor and outdoor models. 
While they may seem similar, you should consider some key differences before deciding.
Sauna Experience
The outdoor sauna is often considered more of an escape. With the sounds of nature and peaceful surroundings, you'll feel like you're miles away from your daily routine.
On the other hand, the indoor sauna is a bit more practical as you can use it year-round without worrying about snow or rain. This makes indoor saunas ideal for people living in colder climates with limited outdoor activities. 
Indoor saunas also offer the convenience of just a few steps away from your living space—perfect for that quick evening detox!
Installation Consideration
Installing an indoor sauna can be tricky, as you need a dedicated space with proper ventilation and nearby access to electricity.
As for outdoor saunas, they offer more flexibility in size and location. You'll still need power access, but you can choose the right spot in your yard (think panoramic views or a secluded garden corner). 
Keep in mind, though, that you might need to do some groundwork preparation and obtain permits from local authorities, depending on where you live.
Maintenance Requirements
1 person traditional indoor saunas are typically less exposed to the elements, which translates to less wear and tear. Simple cleaning routines (like wiping down surfaces and checking the ventilation system) can help keep your 1 person indoor sauna in tip-top shape with minimal effort.
Maintenance requires more diligence due to weather exposure for outdoor saunas. You'll need to seal and treat the wood to avoid deterioration and inspect your sauna regularly for any potential damage caused by the elements or critters. 
But since most of these saunas get constructed with mold and mildew-resistant material like cedar wood, you won't have to scrub regularly.
1 Person Traditional Wood Burning vs. Infrared Sauna
When it comes to choosing between a 1 person traditional wood-burning or infrared sauna, there are several factors you should consider. These include:
Comfort
Traditional wood-burning saunas often operate at high temperatures ranging from 150 to 190 degrees Fahrenheit. These extreme heat and humidity can make breathing or staying in the sauna for extended periods challenging. 
Infrared saunas, on the other hand, operate at lower temperatures, around 120 to 150 degrees Fahrenheit, making them more comfortable for extended sessions.
Personalization
Traditional wood-burning saunas require manual adjustments to control the temperature and humidity, often involving adding water to the rocks in the heater. While this may allow you to customize your sauna experience, the process can be time-consuming and difficult to get right. 
Infrared saunas, however, have digital temperature controls that make it easy to adjust the temperature, change light therapy settings, or even plug in your music device for a personalized relaxation soundtrack. Some models may also offer zone heaters, enabling you to focus the heat on specific areas of your body. 
Heat-up Time
Traditional saunas (especially 8-person saunas) take longer to heat up, usually around 30-45 minutes, while infrared saunas warm up more quickly, typically in about 15 minutes.
Health Benefits
Both wood-burning and infrared saunas can stimulate blood circulation, promote relaxation, help with stress management, and provide some other sauna benefits like better skin health.
Research suggests that intense sweating in a traditional sauna may help flush toxins out of the body. The high heat can also boost your heart rate, mimicking the effects of moderate exercise.
The heat from Infrared saunas is said to penetrate more deeply into your skin, potentially offering deeper detoxification benefits. Studies have shown that infrared technology can help relieve pain, recover muscle, and even improve heart health. 
Regardless of the sauna type, it's important to consult your healthcare professional if you're pregnant, using medications, or have a pre-existing medical condition.
Cost
Traditional wood-burning saunas can be relatively cost-effective to install. However, you must factor in the ongoing expenses for wood and the potential need for chimney installation or maintenance.
Infrared saunas, while possibly more expensive upfront due to their advanced tech features, usually have lower operating costs. They heat up faster and use less energy, which can mean you save money in the long run.
Tips for Choosing 1-Person Traditional Saunas
There are many tips to consider when choosing a 1 person traditional sauna, including:
Consider your space: You must ensure you have enough space in your home to install a 1 person traditional sauna. The average dimensions of a 1 person traditional sauna are about 53" W x 36" D x 78" H1, but they can vary depending on the model and design. 




Consider the sauna wood type: The quality of the wood is very important for the optimal durability and performance of your sauna. Cedar is the most popular choice because it is resistant to decay, insects, and moisture. Hemlock is also a good option because it is smooth, stable, and affordable. Fir is the cheapest option but may crack or warp over time.




Consider additional features or accessories: There are many sauna features and accessories that can enhance your overall experience, such as LED lights, temperature controls, timers, thermometers, buckets, ladles, aromatherapy oils, etc. Some saunas include these features, while others require you to buy them separately. 




Consider the price and warranty: A 1 person traditional sauna can range from $2,000 to $8,000 depending on the brand, model, quality, and features. You should compare different options and look for discounts or financing plans that suit your budget. Ensure also to check the warranty policy of the sauna manufacturer and ensure that it covers any defects or damages that may occur during the installation or use of the sauna.



FAQs
Is One Sauna Session Enough?
One sauna session can provide many immediate benefits, including improved circulation, relaxation, and instant skin glow. 
Two to five weekly sauna sessions are recommended for sustained results like stress relief, improved cardiovascular performance, or weight management.
How Much Does It Cost To Run a 1 Person Sauna?
The cost of running a 1 person sauna varies based on the sauna type, local electricity rates, and usage duration. On average, operating a traditional steam sauna may cost you $10 to $20 per hour. 1-person infrared saunas cost half of that price, making them more affordable and energy efficient.
What Are the Benefits of a Traditional Sauna?
Traditional saunas offer a host of health benefits, including detoxification, stress relief, muscle recovery, improved cardiovascular health, weight reduction, and mental clarity. Regular sauna sessions may also boost your immune system, protecting you against flu and other ailments. 
Is a Home Sauna Worth It?
Yes, a home sauna can be a worthwhile investment. Besides its relaxation and health benefits, a home sauna is a luxury feature that may add to the value of your home. 
A private sauna can also help you save on costly gym or spa memberships and time spent traveling to public sauna facilities.
1 Person Traditional Sauna: The Takeaway
Whether you're looking to unwind after a long day, perform a sauna workout without people staring at you, or just want to enjoy some me-time, a 1 person traditional sauna can be a great option. 
With their space-saving design and ability to provide a truly personalized and intimate sauna session, these compact sanctuaries offer an unmatched charm. 
If you're looking for a private sauna for your home that provides the best value for money, check out MySaunaWorld's collection of traditional and infrared saunas. For more information, feel free to contact us, and our friendly staff will be happy to answer any questions and help you find the perfect model for your needs.
SIGN UP. SAVE BIG.
Subscribe to be the first to know about our special monthly sauna sales, sent right to your inbox.