BEST PLACES TO PUT YOUR HOME SAUNA INDOOR

You have made the wise decision to relax in the comfort of your own home and enjoy your home sauna indoor. The next question, quite naturally, is "where?"
You may be wondering what types of rooms are suitable for building a sauna. Choosing the perfect spot in your home to relax can be as simple as clearing some unused space, such as a storage closet.
You could have questions about placing your sauna on one of the upper levels of your home, which is perfectly fine and safe. You could even have concerns about the type of flooring allowed for your project, most of which will do except for carpet.  
To make finding the perfect spot for your pride and joy easy on you, here is a look at the best places to put your home sauna indoor. 
OPTIONS FOR INDOOR SAUNA PLACEMENT
While your first instinct may be to turn a spare bedroom into a sauna, you should take a second to weigh out your options. 
Keep in mind that as long as you can wire your sauna heater, most areas of the home will do just fine for placement. Here are a few spots that will work perfectly for your project: 
Storage closet
Small bathroom
Basement 
Garage 
Attic
INDOOR SAUNA IN BASEMENT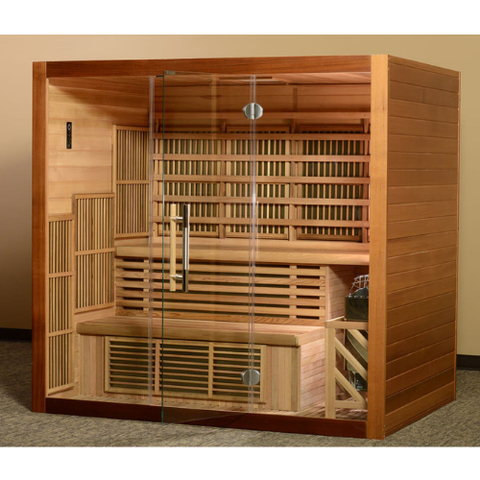 The basement is a great place to put your sauna. It offers seclusion and saves you the hassle of preoccupying precious room space. Keep the following in mind:
Be sure that your basement is not damp.
You will not have to worry about the effects of cold temperatures or drastic temperature changes on your sauna. The wood and electrical equipment are able to withstand these factors.
Warm-up time may take a little longer because the room is not insulated.
When you are finally ready to build your sauna, the next 4 steps will save you some headache:
If you use a corner to place your sauna, you will already have two of the four walls that you need in place.
Measure the area that you plan to put your sauna first. This will make choosing the perfect layout and overall design much easier. 
While electric saunas and infrared saunas are best for your basement, your sauna heater can also be wood-burning and traditional as well. 
Hire a professional to be sure that your heat generator has the correct installation. Be sure that all safety features are in place as well. 
These tips work for putting your sauna in the garage as well. 
PLACING YOUR INDOOR SAUNA IN THE GARAGE
PLACING YOUR INDOOR SAUNA ON THE SECOND FLOOR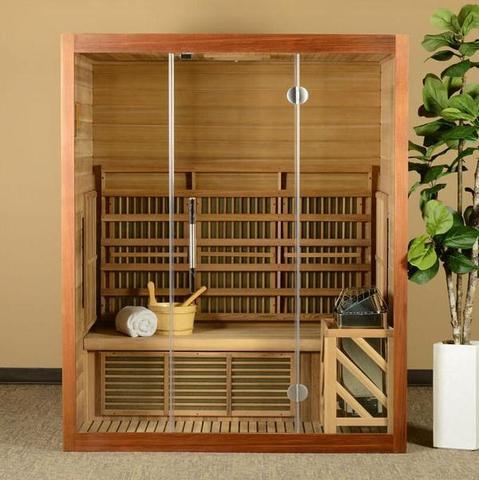 If you decide to put your sauna on the 2nd floor, or even higher, this is perfectly fine. Pre-built sauna kits are lightweight for easy transportation. 
Even if you have already placed your sauna downstairs, you can easily break the sauna down and move it. Putting it back together will be even easier because you are already familiar with the requirements.
ASSEMBLY & PLACEMENT PARAMETERS FOR YOUR SAUNA
Keep the following tips in mind when you begin putting your sauna together: 
Try to leave a few extra free feet around the sauna. This way you will be able to work comfortably as you complete the assembly. 
Because your sauna has to pull cool air in and push hot hair out in the vents, make sure that it can breathe. Your sauna walls and the walls of the room should have a couple of inches between them.
Your sauna will not need outdoor ventilation. 
Don't be shy about asking for help. When you have finished putting it together, use 3 or 4 people to help you slide the completed project in the right space.
TYPES OF FLOORING ALLOWED
While there are several types of flooring that will work with your sauna, do not place your sauna on the carpet. Here are the surfaces that are safe for sauna placement:
Concrete
Tile 
Laminate 
Ceramic
Vinyl
Solid areas 
Your sauna will come ready for placement on your floor surface. If you wish to add an aesthetically pleasing appeal to your new relaxation tool, you can also use an indoor sauna floor kit. 

TYPICAL INDOOR SAUNA INSTALLATION COST
According to HomeAdvisor, the average cost of building a sauna is around $4,500. Normally, fees may range anywhere between $3,000 and $6,000. The size of the sauna, as well as the materials used for building, are the factors that affect cost the most. Here are a few random cost facts:
Cost of Building Labor: $700 - $3,000 
Prefab: $70 - $120
5 to 7-Person Sauna (8x5 feet on average): closer to $6,000
For your convenience, My Sauna World provides a custom sauna calculator to help you determine your electrical operating costs as well. 
EXTRA TIPS FOR INSTALLING YOUR HOME SAUNA INDOOR
SIGN UP. SAVE BIG.
Subscribe to be the first to know about our special monthly sauna sales, sent right to your inbox.
Almost Heaven provides a little insight that will save you some construction time with your project: 
The biggest section of your sauna kit will be 3'x6'. 
To see if it will fit through your doorway or around corners, use the same measurements and cut a piece of cardboard.
If you can get through your doorway and around the room without bending the cardboard, you are good to go. 
Your sauna will require wiring. Be sure to hire a licensed electrician who can make sure that your home improvement project meets your local codes and guidelines. 
You will not have to worry about excess moisture inside your home. Your sauna heater simply replaces moisture that is already in the air. 
You can contact a local contractor if you still have questions or concerns about moisture. 
SUMMARY
You can rest assured knowing that you have several options for areas to place your sauna. Many spaces will work perfectly for your project, including a storage closet, small bathroom, basement, garage, or even the attic. Your basement is an amazing option because it gives you the chance to relax away from the hustle and bustle of your home. Keep in mind, you may need a professional to check your safety features.
The garage works wonderfully as well due to its ability to serve as a changing room and cool down area. There is more than enough space for you and your guests to enjoy free, comfortable movement. If you decide to, also note that it is safe to place your sauna on the 2nd floor or higher in your home. 
The placement of your sauna, within reason, will have no effect on its function.  No matter where you decide to place your sauna in your home, know that you can enjoy each therapeutic benefit comfortably with no worries. 
For more information on saunas designed for indoor use be sure to check with My Sauna World for updates.