EMBRACE THE NATURAL
ELEGANCE OF A HEMLOCK SAUNA
A sauna is one of the best ways to maintain good health while enjoying the experience. Most people who try saunas love them and often want to replicate this experience in their homes. But when choosing a sauna for your home, certain factors come into play. 
The type of wood you choose for your sauna is one of them. The grade and type of wood in your sauna's construction will influence your experience. If you prefer a clean, natural ambiance in your sauna, hemlock is a good choice. 
Let's explore a hemlock sauna and why it's popular for Infrared sauna construction. 
What is a Hemlock Sauna?
Hemlock sauna is a type of sauna made with hemlock wood, also known as tsuga. Infrared sauna manufacturers prefer using hemlock wood because of its tough structure, which provides exceptional endurance and heat resistance. Hemlock from remote Canadian forests is a prized material, well-known for having low levels of:
Formaldehyde, compared to other woods like cedar

Volatile organic compounds (VOCs)



This produces a toxin-free, natural atmosphere in the sauna.
Let's delve into its other benefits.
Scentless
A sauna must be odorless and clean to deliver optimal health benefits. The type of wood used in the sauna affects the odor within it. Strong wood scents, such as those found in cedar saunas, can be overwhelming for some. This is not an issue in hemlock wood saunas.
Hemlock wood offers a light aroma that does not distract you from your sauna session. It is known to be: 
This ensures a pleasant sauna experience for everyone. 
Shrinkage & Warp Resistant
Hemlock is a supple wood with a clean grain and few knots. This makes it a perfect alternative for both interior and exterior sauna paneling. Hemlock wood panels do not warp or twist due to the heat and moisture in a sauna. 
The wood also offers superior scratch resistance and is less prone to splinting. Its durability is unaffected by normal wear and tear. Hemlock wood does not shrink, preserving its form for years. It is an excellent choice for dry heat and infrared saunas due to its heat-resistant properties.
Sturdy
Above all, hemlock wood has a robust finish. Despite being a soft wood, its dense structure can withstand extreme heat and moisture. Heat is evenly dispensed within the sauna, ensuring a relaxing experience. Hemlock wood saunas have a long lifespan and require little maintenance. 
Aesthetic 
Aside from its practical purposes, hemlock sauna wood imparts an aesthetic finish to any structure. Sauna enthusiasts prefer the environment of a bright, natural sauna, which Canadian hemlock delivers. 
Its light wood grain gives off an earthy vibe. It brightens the sauna and gives it an organic feel few other sauna materials can provide. No wonder it is considered one of the most attractive sauna materials. 
The easiest way to identify a hemlock sauna is by its hue, which ranges from light beige to soft brown. If you value aesthetics in a sauna, hemlock should be your material of choice.
Inexpensive
Because hemlock is a strong material, it has a higher crushing strength. The heavyweight finish makes it easier to construct a long-lasting sauna. It does not require any fortifying materials to make it sturdier. This makes it more affordable compared to red cedar. 
Which is the Best Hemlock Wood Sauna for Me?
There's a variety of hemlock wood saunas in the market, but how do you know which one is best for you? We present a range of hemlock saunas for different needs so that you can choose one best suited for you.
Full-Spectrum Canadian Hemlock Sauna for Maximum Benefits
If you're looking for a sauna offering superior health benefits with optimal comfort, the Full Spectrum Infrared Canadian Hemlock Sauna is for you.
Have no idea what "Full Spectrum" means? We'll explain.
The Full Spectrum technology in this sauna employs three levels of Infrared waves:
Near: Aids in skin renewal

Mid: Improves blood flow

Far: Activates sweat glands to remove toxins
Each level represents the depth of Infrared penetration into your bodily tissues, which is necessary for toxin clearance.
When infrared energy penetrates your body, it expels impurities and revitalizes cells aiding metabolism.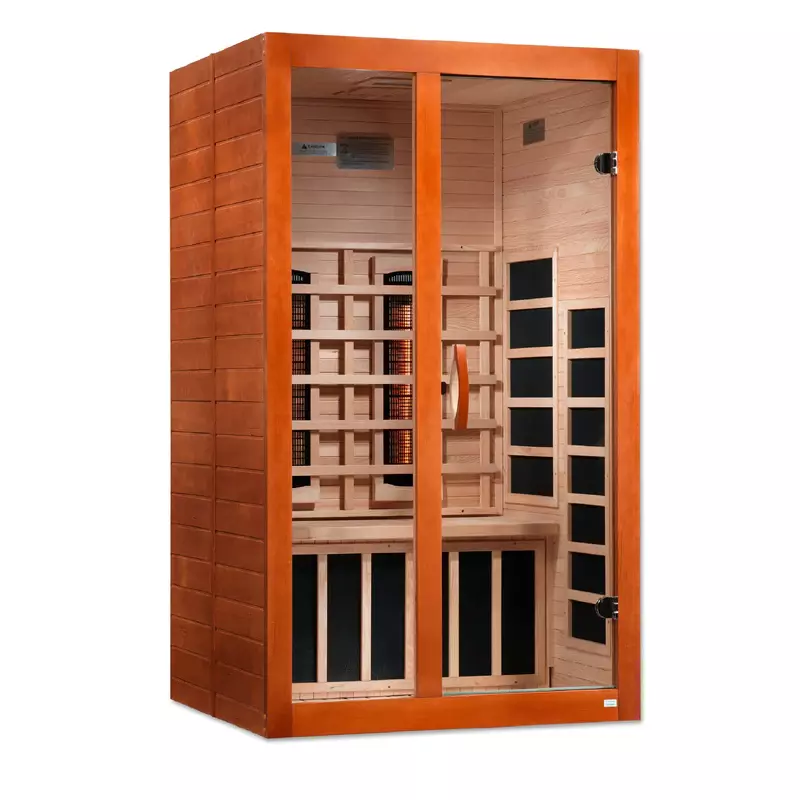 The result is improved blood circulation, which:
Relaxes the body

Alleviates joint and muscle pain

Boosts immunity



This sauna is made of reforested Canadian hemlock wood. The hemlock paneling in the Infrared sauna sustains a high degree of heat, providing a natural, hypoallergenic environment to soak in.
This hemlock sauna features Chromotherapy Lighting along with unique heating technology. Chromotherapy lighting uses colors to control bodily vibrations and instill a sense of balance.
Its other features include:
MP3 Aux and speaker with Bluetooth capability

LED control panel

Tempered glass sauna door

Lighting system for reading



Sauna Dimensions:
Exterior dimensions: 46″ x 40″ x 75″

Interior dimensions: 42″ x 36″ x 68″



The Full-Spectrum Canadian Hemlock Sauna is available for $2,899.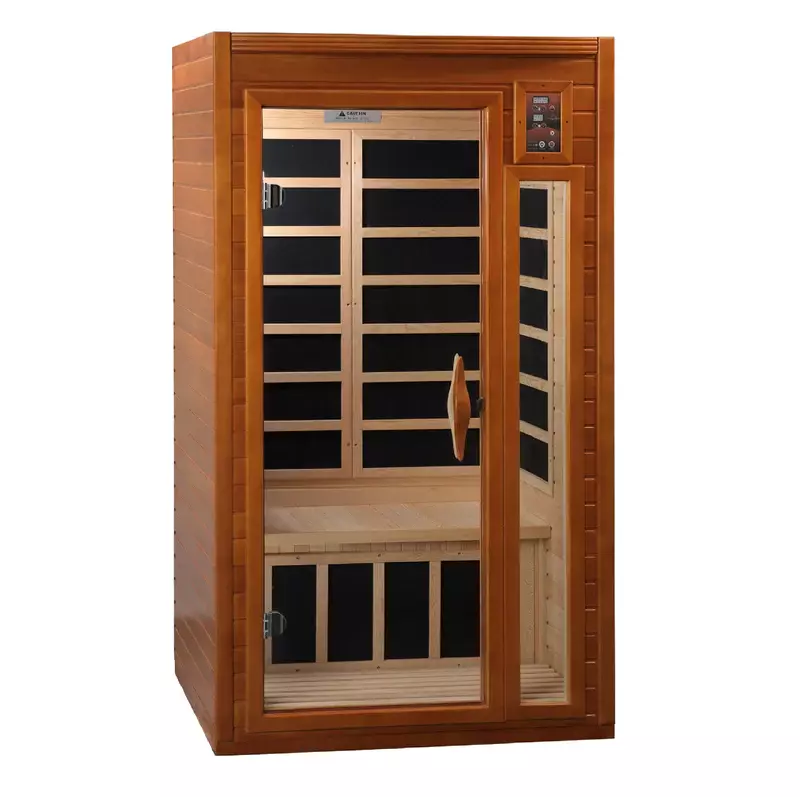 Two-Person Hemlock Sauna for Budget Shoppers
Practical, well-designed, and easy to use, the Dynamic Far Infrared Sauna, constructed with hemlock wood, is a cozy sauna for two. Using natural hemlock wood produces beautiful light wood paneling on the sauna's interiors. 
Thanks to its "clasp-together" assembly, you can assemble it yourself in a short time. All you have to do is place it on a leveled surface, either indoors or outdoors. 
Aside from being simple to set up, this two-person hemlock sauna provides an advanced detox system thanks to its low EMF Carbon Infrared technology. Six carbon heating devices are spread throughout the sauna to maintain a consistent temperature.
Its other features include:
Music system with Bluetooth

Two speakers with pre-amp

LED control panels on the interior and exterior

Tempered glass door
Sauna dimensions:
Exterior dimensions: 39 x 36 x 73

Interior dimensions: 36 x 32 x 67



The Dynamic Far Infrared Sauna is a compact yet classic sauna kit costing an affordable $1,799.
Premium 3-Person Hemlock Wood Sauna for Outdoor Lovers
This lovely outdoor sauna comes in a lightwood hemlock structure with 100% reforested wood. If you love the experience of an outdoor sauna and want to enjoy the organic ambiance of hemlock, this is the one for you. 
The sauna has a waterproof stain that protects it from the elements. The interiors of the sauna have a natural light timber color and accent lighting. The sauna's exterior also features overhang accent lighting, allowing you to use it anytime.
This premium sauna is equipped with Full-Spectrum Infrared technology with carbon heating components and EMF heating panels for an even temperature. Despite its contemporary appearance, the sauna has a traditional Harvia "WALL" stove with easy-to-use controls. This allows you to set the temperature to your liking.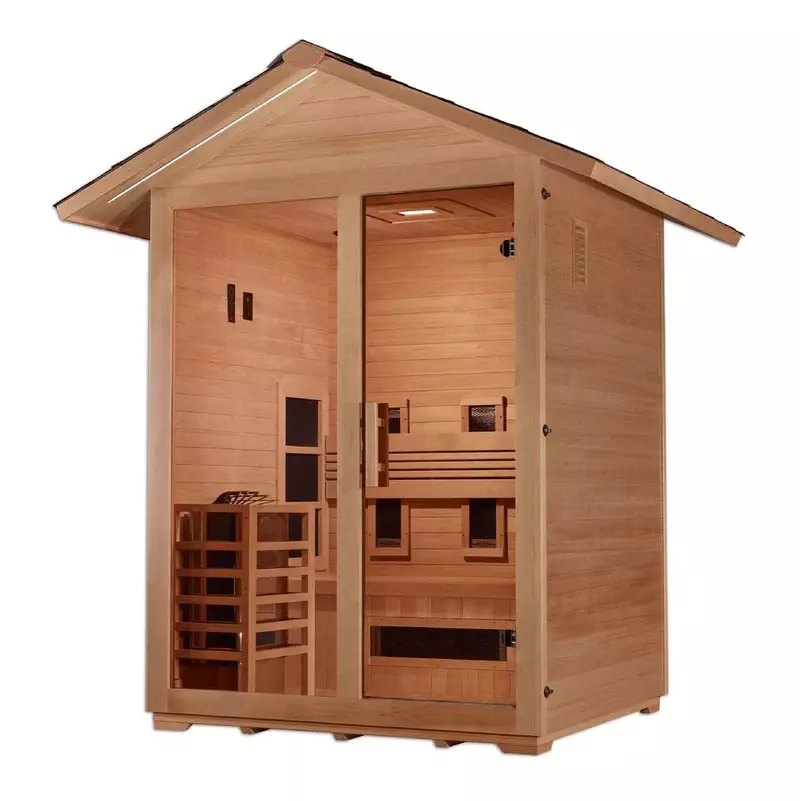 It also has the following features:
Bluetooth connectivity & built-in FM radio

Traditional bucket and scoop

Sandglass and thermometer

Chromotherapy lighting system for harmonizing body vibrations.
Sauna dimensions:
Assembled Dimensions Interior: 59.2" x 53.2 " x 78"

Assembled Dimensions with Overhang: 84.1" x 73.6" x 97.4"

Assembled Dimensions without Overhang: 63" x 56.7" x 97.4"



This hybrid outdoor sauna is available for $5,499.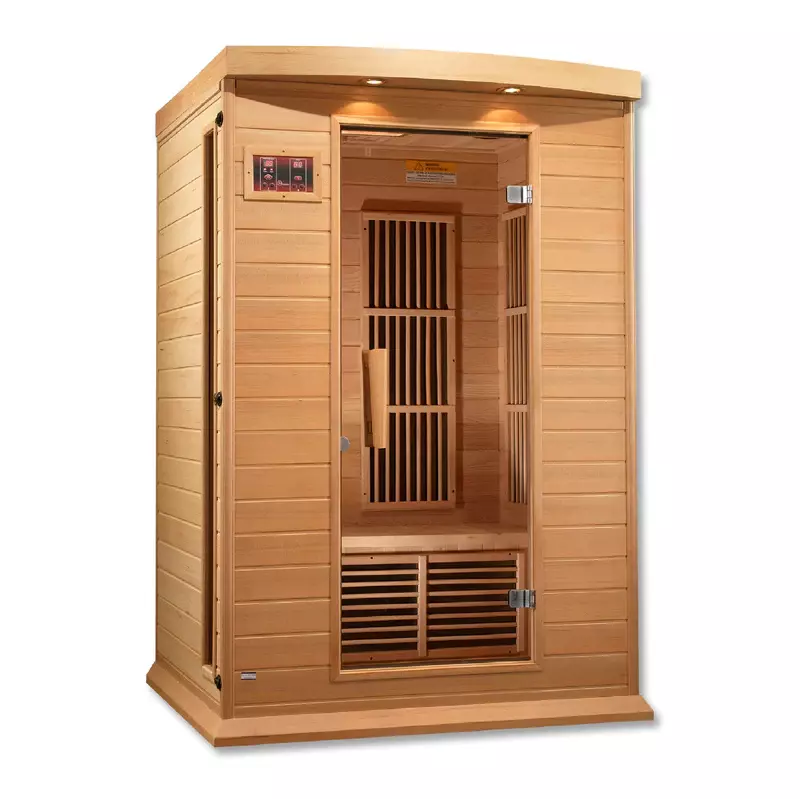 Energy-Saving Far Infrared Carbon Hemlock Sauna 
As relaxing as saunas are, having one in your home can significantly drive up electrical costs. This energy-efficient Far Infrared Carbon sauna made from hemlock wood offers a cost-effective way to enjoy your sauna ritual.
The Low EMF Infrared technology is a principal element of this energy-saving sauna. The sauna's panels feature reforested Canadian Hemlock wood and are double-laid to ensure a durable interior and exterior. This double wood paneling speeds up sauna heating by 30% compared to ceramic-tube panels. It distributes heat more evenly and efficiently, resulting in reduced energy waste. Well-regulated heat in a sauna provides better health benefits.
Another feature of this hemlock-clad sauna is its low-wattage, energy-efficient flooring. Low bench heaters ensure adequate flow of heat and steam to the limbs. 
Some of its other features include:
Carbon heating panels for even heating

Tempered glass sauna doors

Chromotherapy lighting

MP3 aux with Bluetooth connection

Easy-to-install clasp-together technology
Sauna dimensions:
Exterior dimensions (WDH): 50" x 42" x 75" 

Interior dimensions (WDH): 45" x 37" x 68"



This low EMF Canadian Hemlock sauna is available for just $2,294.
FAQs About Hemlock Wood Saunas
Is Hemlock Wood Safe for Sauna?
Hemlock is a light, natural wood known for its hardy properties. It can withstand heat and moisture, ensuring consistent temperatures within a sauna. It is also non-toxic and hypoallergenic. 
Hemlock wood is sourced from Canadian forests and is aged, resulting in lower levels of formaldehyde. It is also low in VOCs, making it safe for sauna use.
How durable is Hemlock Wood for Sauna?
Unlike European saunas, which use thermowood, American saunas employ reforested Hemlock wood. Hemlock wood is long-lasting because it resists warping, splitting, and breaking. It can also get coated or stained to protect against bumps and scratches. 
Does Hemlock Wood Smell?
Many types of wood have a distinct odor, which can be overbearing for some people. Hemlock wood has a mild fragrance bordering on scentless. This makes the sauna a clean, natural space for all users.
Key Takeaway: Why You Should Consider Hemlock Saunas
Hemlock wood saunas have a natural appeal that sets them apart. Their charm stems from their clean, light wood aesthetic. Most Infrared saunas use reforested hemlock wood from Canadian forests. This is because they're durable and sturdy, not to mention they are less expensive than other varieties of wood with similar benefits. 
They're also non-toxic and fragrance-free, making them the best alternative for sauna users seeking a scentless experience.
A hemlock wood sauna can adapt to both modular and barrel sauna designs. If you're ready to enjoy the natural benefits of a hemlock wood sauna, ensure you purchase them from a reputable retailer.
My Sauna World is a leading retailer of saunas you can trust. Choose from their wide selection of sauna types, including traditional saunas and hemlock-clad Infrared saunas. Feel free to contact us for more information. Our staff will gladly assist you.
SIGN UP. SAVE BIG.
Subscribe to be the first to know about our special monthly sauna sales, sent right to your inbox.