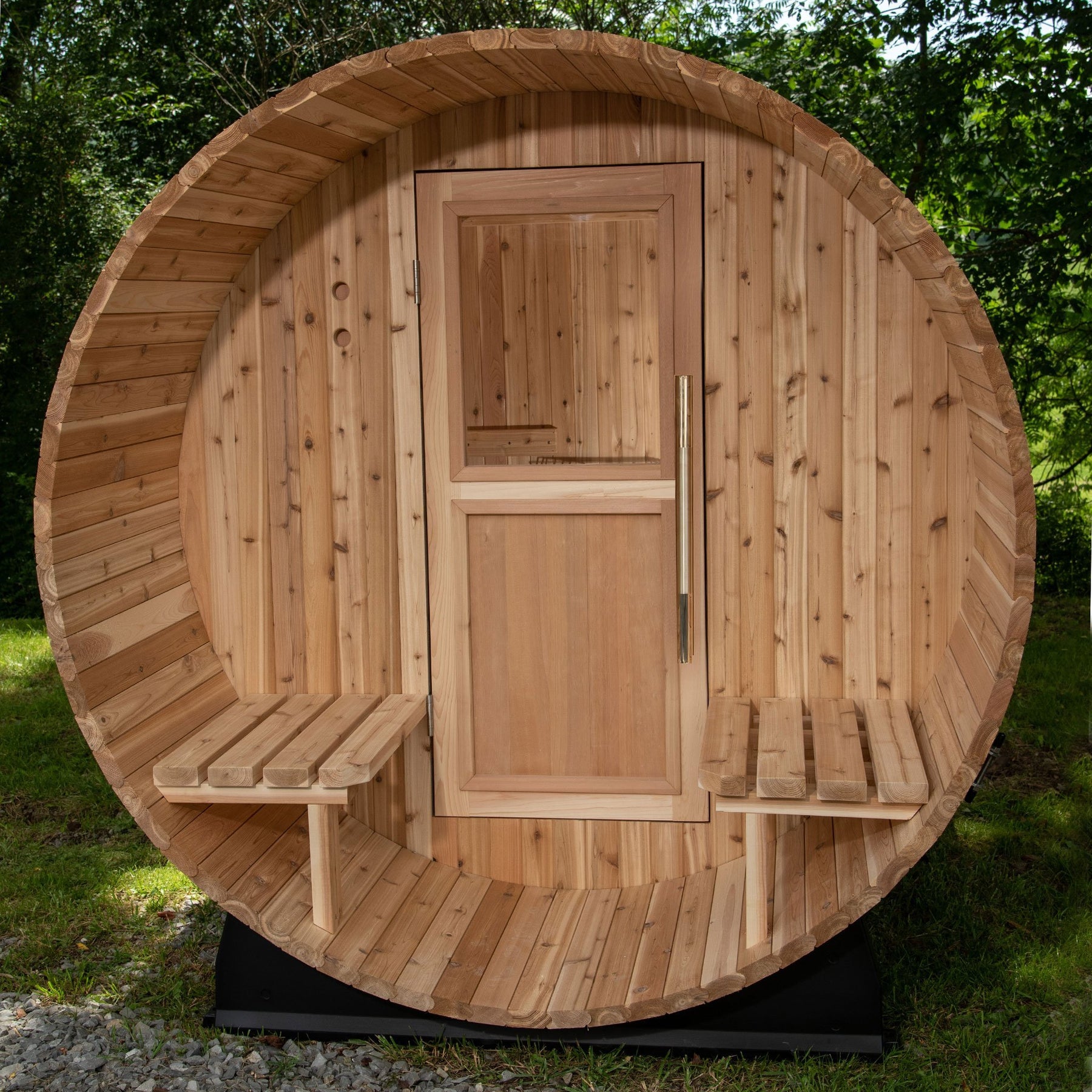 Wood Door with Window
"Highly recommend Sauna World for purchasing a Sauna! We can say enough about Sauna World there customer support is great! Our Pinnacle Sauna from Almost Heaven is epic."- Abby Lapan
Privacy & Natural Light
This wood door with a window is a lovely upgrade to any Almost Heaven sauna (indoor or barrel). This stylish, handcrafted door is built with thick insulating lumber and includes a tempered glass window to allow more natural light to enter the sauna, while still providing privacy from the outside world. Comes with a cylindrical handle — stainless steel on the outside and wood on the inside so it never gets hot to the touch.
Door with Window Details
This wood door with a window is constructed with thick solid lumber of either high quality Fir or Cedar to match your sauna. Stainless steel hinges are included. Product Dimensions: Barrel Wood Door with Window: 24.25″ wide x 56″ tall. Indoor Wood Door with Window: 25.25″ wide x 64″ tall.
Love it - second one purchased
Love this sauna - looks great and loving this version with the window.
Mine maxes out at 150 with the 8kw heater / wish it would get slightly hotter but still a great experience.
Hi Andrew, thanks for the review and for sharing a photo of your sauna here. You have an amazing sauna site! Let's work on improving the temperature inside your sauna. I'll reach out to you in a separate email. Feel free to email us if you have any questions. Thanks for doing business with us. Enjoy your sauna!
Life changing!
This company is the only sauna company that allows you to customize and offer upgrades. The solid door with window was an exceptional upgrade. I also recommend the light bar for the back rest. I also upgraded to the 8 kW heater. It gets up to 170 degrees in 30 minutes. I recommend the flooring as well. It is nice to be elevated off the floor. I am 5'10" and I can lay down on the bench with my knees bent comfortably. I highly recommend this sauna, easy to set up and enjoy!
Hi Nick! Thank you so much for the review and for sharing photos of your sauna. It looks amazing! Your upgrade recommendations and your description of how you can comfortably lay on the bench of your sauna are really helpful to our future customers who are also interested in the Madison sauna. Your sauna door is lovely. Feel free to reach out to us anytime if there's anything we can be of help in the future. Enjoy your sauna!
I would say I love it but I had to drill a hole for the bottom part of the handle because the bottom hole was drilled to high.
Hi Steve, we appreciate your feedback! Rest assured we are taking this into account for further improvement.
Let us know if there's anything we can do for you in the future.