COMPLETE GUIDE TO BUYING YOUR BARREL SAUNA
Owning your own sauna comes with a host of benefits — the easy and immediate access to stress relief and physical relaxation, plus the fact you don't have to share the space with anyone you don't wish to are just a few of the obvious ones. And these days, with high-quality saunas designed specifically for the home combined with the convenience of the internet, buying a sauna for yourself isn't that difficult either. 
The real challenge lies in selecting the one perfect for your needs — especially if you're not sure what those needs even are! That's why we put together this ultimate guide to help you navigate the various features, sizes, and upgrades you're offered in the world of barrel saunas, so you can be more informed and perhaps even walk away knowing exactly what kind of sauna is perfect for you.
In this guide, you'll find key considerations that will play a role in your decision, and we've broken them down to provide as much information as possible.
Plus, any sauna you're looking to buy from us will provide you with interior dimensions and technical drawings so you can see exactly how it will fit in your space. See our collection of Owner's Manuals here. 
WHAT KIND OF HEATER WORKS BEST?
The choice of heater is usually one of personal taste, but there are also functional variations that might impact your decision. 
For example, wood-burning heaters should only be used for outdoor barrel saunas. They are often recommended for saunas 6'x 6' or larger because they can produce incredible heat! They're also easy to install (no electrician needed!) and if you love the ambience of a wood-burning fireplace, then you'll also love the aesthetic of a wood-burning sauna stove. Wood-burning sauna stoves will require the addition of a chimney kit. 
Electric sauna stoves can work for barrel saunas that are indoors or outdoors! Electric heaters come in many different sizes and offer different KW power, so they can work for small saunas and large saunas. Electric heaters offer easy maintenance and more control over the temperature. Another benefit is you can turn it on with a flick of a switch. Keep in mind, the purchase of an electric sauna stove will require a licensed electrician to complete the installation.
You might also be interested in automating the heater of your barrel sauna! If so, you can with our line of HUUM electric sauna stoves and our Harvia KIP & Virta models. Keep in mind, these controls can also be used to automate the humidity, lighting and more. 
When you opt for HUUM UKU WiFi or UKU Glass heater controls, you'll be able to adjust the included wall-mounted controller from anywhere using their free app and your smartphone. 
Harvia KIP & Virta models include a Xenio Digital Control Panel. The KIP heater can be upgraded to make it Wifi compatible for easy automation with almost any barrel sauna. Virta heater models (available in barrel saunas like the 4-Person Pinnacle, 6-Person Princeton, and 8-Person Lewisburg) also include Wifi controls. Both heaters do include a clear touch digital control panel that can be mounted outside of the sauna and preset up to 12 hours in advance.
Want to learn more about the possibilities of sauna automation? Read this article: Top Ideas for Automating a Home Sauna.
DOES THE TYPE OF SAUNA WOOD MATTER?
MOST HIGH QUALITY SAUNAS OFFER AN OPTION OF 3 DIFFERENT TYPES OF WOOD, EACH PROVIDING THEIR OWN BENEFITS.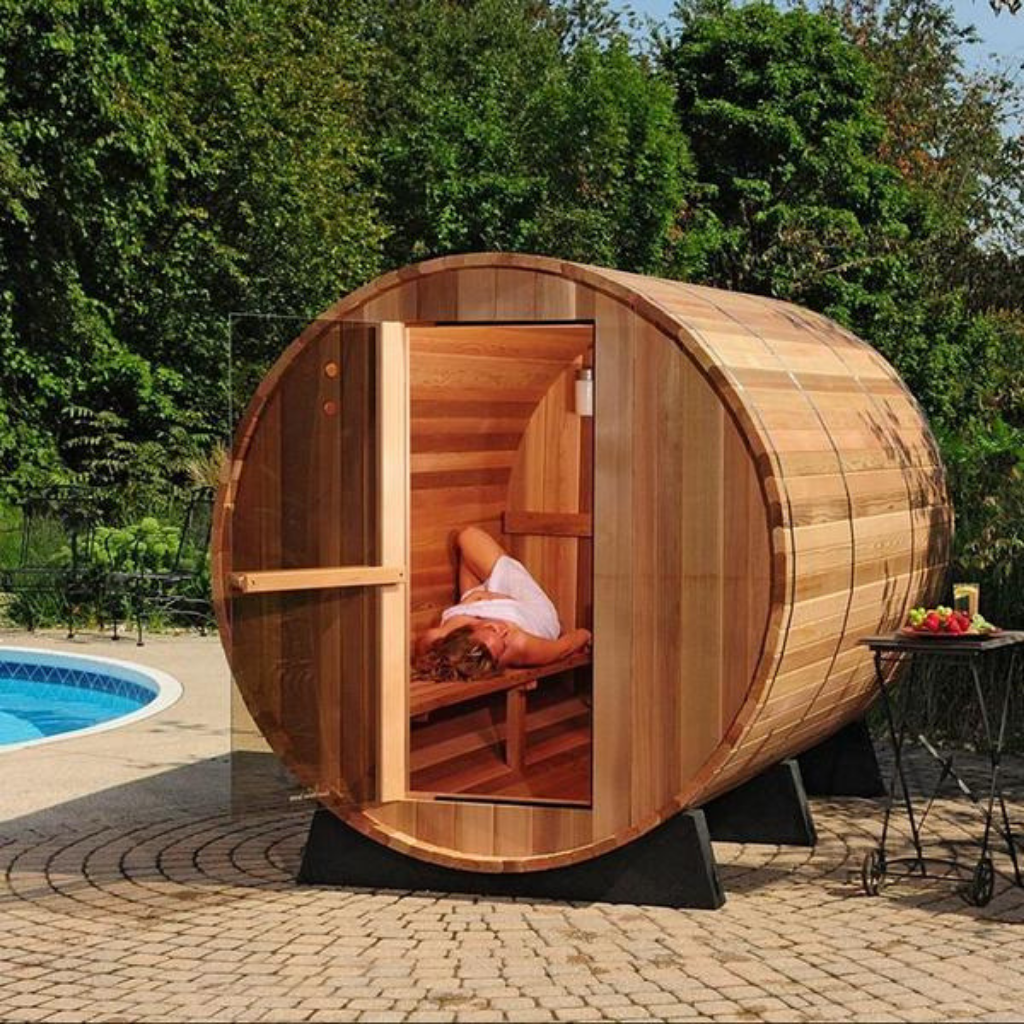 CEDAR
Cedar is the most popular due to its fantastic aroma and its resistance to decay, durability, and insect-repelling qualities. It also doesn't shrink nor swell in extreme weather conditions, so it's the ideal choice for outdoor locations that experience intense heat or cold. Its color, aroma, and resiliency are also why it fetches a comparable price.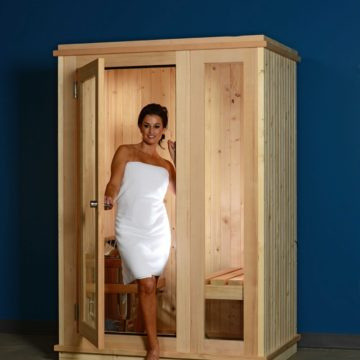 NORDIC SPRUCE
This is an incredibly attractive wood that's light in color with small, tight knots that loan a rustic, picturesque aesthetic. It's one of the most cost-effective sauna woods out there, balancing durability, attractiveness, flexibility, and affordability. Thermally treated Spruce offers some of the most durable sauna wood available.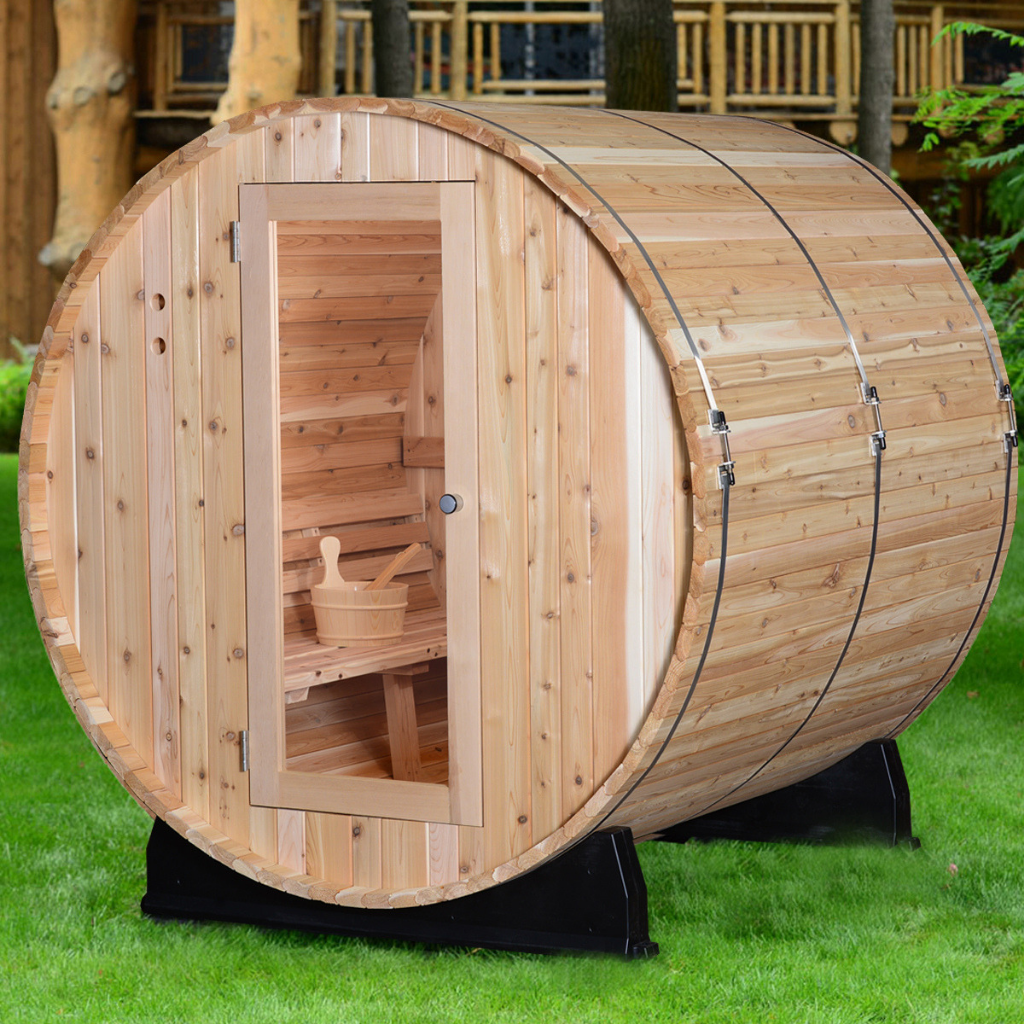 HEMLOCK FIR
The most affordable sauna wood on the market is Hemlock Fir, which offers incredible value due to its price and longevity (it hardens as it ages). It is a great choice for indoor and infrared saunas, but because it's less decay-resistant than cedar, it's not the best choice for outdoor environments that are especially severe.
WHAT ABOUT THERMALLY MODIFIED WOOD?  
Thermally treated wood uses a precise combination of heat and steam to transform any wood type into a more durable product with a stronger structure and better resistance to rot. Thermory Barrel Saunas is THE thermally modified sauna brand. Each board of their barrel saunas has gone through a natural, chemical-free and eco-friendly process that brings out the best the wood has to offer. 
Want to learn more about thermally modified wood? Read this blog: Thermally Modified Wood and Your Barrel Sauna
WHAT OTHER CUSTOMIZATIONS SHOULD I CONSIDER?  


Aside from selecting a size, material, and heater that fits your needs and tastes, there are a number of personalizations you should keep in mind when creating your perfect sauna escape. 
CHANGE ROOM
A change room is a small interior room to your sauna that provides a space to change before or after your session inside.
A change room provides a nice anteroom where you (and your possible guests) can store your things, change your clothes, or even just to take a break or catch some fresh air before heading back into the sauna.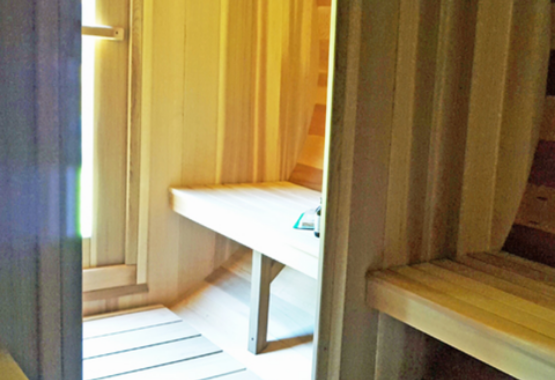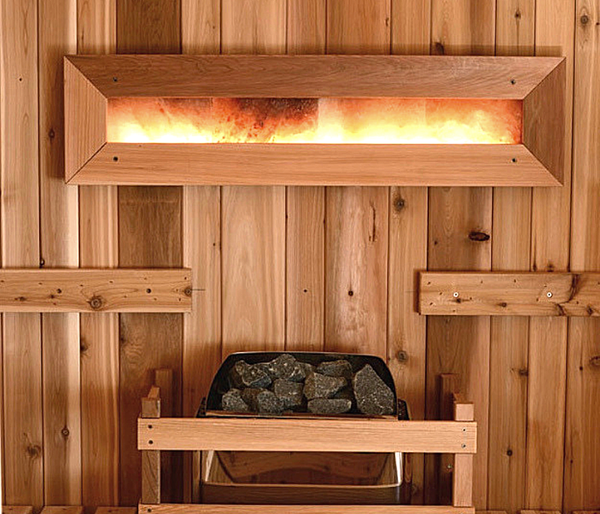 HIMALAYAN SALT WALL OR LED LIGHT BAR
Nothing says relaxation like the gentle glow of light, and a Himalayan Salt Wall or LED Light Bar are both fantastic options to provide that lovely ambiance.
Both can be easily installed and conveniently controlled for a truly relaxing sauna experience. (Please note that both of these light customizations are exclusive to Almost Heaven Barrel Saunas).
COLOR CHANGING MOOD LIGHT
Want to experience the benefits of color-light therapy, aka chromotherapy? Add a color-changing LED Mood Light to your barrel sauna. It comes with a mountable LED light with 20 color variations and intensities along with a remote control. Light therapy boasts all kinds of cognitive and biochemical benefits.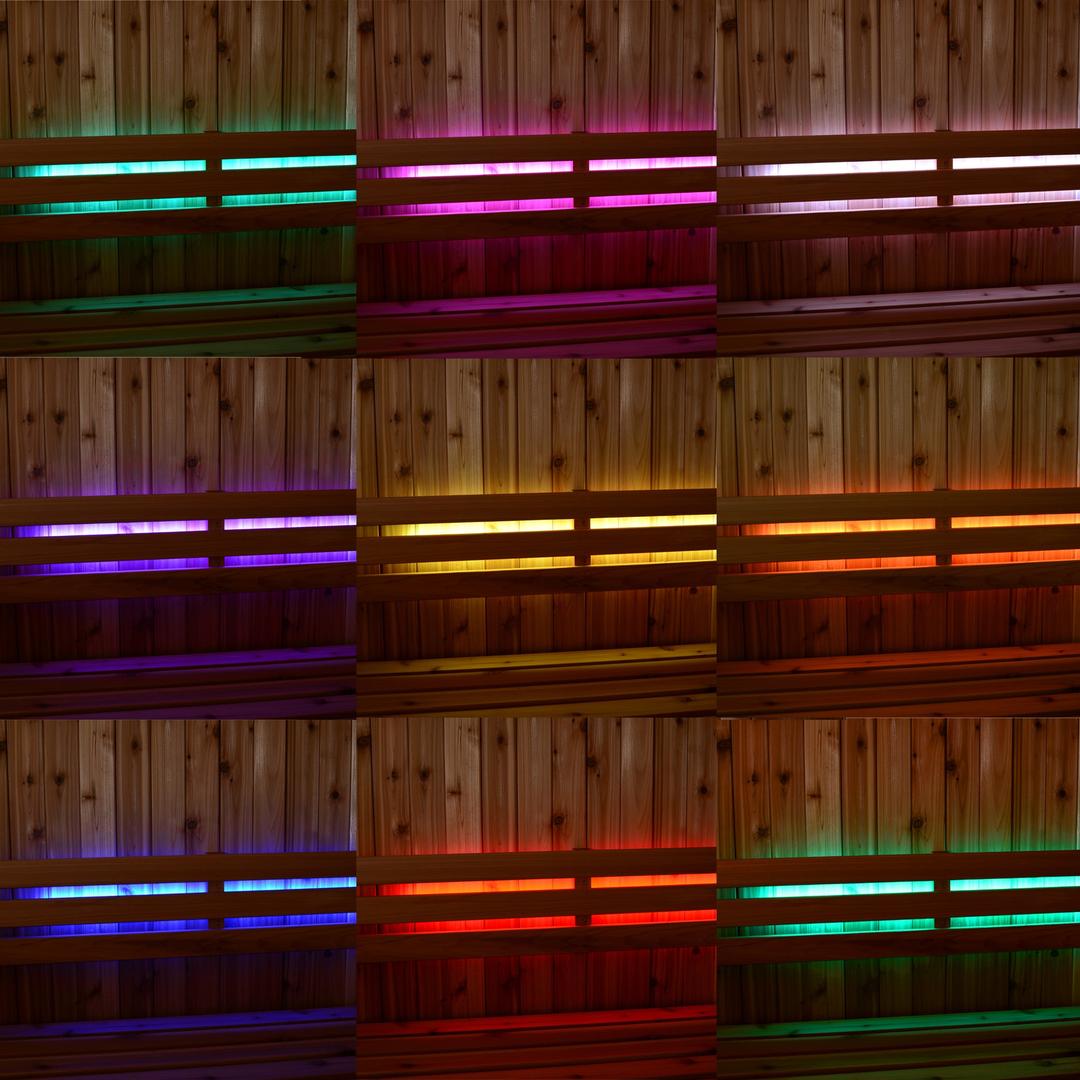 SAUNA ACCESSORIES
You can select a number of accessories that will add a comfortable, convenient, and charming touch to your barrel sauna.
IS SAUNA ASSEMBLY DIFFICULT OR TIME-CONSUMING?
The beauty of saunas designed especially for the home is that assembly is intended to be simple and straightforward. One or two people can quickly assemble any size sauna in a matter of a few hours. In fact, you could receive your disassembled sauna in the morning and be ready to enjoy it that night!
HOW MUCH IS SHIPPING AND WHAT IF I CHANGE MY MIND?


Each sauna offered by MySaunaWorld.com ships anywhere in the Continental U.S. for FREE. We love and stand by the saunas we offer on this site and are 100% confident you will love yours! As such, we offer a complete satisfaction guarantee — if you're not happy, we'll take it back, no questions asked. Due to the nature of these products, return shipping will be the purchaser's responsibility and the return will incur a 20% restocking fee. 
I hope you found this guide a valuable help in navigating all the wonderful sauna options available to you. Finding and acquiring your sauna should be a process that's a joy and free of stress, and that's exactly what we aim to do. If you have any questions or concerns about what kind of sauna is best or which customizations come highly recommended, just give us a shout by clicking here or calling (833)345-3453 and we'll be happy to help you find the perfect sauna for you. 
And if you're looking somewhere to start, we recommend taking a look at the beautiful yet practical Almost Heaven Audra Canopy Barrel Sauna.
SIGN UP. SAVE BIG.
Subscribe to be the first to know about our special monthly sauna sales, sent right to your inbox.
PICK OUT YOUR ALMOST HEAVEN PINNACLE CANOPY BARREL SAUNA RIGHT HERE
Enjoy unparalleled relaxation in this spacious, 4-person sauna specially designed for efficient, even distribution of heat paired with the stunning craftsmanship and attention-to-detail Almost Heaven is known for.
You and your guests will love its tempered glass door with a long handle, visual appeal and spacious interior.
The Pinnacle 4-Person Sauna is perfect for hosting friends and family (or for an ultra-luxurious solo getaway). Customize your Pinnacle to create your ideal retreat experience.